Yesterday, I had an UBER productive day. Washed the car. Cleaned the bathrooms. Mopped the floors. Which means, that in true Murphy's Law fashion, I woke up in a major funk this morning, and think I will lay around the house all day and "forget" to shower.
There are just a few things that you CAN count on as parents, and Murphy's Law is definitely a thing. Here are 20 things that are bound to happen because…well, little people are really controlling everything.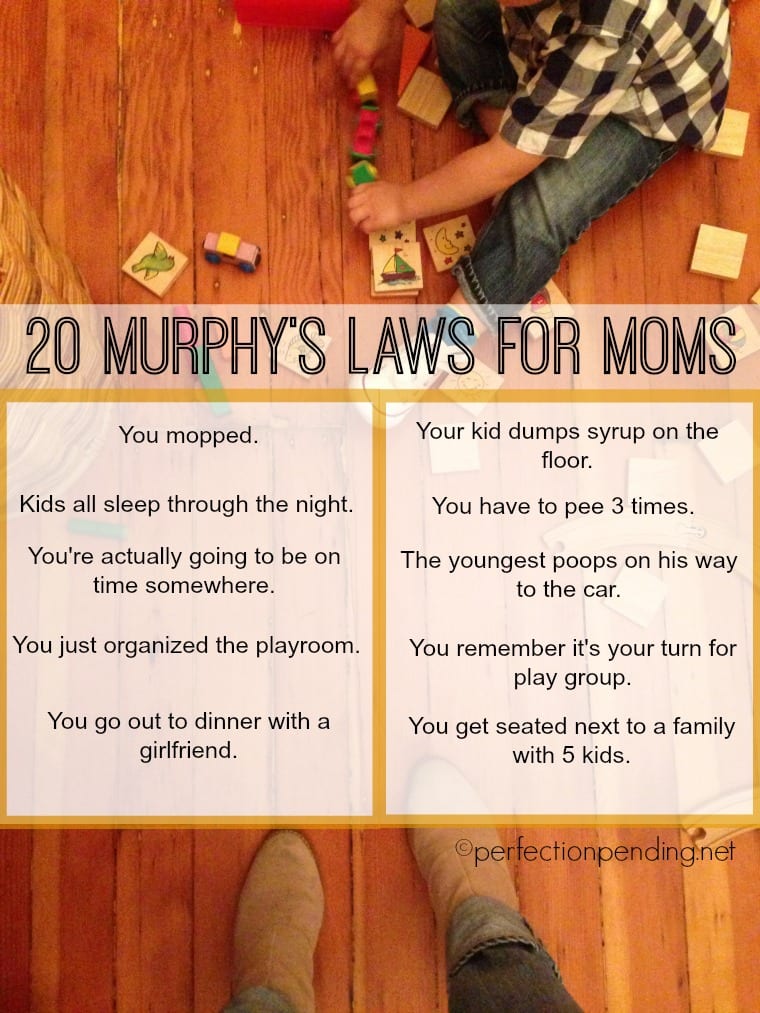 1. You haven't vacuumed in two weeks, so of COURSE your in-laws will surprise you with a visit.
2. You mopped. So, the 5yo will spill a giant vat of syrup on the floor.
3. You put on a full-face of make-up, cute necklace, and even top it off with fixing your hair, and you will for sure run into no one you know.
4. You clean your bathrooms, so someone will start throwing up that night.
5. You leave your house for a quick errand since the kids have been sick all week, and you forget to change the shirt that has a tiny bit of throw up on it. And, you see your arch nemesis from high school dressed like she just stepped out of a Pottery Barn Kids Catalog with her three perfectly groomed children.
6. You run into an ex-boyfriend, and you realize you didn't brush your teeth this morning.
7. You look like the walking dead, and are fixing hot dogs and mac and cheese for dinner when your husband says a co-worker is just popping in for a minute after work.
8. Your kids sleep through the night and you get up to pee 3 times.
9. You're actually going to be on-time to something, and the littlest declares, "I stinky" while the middle child reminds you he can't find his shoes.
10. You get to go out to eat with a girlfriend, and get seated next to a family with 5 kids.
11. You fix yourself a nice giant bowl of ice cream, and your 3yo pokes your tummy and says, "Is there a baby in there?"
12. You clean out your car, and the neighbor kid pukes in it.
13. You are patient all morning, but your kid decides to destroy something by mid-afternoon.
14.  You just organized the playroom. Just as you see the minivans rolling up in front of your house. It's your turn for playgroup.
15. You lay down on the couch for a quick 5 min. snooze, and jr. yells from the other room, "MOM! Wipe my bum please!"
16. You decide that you have time to run a quick errand before the kids get home from school, and you lock your keys in your car.
17. You finally get on vacation, and a kid tells you his throat feels weird.
18. You fix the 2yo 18 breakfasts and he still wants what you are having.
19. You forget to pack a change of clothes for the potty trainee, and he has an accident.
20. You have a super productive day, so tomorrow will, for sure, be total crap.
What Murphy's Law always happens in your house?
***
Loved this post? Don't miss more like it! Sign up for my email list to be one of my favorite readers on the planet. I promise, I'll never spam you and will keep your email safe. Go here to sign up.