I wrote a post a little while ago that was featured on Scary Mommy. It was innocent enough, and all about my two year old declaring he had a hard day. Honestly I had no clue if people would find it funny, but in my wildest dreams I never thought anyone would find it controversial. That just goes to show you I still have a lot to learn. Funny how I thought the mommy wars were over.
I'm cute and naive that way.
But I have to owe the popularity of that post to the first commenter who started the controversy. She innocently suggested I just ask my toddler why he had a hard day.
Oooh. Thanks random interwebs lady. Never thought of that one.
Then I started to fantasize about a world where you could actually communicate with two year olds in a clear way.  Sure, now, I can ask him questions, and he answers me to the best of his ability. But, real conversations with a two year old with meaning and purpose are still a little bit elusive around here.
What would it be like? I wondered.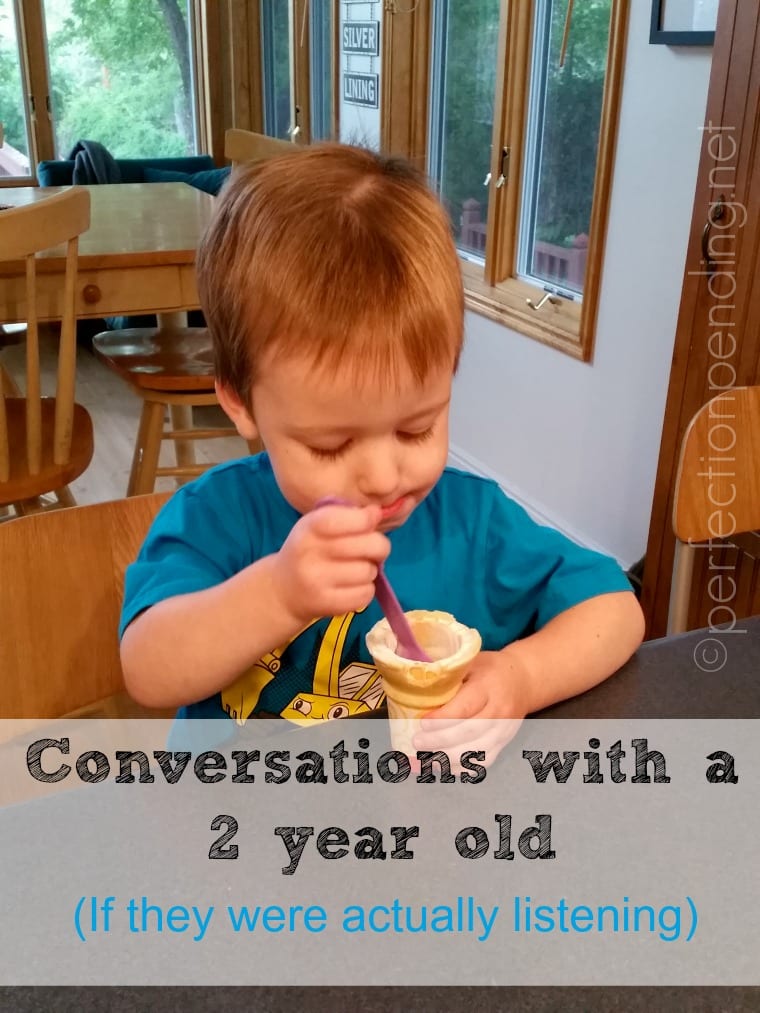 "Why was your day hard little man?" I could ask.
"Because you wouldn't let me strangle the cat." He would answer.
It could be nice. And so handy. I mean one sweet commenter lady declared her kids were "speaking in complete sentences at two because she asked them questions and challenged their brains" sooooo, yeah, that would be nice.
Because I'm totally anti-brain challenging. Obviously.
But, for real. Think of the possibilities!
We could wake up and just ask what they were going to destroy that day.
"Glad you asked, Mom. I was thinking of taking a sharpie to the couch first and then trying my hand at a little frisbie throwing with your new plates."
We could ask about naptime and know whether or not it was going to ruin the day.
"Yeah, I was thinking I would toy with your emotions for a while and make you think I am going to nap. Then about 15 minutes in I'll attempt to take my diaper off in bed and pee on the sheets you just washed. At dinner, I'll fall asleep in my bowl of spaghetti. Cool?"
And meal planning could get so much easier.
"Yeah, so I will refuse all meats and veggies this week and stick to a strict diet of noodles and protein bars. Forget making that meal I loved last night for dinner. It's so last week. Save yourself the time and energy."
You could be warned about catastrophic events ahead of time.
"I love Target and all too, but about ten minutes in, I'm going to make you wish you had never come. Right when you fill the cart so full that I have to walk, I'll start pulling things off shelves, demanding to be held, then go limp and lay down on the floor screaming. Next time, just buy me the popcorn, OK?"
We could just cut right to the chase and be told so much information.
"I won't potty train until I'm 3 1/2 because I'm scared a shark is lurking down there."
"The reason why I'm still waking up at night is because my foot gets itchy and I want you to scratch it."
"I really wish you would let me play with knives and do all the dangerous things. Since you won't, I'm going to start refusing to eat breakfast for a week."
In the photo above, he refused to believe me that the cone was edible. So, he insisted on having a spoon. We aren't exactly dealing with rational little human beings people.
And, it would be SO nice to hear, "I love you mama. I know I'm difficult, because I work hard to be. But, I know you work hard too, and one day, I'll take care of you when you're old and gray and wrinkly, so try not to worry too much about my temper tantrums. It will ALL be worth it in the end."
A tired, exhausted mom of three can dream, right?