I tell people all the time that having my third kid "pushed me over the edge"
Let me explain.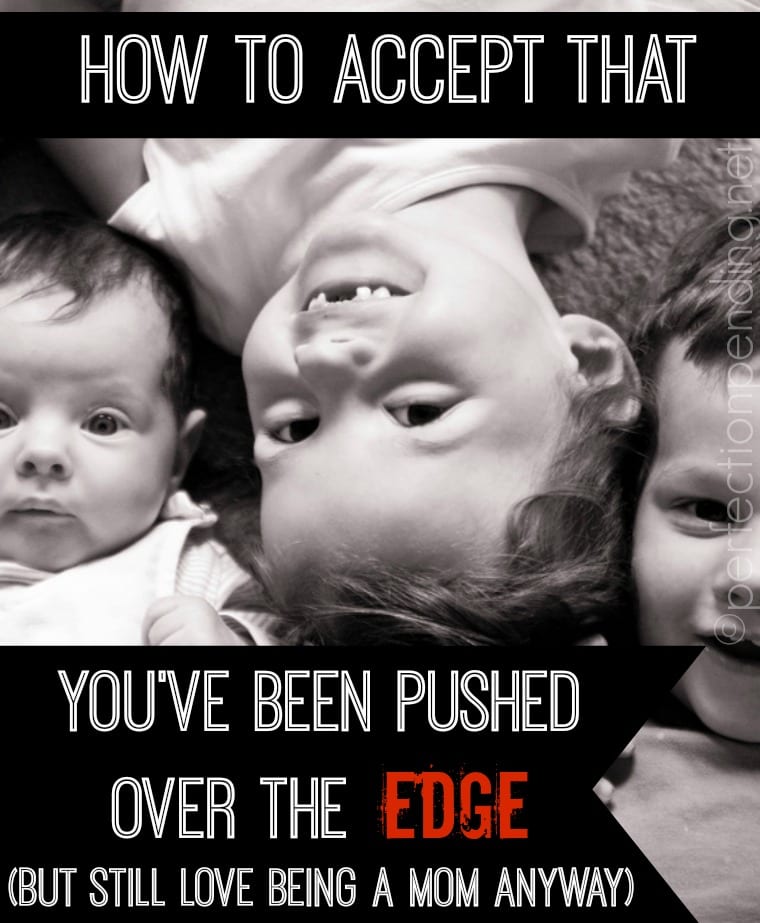 photo credit: Tom & Katrien via photopin cc (text added)
One kid was its own kind of crazy with no sleep, trying to do it right, and a little dash of postpartum depression mixed in. Oh, and never complaining. No, you don't complain when you have one child. Because, you know, there are lots of people that have more than one. So complaining is not allowed if you have one. (I say it's totally allowed though.)
Two kids was its own kind of crazy because you can't sleep when the baby sleeps. Naps don't happen anymore, and you realize that you have officially said goodbye to feeling rested. Ever. Again. And, for me, I was dealing with food allergies and intolerances so there was really no sleep for me….ever. I mourned the sleep, but I was forced to get over it. Quickly.
But, three takes the chaos to a whole new level. It's not about the sleep anymore, or the fact that heaven forbid your toddler might have a tantrum in public while someone is watching. No, three is more like a tornado of chaos that is tossing you about, and you're just looking for a pole that you can grab onto. And, you know, the winds are 100+ mph. I have a feeling that pole never flies by when you need it.
And, my #3 specifically? Well, he's  a character. He makes me feel immense amounts of love and rage all within a matter of minutes. He's simultaneously adorable and infuriating. He's perfect, and oh. so. naughty.
I sent out a text the other day to some of my family that I knew would not judge and it said,
"Chandler opened the car door while we were driving down the freeway, ate and swallowed 2 pieces of gum and an ANT today. He's the one that will drive me to the looney bin."
But, he's so dang cute. So, I forgive him, day in and day out. Because, really, it's not his fault he has a thing for eclectic foods. He's just exploring the world. Trying to figure out which insects to eat and which ones to torture. You know, the normal stuff.
And, really, if we're being totally honest, it really isn't #3's fault. It's just the mere fact that I now have three kids at all that my life. feels. CRAAAAZY.
I haven't just been pushed to the edge, I'm over it. And, here's how I know.
1. My kid opens the door while we're driving down the freeway. I say, "what the…" and quickly shut it and don't burst into tears. We all survived, and it really could have been worse, I tell myself.
2. My kid ate an ant. The funny thing is, it was sitting right next to an ant trap. Which means it also could have been laced with poison. My 7 year old, bless her little heart, stuck her finger in his mouth to try and keep the ant from being swallowed. The 2 year old did what naturally should be done when someone is putting their finger in your mouth. He bit. Hard. She cried, and asked through tears, "DO YOU THINK CHANDLER IS GOING TO DIE!!??" We had both noticed the poisonous trap that the alleged ant may or may not have come out of before making his way into my toddler's tummy. I responded in such a calm way that it almost frightened me. "No. He won't die".
3. Food gets eaten off the floor regularly. I do. not. care. Nope. Not even if it's 3 days old. OK, maybe a little then.
4. I went to the park and realized I was no longer the helicopter mom and instead got a kick out of watching the helicopter mom play with her one child. My two year old was climbing up something dangerous, and I sat back and waited. He did it, and that other mom couldn't help but hover right by my child. I'm sure she was convinced he would die up there on that precarious ladder. I smiled because that part of my parenting style (obsessive hovering) is slowly dying. When you have three…nobody has time for that. Or energy for that matter. The park is my break. Let's wear them out until they are crying, then we'll go home and put them to sleep. (I mean a nap, of course)
5. I stuck my finger in poop the other day while changing a diaper in the trunk of my car and did not even flinch. Sure, it was gross and I cleaned it up, but my 5 year old said, "Have you ever touched poop before???" as he watched in horror as I tried to clean it off with a wipe. I laughed a crazy laugh. The kind of laugh that leaves my 5 year old still wondering and a teensy bit afraid, too.
It's funny because now that I've realized I've not only reached the edge, but jumped off of it, I have started to let go a little more. Enjoy things. Soak it up, and embrace it. You can only make yourself crazy avoiding the inevitable so long. Poop, crazy-town, and eating ants are apparently the new norm. And, that's OK.
***************
This is a parenting blog hop. What are you thinking about this week? Link them up so we can visit each other and hear about what's going on in YOUR parenting world.
Going to join us? Here are the "rules" (Feel free to follow them loosely):
1. Add your link below
2. Grab MY button found below and add it to your post or sidebar, and then come back and link up with us here. It's that easy! I'll try to promote your post on social media by pinning, tweeting, and sharing.
3. Visit the other awesome bloggers that are also linking up and leave comments on their posts!