You don't have to raise your child on a farm to instill in them a love of nature and pride in growing something. Even if you live the middle of NYC, you can plant a garden with your child and teach them to nurture things that grow. The wonder and amazement of plants transforming from a tiny seed into a harvestable food source will stay with them for the rest of their lives.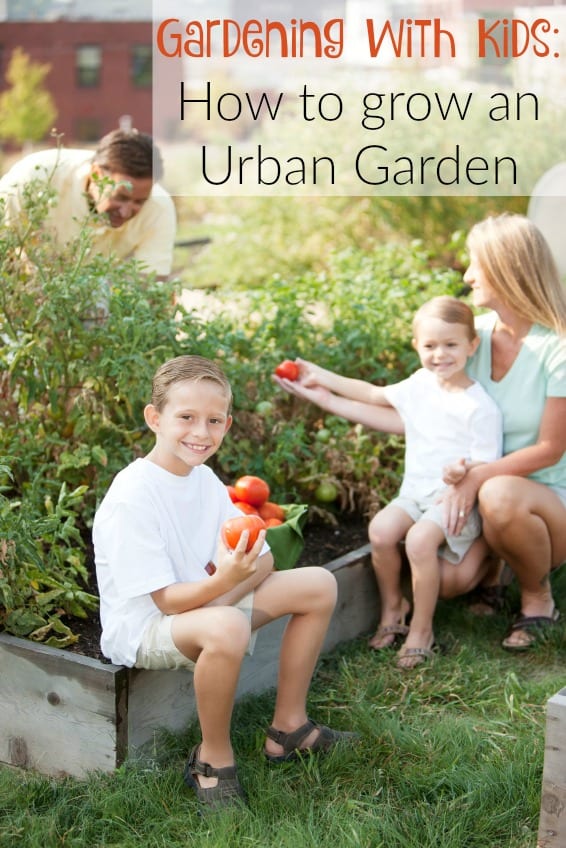 Even if you didn't grow up on a farm and don't know the first thing about gardening or raising crops, gardening with kids can help you and your child can learn together. All you need is a patio or balcony or small plot of land, and you can be harvesting food in no time. Here are some ideas to get you thinking about installing an urban garden for your child.
Think Vertical
How magical for a child to see food growing on the walls! There are many materials and designs suitable for growing plants vertically. In fact, recycling materials to use as planters is half the fun.
Get your child's imagination going to come up with ideas of everyday items that can be turned into planters. For example, that old fabric shoe organizer hanging on the back of your closet door can be hung on a wall and filled with dirt and herbs or other small plants. Old rain boots can be nailed to the fence or plastic bottles hung from strings. Your garden is limited only by your child's imagination.
Think Raised
Not vertical this time, just raised, as in not in the actual ground. Raised garden beds can be created anywhere you have a small amount of square footage on the ground, be it a deck or rooftop.
You can plant in them as you would a traditional garden with fruits and vegetables. To make it child friendly, use an old sandbox or a kiddie pool as the garden bed. Your garden will be whimsical and colorful but also able to grow a bountiful harvest. You can grow tomatoes, eggplant, peppers, summer squash, cucumbers and more in a raised bed.
Think Potted
Potted gardens are a great option for patios and porches because the planters can easily be moved when needed. Most fruits and vegetables can thrive in a pot when tended correctly. Because you can have a variety of plants in different pots, have your child choose some flowers that will attract humming birds or butterflies. Then you can both sit on the patio and watch the animals enjoy your garden too.
Think Indoors
If you're really crunched for space and don't have access to the outdoors from your home, you can still plant a garden inside. Herbs, tomatoes, carrots and some citrus fruit can all be successfully be grown indoors.
Some will need larger pots, such as the citrus fruit trees, but some can be grown in containers as small as a mason jar. Make decorating the planters an art project for your little ones by having them paint silly faces or other designs on the pots. Have them harvest the herbs and vegetables for you while you are making dinner so they can understand the value of growing their own food, even if it's a small amount.
If you're not sure where to get started, you can find many resources online. To get your child excited about gardening, read books about gardening to them. Every plant starts as a seed and grows into something more, so get your garden started, even if it's small, and watch it blossom into something wonderful for you and your child to enjoy.
Ali Lawrence writes about healthy and sustainable living via her family blog Homey Improvements. She was born and raised in Alaska and dabbles in organic gardening, Pilates, and photography. Follow her on Twitter @DIYfolks.