During the month of November, your Facebook feed will most likely be flooded with people showing gratitude. It admittedly is a good time to reflect on what we're grateful for. There is no harm in that. And, honestly I like hearing what random object or event someone is grateful for in their life towards the end of November when they've run out of the "obvious" answers.
A person much wiser than me said, Gratitude turns what we have into enough. And, frankly, we could all stand to practice a little more gratitude. Especially my kids who think life is so ridiculously hard when they have to pack their own lunch for school.
But, as I was thinking about that quote, I turned the words around a little to something that has become more meaningful to me in recent weeks. Because it's something I'm working on right now.
Gratitude turns who I am into enough.
Motherhood seems to have brought every weakness of mine into the limelight. It was as if as soon as I became a mother, I was keenly aware of my ridiculous impatience, my anxiety flew into action, and all of a sudden, I was not good enough. I wasn't a good enough mother, and I certainly wasn't the mother I thought I would be. Some days, I didn't even feel like I was a good mother. At all.
But, lately, I've been working on myself a bit more, and trying to accept myself for who I am. Weaknesses and all. And, be grateful for that person.
Practicing gratitude is wonderful and all, but how often are we saying that we are grateful for our own gifts, and talents, and maybe even grateful for our weaknesses too? I don't think I've ever seen a friend say on Facebook, "I'm grateful that even though I'm impatient sometimes, I'm working hard on myself every day, and who I am today is enough."
Sounds radical doesn't it?
For me, it's a hard concept to grasp that it's OK to just be who I am. Right now. Weaknesses and all. I still struggle with the perfectionism that has reared it's ugly head since the moment I became a mother. I still have days where I sob into my pillow and am absolutely 100% convinced that I shouldn't be a Mom. That I'm not good enough.
Because, I yell sometimes, and a good mom would never do that.
I get impatient sometimes, and that's ruining my kids self-worth.
I want to be alone a lot. And, why don't I want to be with my kids?
I want peace and quiet at the end of the day instead of loud laughter and kids running through the house wild and happy. Good mothers don't think like that.
But, this mother does.
So if I accept who I am, then I have to let go of that perfect mother I think I should be. So, how exactly does that work?
I have to practice gratitude for myself. Every single day.
I yelled at my 6 year old this morning. He and his sister were wild and happy and carefree, but there was this little thing called time slipping away that was going to make them late for school. I was reminding them over and over to: "brush your teeth, put your lunch in your backpack, get your shoes on. BRUSH TEETH!" Until I broke. My six year old took teeny tiny baby steps into the bathroom because he was happy and carefree and didn't know what time it was, and was just having fun. But, I was mad. So I yelled in frustration and he burst into tears.
How can I be grateful for THAT?
But, I'm grateful that I immediately realized that I was frustrated.  And, yes, moms are allowed to be frustrated. Of course my reaction was flawed, but I'm grateful that I'm self-aware enough to apologize, give a hug, and try harder the next day. I'm grateful that I care. I'm automatically a good mom because I care. I'm not perfect, but I'm grateful that I'm GOOD. Because a bad mom wouldn't care. She wouldn't realize her job is important and her actions matter. She wouldn't apologize.
I'm grateful that in those moments where I make mistakes, I am realizing that I'm a good a mom.
Gratitude turns who we are into enough.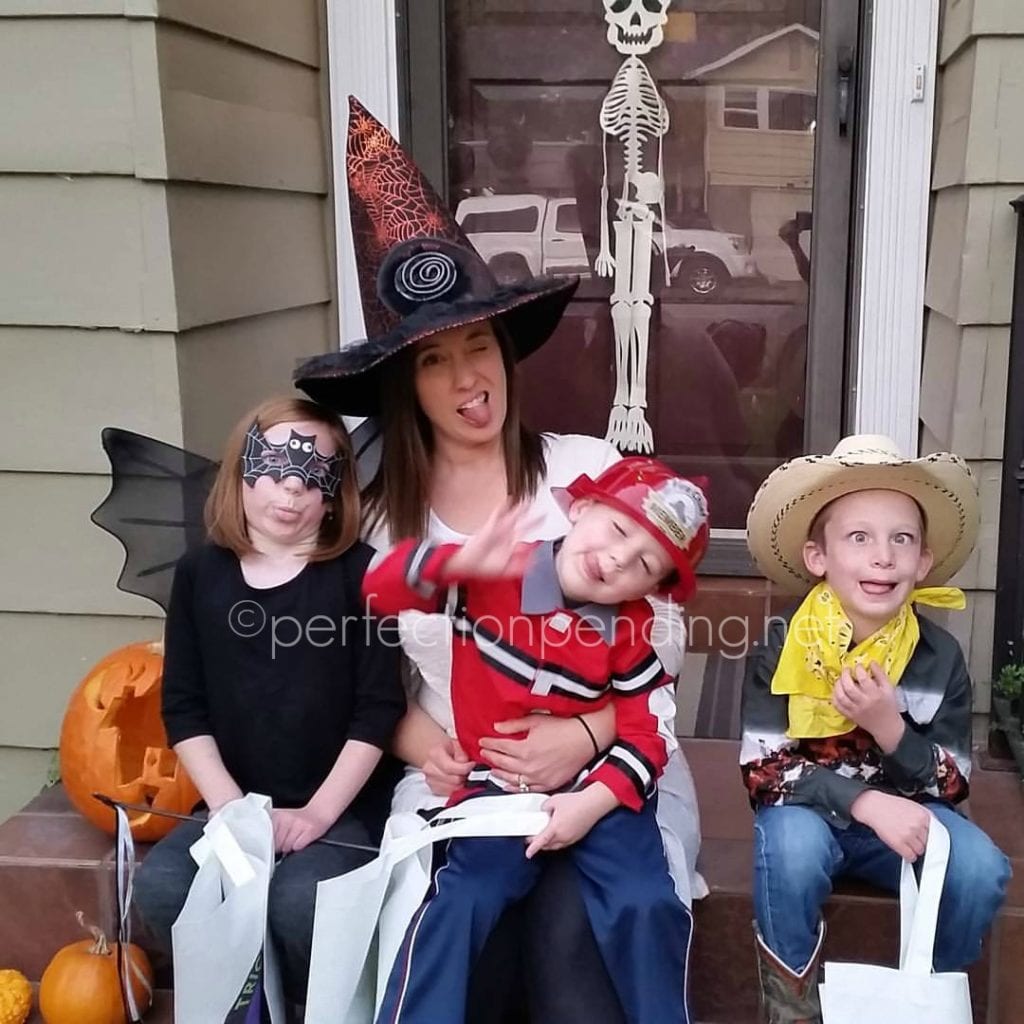 The thing is, it takes practice though. You are not suddenly going to say, "Wow. I'm awesome. I yelled at my kids only 4 times today instead of 42." Nope. Because you are a good mom, you'll still feel bad about the 4 times you screwed up. But, you can practice gratitude for the 38 times you didn't yell because you are becoming a better mother everyday.
There is a reason why they call it practicing gratitude. Because we have to try everyday to accept that we aren't perfect. And we were never meant to be. I have to believe that God gave ALL children imperfect mothers so that we can grow together in our families. It's also time for me to start believing that God gave MY children a good mother. A really good one. And, she is enough.
Gratitude turns who we are into enough. I am enough. YOU are enough for your children.
So, the challenge I'm going to take this November isn't going to be to share on social media what I'm grateful for. My goal is going to be to quietly practice being grateful for who I am. To practice telling myself that I am enough. God never expected me to be perfect while rising these kids. He only expected me to be me. He'll make up the rest.