At 6:45 am, I hear a shrill MOOOOMMY! I sit up in bed, and start making my way to the boys' room when I hear it again. More panicked sounding. I break out into a run down the hall as I imagined, puking, stabbings, or attempted kidnappings. I tore open the door and said, "What's wrong!!???" expecting the worst.
K replied, "I need a kleenex." The box was on the floor right next to his bed.
Real life parenting moment right there.  Needless to say, I gave him his kleenex, went back to bed for a minute to let my heart rate return to a normal rate, and just as I drifted off to sleep again, my alarm went off.
I wonder when, or if, all three of my kids will ever sleep through the night? I have my doubts.
The truth is, the elusive "sleeping through the night" that we are all searching for must be a big fat joke. Or maybe it's a parenting conspiracy created by those who want the human race to continue. Because, really, if you were told, "You will never sleep all the way through the night ever, EVER, and I mean EVER again" I think 2/3 of parents would drop out.
For those of you that have one kid, this probably doesn't apply. Because I think that if you have one, eventually, they will sleep through the night during those pre-teen years, and so will you. That is if you aren't too worried about them making a YouTube video that will destroy their future in their bedroom while you sleep. But, for one kid wonders, maybe you get to sleep at some point. I'm not convinced of that, either.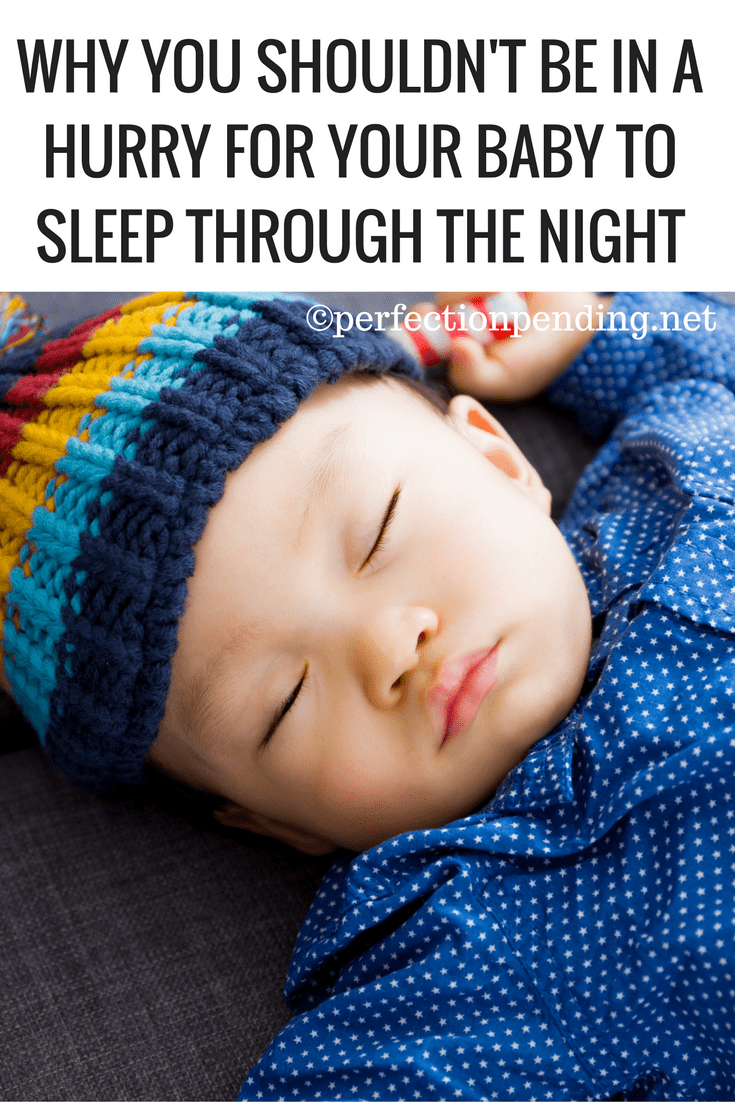 Sure, those first sleepless days are blissful when you bring a newborn home, but eventually, you want to move on with life. You know, things like taking a shower, or eating something other than the cold mac and cheese your toddler refused to eat. Going to the grocery store seems like a huge feat.
And, then at some point, you go to the grocery store for the first time, and maybe your baby has a  miraculous night or three at around 4 months, and you exclaim, "She slept through the night!" Only to realize that the waking up in the middle of the night isn't "just a phase" as other parents would like you to believe. The sleeping through the night is the just a phase part. And it usually only happens in very small phases. Like, teeny tiny ones. Just enough to make you believe that you have finally turned a parenting corner, and you are starting to feel normal again getting 6 consecutive hours of sleep, and then bam! Teeth, or illness, or rolling over starts, and you are back to square. freaking. one. But, you are too embarrassed to admit it because you already told everyone that Jr. sleeps through the night. It's OK. No one with kids really believes you anyway.
But you comfort yourself in a friend's kind words (that are also a lie) because you desperately need something to look forward to. "Oh, my baby didn't sleep until she was 18 months old. So, just hang in there. It will happen." I've even said this to people. I'm sorry.
Sure, it's true, that at around 18 months, both of my boys started sleeping better. I started to feel like a normal human that could get into a routine, and have real conversations where I didn't zone out in the middle, dreaming of a nap. But, what I didn't tell you is that really, the sleeping through the night still only happens about half the time. It's always something. Especially if you have more than one child.
As soon as one starts sleeping through the night, the other one starts having bad dreams. And, as soon as she is over her bad dreams, the next one will only sleep if his favorite lovey is tucked under his arm. If it comes loose, you will be summoned from that amazing dream you were having about eating a hot dinner, alone, on a deserted island. And, as soon as he is over his lovey, the next one gets a cold, and then when that cold passes, the other kid will be too hot and be too scared to kick his own covers off his own cute little feet. It sounds like I have twenty children. I only have three.
If my calculations are right, about the time my youngest hits puberty and doesn't want anything to do with me, and wants to sleep all the time (please tell me this will happen), I will have 18 years of sleepless nights under my belt, and I'm assuming, won't be able to sleep anyway because I will have an 18 year old daughter.
So, parents? I think it's time to unite. Admit that parenting means we will never sleep completely through the night again. Why can't we just admit it!!??
It's OK. I won't shun you. In fact, I am a member of a new generation of moms that is admitting that sometimes this is hard despite judgment, ridicule, and name-calling from others that want to paint the pretty picture all the time and tell us to enjoy every second. And, I will say that I am happy to speak the truth. It's the only way for me. And, when I'm old and gray, I am willing my brain to remember how hard this parenting gig is. So I can take that young mom's hand and say, "I know it sucks, but you will get there. One day. Can I buy your groceries?"
I'm willing my brain, I tell you. That is if it has any cells left from the years of sleepless nights. So, again, I promise, but I can't guarantee.
But, what keeps me going? The tiny little miracles in everyday. We've all had them. We've all watched our kids do something SO adorable that we forget all the hard, sleepless nights for a quick second and experience joy.  Pure parenting joy. And, in some screwed up way, sleep doesn't seem that important anymore.
Update: No I still haven't sleep through the night, but my husband sent me this text after reading my post, "how about a hot date this Friday with a hot dinner on a deserted island? Sorry I'm not invited, I'll be filling up Avery's water cup" I love that man. At least we're in it together.