***All opinions expressed in this post are 100% mine. Products were given in exchange for an honest review. 
Here's the thing. I used to be organized. Until I had kids. And, now it seems like we are all on survival mode around here most days. I usually go by the standard of: What can I do to make it look less cluttered and messy in case someone drops by unexpectedly. But, since we moved, I've been wanting to get things a LOT more organized.
When, I heard about Kidecals, I checked out their website and was surprised to find several things I not only wanted, but needed. First and foremost were their stickers/signs for keeping people from ringing your doorbell when your baby is asleep. Yes please!! I've blogged before about how nap time is crazy sacred around here, and how I pretty much hate anyone that makes a noise anywhere near my home during that special time. Well, the thing is, I had taken to leaving notes on the front door that looked something like this:
My husband hated this particular one. He thought that it was rude (of course, he's not the one who only gets 1.5 hours of time to himself every day) and that I was taking it too far by saying don't ring or knock. OK, maybe I was. But, I'm serious about nap time.
The solution? This beauty from Kidecals.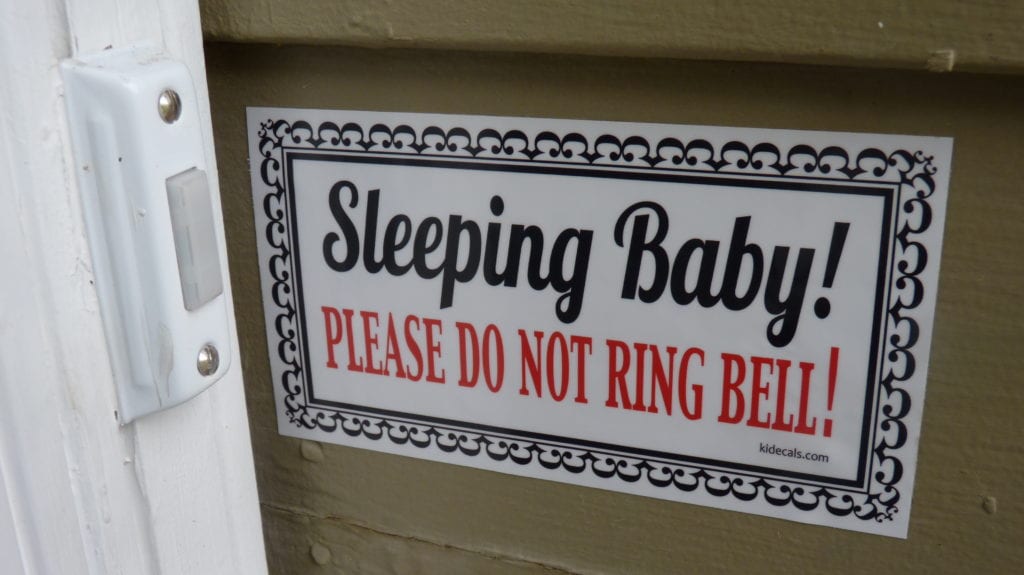 This sticker is waterproof and extremely durable, and much much cuter, don't you think? I leave it up all day when my husband isn't around, but on the weekends, he wants it to come down when we aren't technically napping. (People, you should call first anyway.) So, we've taken it down and re-applied a couple of times, and I'm impressed. It is still extremely sticky, and isn't messing up any paint or anything on the siding of my house. I love it. And, while I really wanted to buy this one that said, "Wake my baby and I will cut you"; I figured my husband definitely wouldn't allow that one. I think it's hilariously perfect.  Kidecals has a couple of different styles of doorbell stickers, so you should definitely check those out.
I also knew I wanted to give my canisters in my kitchen a facelift. They really are so boring. Especially my cookie jar. This is the before:
And, the after: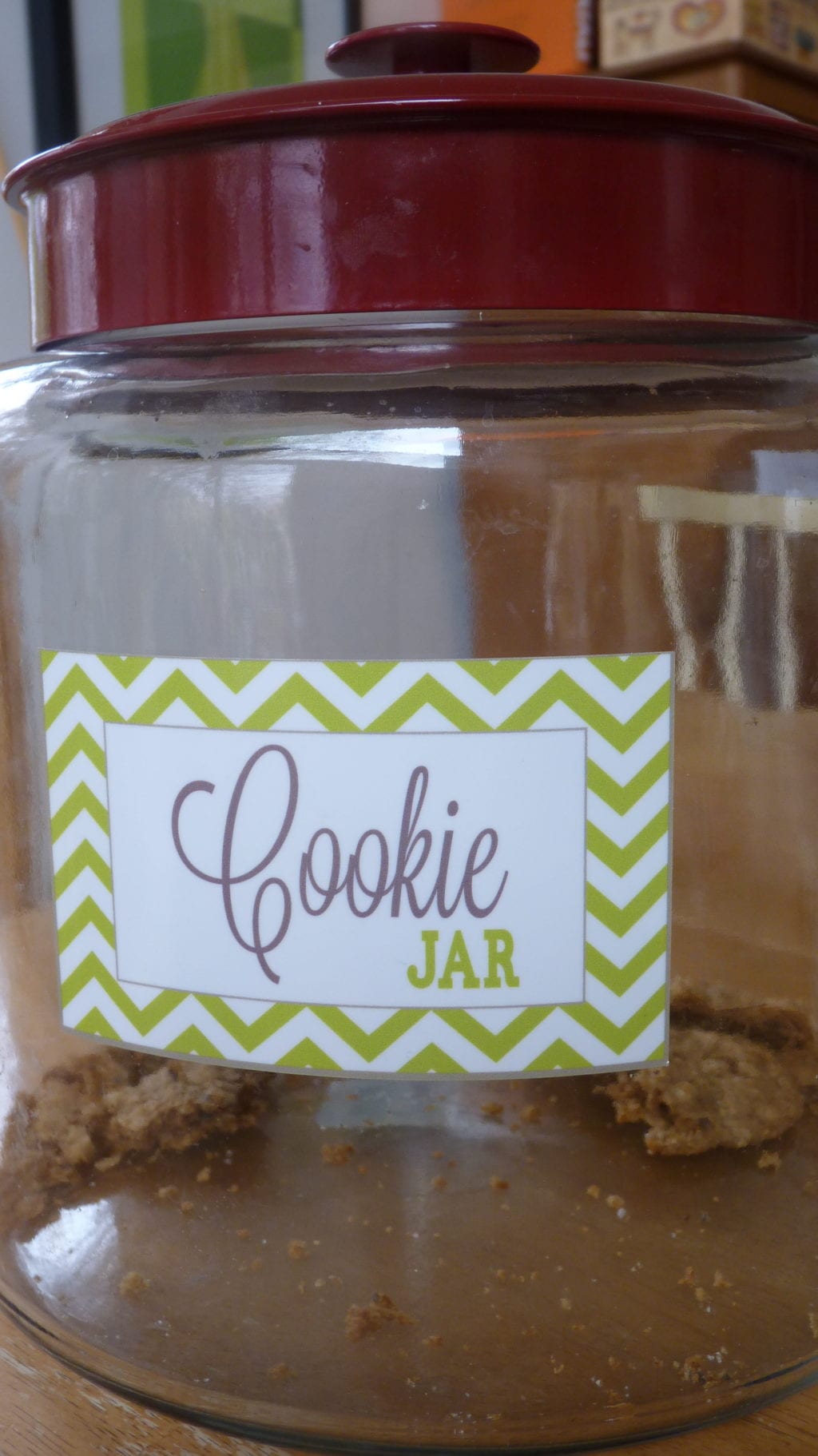 Isn't it so much cuter? I am amazed that these stickers are dishwasher safe too! You can use them on pretty much anything, customize them to the canisters you have in your kitchen, and you don't have to worry about whether or not kids will mess them up. They won't. They're awesome. So, I ordered a set of their pantry labels and I was able to customize them for what I needed!
The last thing I knew I wanted was a recycle sticker for my trashcans in my kitchen. We have two small ones, and everyone that comes over has to ask which one is the recycle. Well, now I can label them easily and it looks official, too.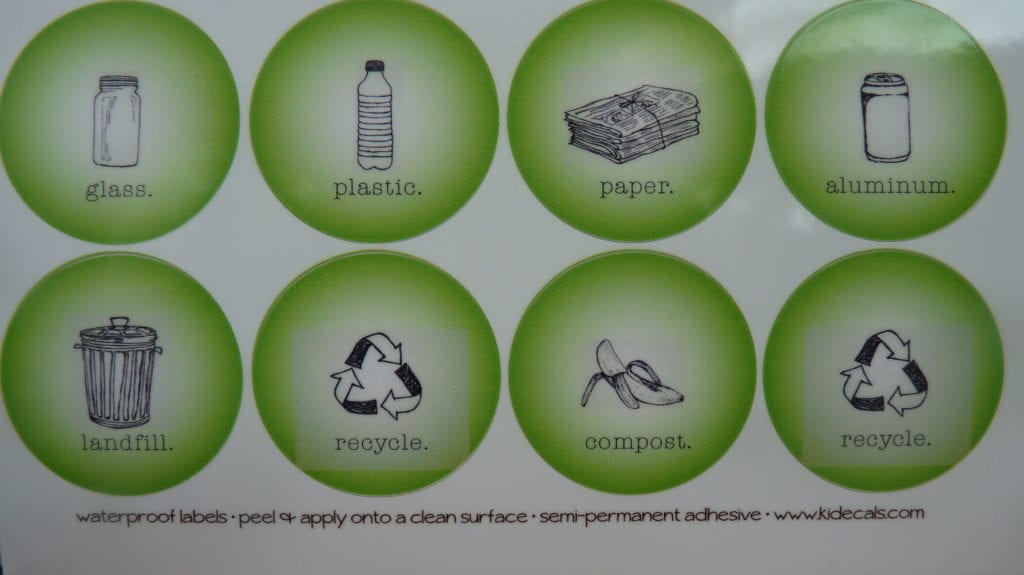 See, I feel more organized already.
Kidecals really has a TON of great products. You should check them out!! I was really impressed with their food allergy stickers too. My kids have thankfully outgrown their food allergies, but I know how stressful it is to worry all the time about your child being fed something that they shouldn't have. Kidecals has some awesome stickers for your kids' stuff so that no one will make the mistake of giving your kid what they are allergic to! And, they even have allergy stickers you can customize. And, get this-you can wash them in the washing machine!
I even have a discount code to offer to my followers that have liked me on my facebook fan page, or are email subscribers to my blog!!
All you have to do is: Like me on Facebook and then leave me a comment on my FB page that you've liked my page, and I will send you a message with the code! It's that easy.
OR
Subscribe to my blog via email, and I will send you the code too! Simply leave me a message in the comments and I will email it to you! 
I definitely think I will be ordering more of these awesome stickers in the future. Machine washable, weatherproof, extremely durable, AND dishwasher proof?? What are these things made of?
I think it must be magic.
And FYI- I got the products extremely fast and couldn't be happier with my new labels!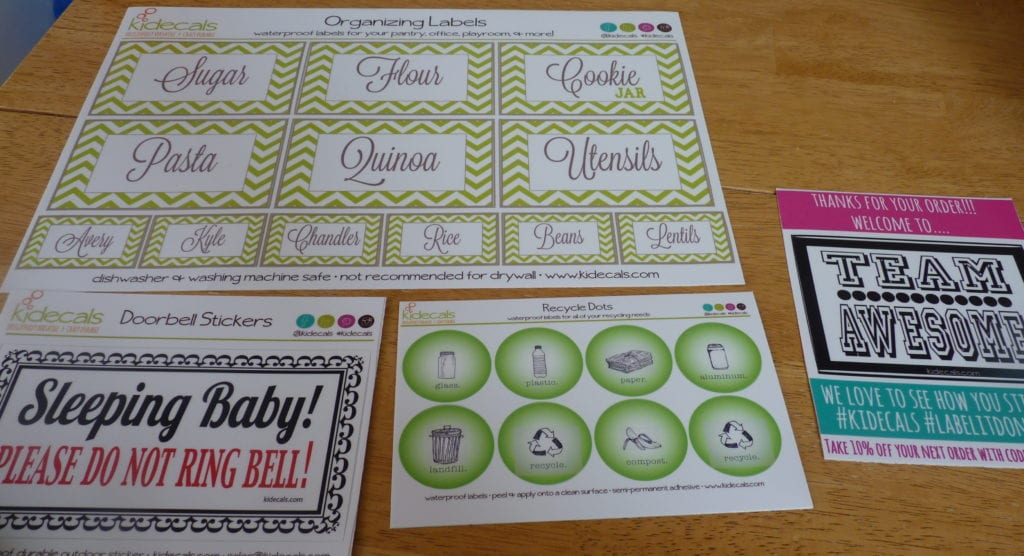 What do you think? Are you going to order some, too?