It happened not long after my third kid was born. I adopted a new attitude. A mantra if you will.
Suddenly, I had to let go of it. Like, all of it. The control freak in me was still there, but she could no longer control everything because she has more kids than hands now, and that was it.
A little (super annoying) part of me died. But, honestly I'm a better parent because of it.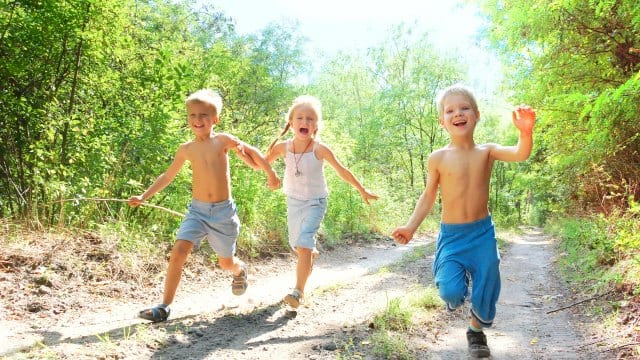 So, I adopted the third kid rule. Which is kind of like the five second rule, but for kids. When you have too many. And can't stop the chaos. If first-time mom me ran into third-time mom me, she would be horrified.
The other day a neighbor texted me:
Neighbor: I saw you drive by. I know my kids were outside playing, but I was watching out the window.

Me: (why is she even texting me this?) You don't have to explain yourself to me. Ever.

Neighbor: Yeah, but my youngest is pretty young to not be right beside me.

Me: Eh. Third kid.
The third kid rule is a mantra. And the mantra is basically this: Eh.
Baby book? Eh. I share cute stuff on Facebook.
All organic food? Eh. He ate goldfish and fruit snacks. Samesies.
Doesn't want to wear shoes or a jacket? Eh. He'll tell me if he's cold.
You get the idea.
It's a great mantra for all the things really. I didn't bake cookies for the PTA? Eh. I have three kids.
My house is a disaster 24/7? Eh. 3 kids live here.
We forgot a project was due today? Eh. They'll turn it in eventually.
It might be seen as lazy to some, but to me, it's seen as a survival skill. My house became exponentially more noisy with each kid, and by the time the third kid came along, I was lucky if I could hear myself think.
Can't formulate an intelligent sentence? Eh. Mom brain x 3.
My house became more messy, and chaotic, and frankly more chill. And chill is not a bad thing when you're a perfectionist. Chill is a glorious enigma to the perfectionist that only granola-y moms who shop exclusively at Whole Foods have. Until you have three kids. Then chill is suddenly a likely response to broken glass, and injured bleeding foreheads, and packed schedules. It's a survival skill for tweens screaming in your face, while toddlers pee on the floor and the middle child did what at the neighbors house?
Shrug and say, "Eh. Third kid." is all you can do when life suddenly blesses you with a colicky infant and two older kids to take care of. After all, now you have more kids than hands, so what can you do some days?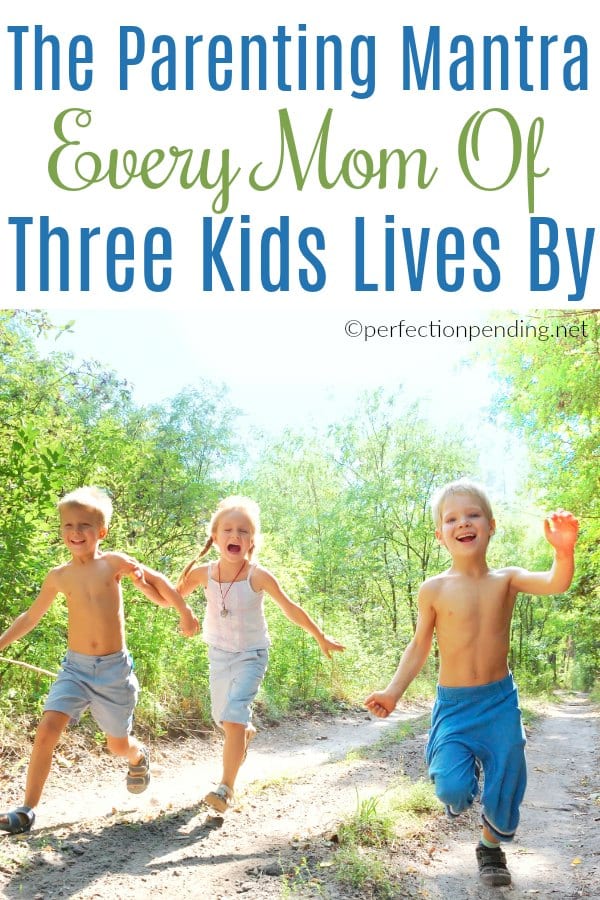 I've realized too that having three kids has pushed me over an edge that I wish I would have fallen over a long time ago. I wish that I would have learned sooner to let go. Give in. Say yes. Do crafts with glitter. Say no. Pray more. Think less. And surrender to the chaos and just enjoy the messy moments more.
Some moms get there sooner than me. But, three kids is what helped me adopt the third kid rule. Which is: I have three kids now, so what can they expect? What can I expect? What can the kids expect?
It's a relief really to have gotten here, and I'm happy to have finally learned to let go a little more.
Now to those of you that are blessed with more than 3. I have a few questions:
What becomes the mantra when you have more kids than fingers? Is it the serenity prayer? It must be the serenity prayer. If not, I will pray it for you.
This post originally appeared on That's Inappropriate. 
Read more from Meredith Ethington here on her Facebook page Perfection Pending. Meredith Ethington is a writer and a mom to three, trying to help her kids understand sarcasm and her need for personal space. Meredith's debut parenting book, Mom Life: Perfection Pending, provides an uplifting yet realistic look at all that is expected of moms in the 21st century.