The morning started like any other. Getting kids off to school, packing lunches, and maybe a little bit of frustration thrown in. The older two were on their way, and my husband had long since left for work, and I just wanted my bed. It was one of those mornings where I had been dreaming of getting back in it from the moment I opened my eyes.
The four-year-old needed to get ready for preschool, but he still had an hour. He was begging to play games on the tablet already, and putting him off, I replied, "If you get all ready for school first" knowing that would keep him occupied a while.  He ran off excited at the prospect of screen time, and I headed for my room. I laid down, and dreamt of hours of rest I knew I wouldn't get that day.
After he got dressed, I heard him rummaging in his sister's room. I knew he was probably up to no good, but didn't want to disturb the moment of quiet I was getting. He wandered in with a red finger light saber on his finger. It was his sister's because his had broken almost immediately after he had gotten it. Because, four-year-olds.
He was happy having distracted himself from the task of getting ready for school. But, I looked at him, and knew I needed to steal a hug. "Come snuggle me" I said. He climbed into my lap and I breathed him in. In that moment, I thought about how quickly time is moving, and how big he was sitting in my lap now.
He laid on my lap babbling on when he said, "Mommy, when you go to the store with the dot in the middle and the circle around it, will you buy me one of these?" I knew he meant Target. I smiled. "Sure buddy. If they still have them." and I squeezed him tighter.
It was a moment as ordinary as any other, but at the same time it wasn't. Something in me switched. I re-focused, and suddenly, instead of dreaming of being alone for a few hours, I saw a day when I would actually be alone. I saw the day when he wouldn't be there, and neither would my other children. I saw an empty lap, and a lump filled my throat.
As I breathed him in, he wanted to climb under the covers and see what his red finger light saber looked like. I climbed under with him. As we pulled the covers over our heads, he giggled at the sight of me doing something that he was doing. It was dark, and the little red glow of a toy I once threw into a Christmas stocking haphazardly, filled the space between us.
He talked non-stop and I watched. I took it all in. I savored how his eyes filled with wonder, and how when he said little it sounded like, w-ittle. I realized I was in a magical moment that wouldn't last.  Just like that, I was begging for time to move slowly, but I knew it wouldn't. So, I opened my eyes wide open and willed myself to remember. I watched and I thought to myself, "Will he remember this?" knowing that he wouldn't. So, I vowed that I would.
We looked for shapes in the pattern of my comforter, and he asked me what kind of flowers it was that made up the pattern. We talked about how the red glow looked like a flashlight and looked way down into the deep abyss of the bottom of my king sized bed to see what was there. He tried making finger puppets and giggled when all he could do was wiggle a few fingers in front of the light.
A tear slid down my cheek as I thought of my older two at school. Did I do this kind of stuff with them? I wondered as I listened to him run off to get his blankie from the other room. He wanted to see what it looked like in the magical red light under the covers. Of course, I did this kind of stuff, I reminded myself. But, I was forgetting.
This is what motherhood should be, I thought.
Instead, it seems as if motherhood is just made up of the messy moments, the ones where you are yelling to get kids out the door for school, and negotiating exact number of bites they need to eat before they get dessert. It's filled with frustration when you lose your tempter, and sadness when you mess up. Motherhood means guilt, and errands, and an endless amount of hours wasted looking for things. It's filled with the mundane like laundry, and cleaning, and endless amounts of vacuuming smashed goldfish off the floor, and picking up legos. It's fighting with a teenager about homework, and sitting in separate rooms wondering how you'll make it through the next few years.
But, it's truly magical too. It's clean kids after a bath sitting in your lap reading a story, or crafts done on a whim with glitter all over our faces. It's giggles and tickles, singing and laughing, jumping in puddles and running through the rain. It's I-love-yous and hugs, and moments where you realize they are actually listening. It's a child that's happy for no apparent reason.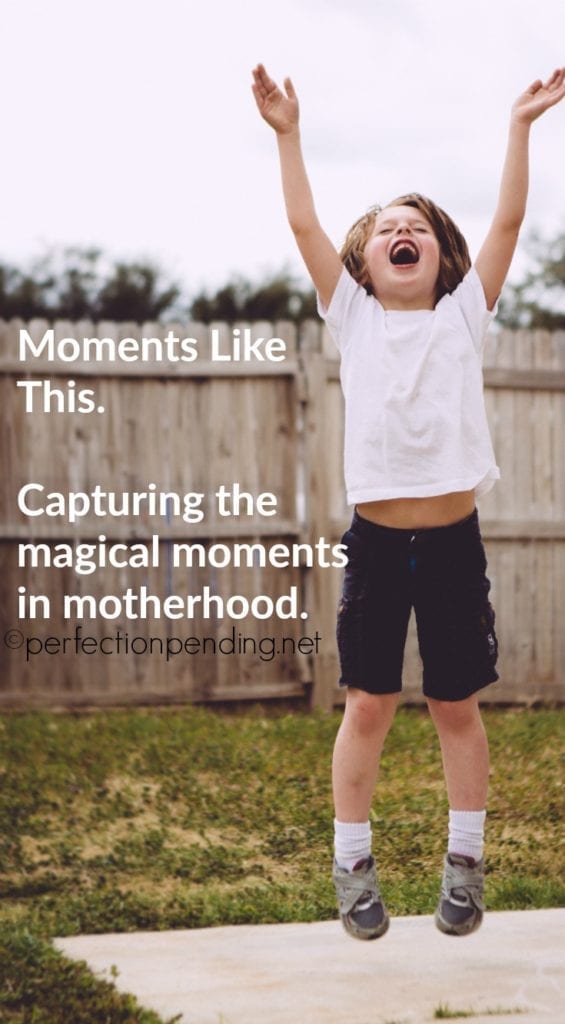 And, it's lying under the covers with a four-year-old watching a stolen moment with his mama bring him joy.
As mothers we are gifted these moments over and over again. It's what takes our breath away and keeps propelling us forward to complete the mundane, and the ugly tasks that are also required of us. Because we know those tasks get us to the next magical moments like this.
When these moments happen, I crave for time to move more slowly instead of speed up. Wouldn't it be nice if that's all motherhood was made of? The moments where you hear them, and see them, and beg for more time with them? The moments where they know, as much as you do, that they are loved beyond measure.
But, just like that, I knew it was time for me to get in the shower. "After your shower can you climb back in here and we can do this again?" he asked as he saw me getting ready to leave our red glowing cocoon.
"No, baby." I said as I stroked his cheek. "It's time for school."
And, like that, I threw back the covers and unveiled the bright sun streaming through my bedroom windows. I blinked at the stark contrast and I knew that even though the magical moment was over, I lived in it as long as I could.
And, that's all a mother can do.
***
photo credit: always and forever via photopin (license)