I imagine that the latest post, Dear Mommy Blogger is set to go viral. Good job anti-mom blogger lady who is still blogging, you wrote a post to get all the mommy bloggers talking. I'm not going to say much more about that post. If you want to go read it, go for it. Be forewarned, it's angry. And she claims mommy bloggers effing suck.
I want to write a letter of my own. I'm a mom. I'm a blogger. So, yeah, I guess you could say I'm a mom blogger. I've been blogging since 2007. I've taken long breaks and almost quit several times. I've questioned many times why I'm doing what I'm doing. What is my goal? Some months I write nothing, and other months I have written daily. Some of my posts are total crap. And, some I am crazy proud of. I didn't make any money for a long time, and I sometimes make a little to support my habit. I also have done freelance writing for websites larger than my own and gotten paid. I write mom blogs, and I read them. And, here's what I want to say.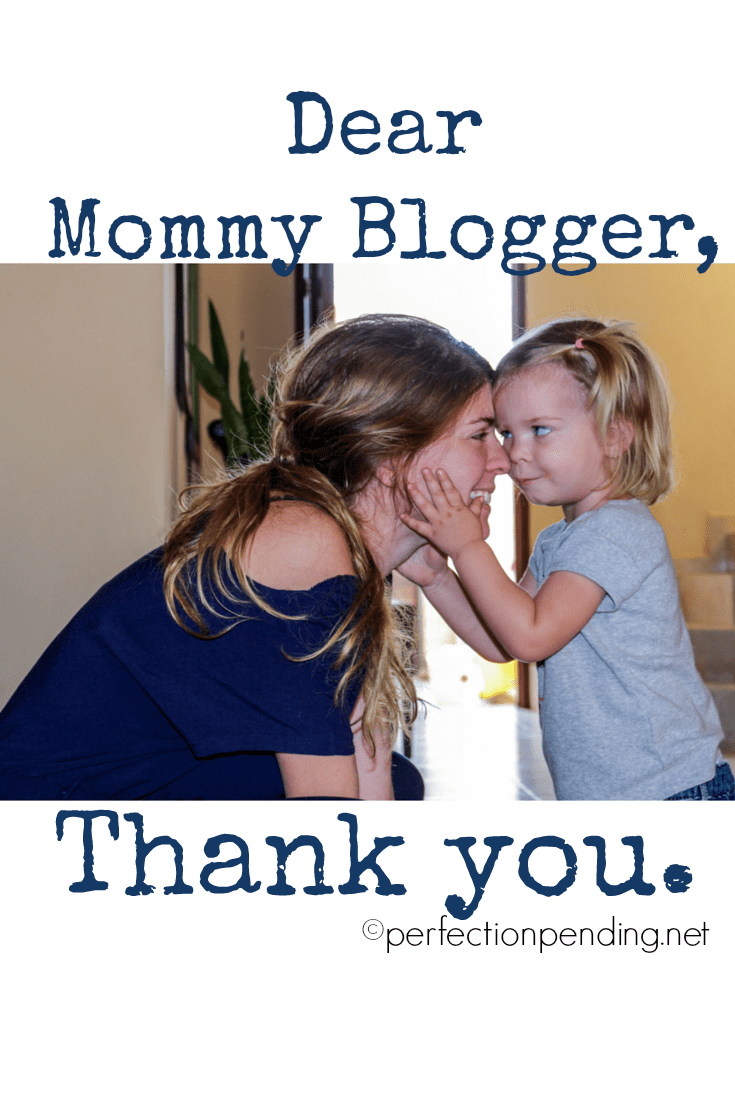 Dear Mommy Blogger,
Thank you.
Thank you for helping me find myself through postpartum depression.
Thank you for making me feel less alone.
Thank you for teaching me that there are moms that think and feel the way I do about motherhood.
Thank you for talking about the ugly and the beautiful parts of parenting.
Thank you for teaching me about food allergy issues that helped me find a diagnosis for my son.
Thank you for inspiring me to be a better mother through your experiences.
Thank you for making me laugh.
Thank you for inspiring me with your drive to support your family through blogging.
Thank you for writing and sharing a piece of you.
Several years ago I was going through a really difficult time adjusting to new motherhood. I read a post by Glennon Doyle Melton. She's a pretty famous "mom blogger" turned author, motivational speaker. Yeah. Everyone knows who she is. But, back then, I didn't know who she was. I just knew that she wrote something that helped me accept myself more. It was a post called, "Don't Carpe Diem"
I read it and wanted to cry. Finally. Someone understood my heart. It was 2012 and I had two babies. One was just a year old and struggling with severe food allergies. I loved my kids, but I was having a terrible time at motherhood. I felt overwhelmed, frustrated, and sometimes even angry that I had this little boy with so many problems. I was barely holding it together. I wasn't exactly enjoying every moment of motherhood.
In fact, some days, I was only surviving. But, when I read that post, that was it. I knew I wasn't alone. I hung onto every word, and felt healed in a way. I finally accepted that it was OK not to love every moment. I wanted to touch people with my words the way that she had touched me.
It was probably a year after that when I decided that I wanted my blog to transform. No longer was I just going to post little quips about my kids and their latest cute thing they said or did, but I wanted to inspire women. But, more than anything I wanted them to feel OK. To feel less alone. I hoped that they would feel understood. That's why I blog.
I can't possibly explain in words what blogging has done for me. It's gotten me through some really hard times. It's built true friendships. It's helped me self-reflect in ways that I never would have before, and I get comments and personal messages and emails from readers all the time thanking me for making them feel less alone.
Blogging is working. It's building bridges, and lifting others up. It's connecting people, and it's inspiring good things. Even if all we're doing is turning around and being better mothers, that's important. The work right inside our homes is the most important work.
And there are lots of amazing, smart, talented women who have mom blogs and who are amazingly raw, genuine, and REAL.
I'm a better mom because I blog. This does not mean I'm better than another mom that doesn't. It just means that for me, blogging has brought release, healing, comfort, and friendships. It's saved me from dark, dark times struggling with anxiety and depression.
And, I hope my words are saving others too.
So, mommy bloggers, thank you. Because your words make a difference. And, I understand the product review here and there too that you need to do to keep your little blog afloat. Blogging takes time, and effort, and work believe it or not. So why not pay yourself? That doesn't make you a sell out. That makes you a smart woman who knows her worth. You are contributing to society and to your family. Even through product reviews. Blogging is empowering you to provide a better life for your family. I get that. Good job for doing something for you and your family, that also happens to benefit other people too.
Thank you for being an example of feminism and empowering women everywhere to achieve their goals independent of their spouses.
Don't believe anyone that tells you that mommy blogging sucks. Instead, know that you are doing good things. You're healing hearts, and opening minds, and inspiring moms all over the world to be their best selves. Right inside their little houses. You are helping moms be better people so that they can help their children be better people.
The work you do is important. Mommy bloggers have helped change me. I'm a better wife, mother, sister, daughter, and friend because of your words.
I'm stronger, more compassionate with others (and myself), more confident, and more self aware because you lifted me up.
So, thank you. Keep doing what you do. And, I'll for one keep reading blogs, and writing them. Because mommy bloggers don't suck. They help shape the world.