Every young mom has been there. We've had a sweet little lady, well past her years as a young mother, approach us when a screaming toddler is melting down about whatever you might have said no to, and she places her hand over her heart and says, "Enjoy it. It goes by so fast."
I used to get super annoyed by that phrase mostly because it filled me with unnecessary guilt in a moment where I already felt beaten down by motherhood. But, the longer I'm a mom, the more I get it. My oldest is turning 10 next month, and I can hardly wrap my brain around the fact that I've been a mother for 10 years. It does go by so fast. Sorry, but it just does.
Maybe that phrase sends you into a tailspin of regret and remorse and maybe it doesn't. But, for me, it does wake me up a little bit when I hear it now, because life is flying by as my kids outgrow the toddler years and start needing me less and less. I don't want to miss anything.
But, here's a realization I had recently. There is no such thing as mothering without regret.
I recently forgot to pick my daughter up from school. As soon as she called me and I heard her tiny voice on the other end, I lept into action. I was at the school within minutes, and she walked to the car, weighed down with backpack and band instrument, and she suddenly seemed so grown up. She smiled at me when she got in. I'm sure I had a look on my face that was somewhere between horror, sadness, and please oh please forgive me, when she sweetly said, "It's OK." when my apologies came spilling out.
It was OK. She was safe inside the school, and it took me under 5 minutes to get to her. But, I had forgotten my daughter because I was distracted with other things.
You see, it's impossible not to regret some things.
I regret that I take too long to respond sometimes when they ask me for help. Or that some nights, it feels almost impossible to do the bedtime routine and wrestle tiny bodies into pajamas, and read stories, and say I love you 22 times until they finally stop moving and talking.
I regret that I yelled when I potty trained the first one, and tried to potty train the second one when I was 8 months pregnant. (That was just plain not smart.)
I regret that I didn't pay better attention in math so that I could understand my 4th grader's homework better.
I regret that I feed my kids junk food when I thought for sure they would eat fruits and veggies all day.
I regret that there is yelling in our house way more often than I'd like, and that sometimes I see tiny faces crumple when I lose my temper over something silly.
I regret that I selfishly would rather eat alone some days than participate in eating negotiations with a strong willed four-year-old.
There are always going to be regrets.
And I imagine that one day, when I'm an empty nester and sending my last baby off to college that I will for sure wish there was one more story to read, and one more forehead to kiss. I know that I will wish I had carried them more when they asked, and that I had listened more intently to their stories as mundane as they were about things that happened at school, or about the latest video game they played. I will wish that I could still hear their squeaky two year old voices, and the grammar mistakes they made. I will one day try so hard to bite my tongue and not say, "Enjoy it. It goes by so fast." to the young mother with the screaming toddler.
I will miss it all. The good, the bad, and the ugly.
I know me. And I know I will have regrets.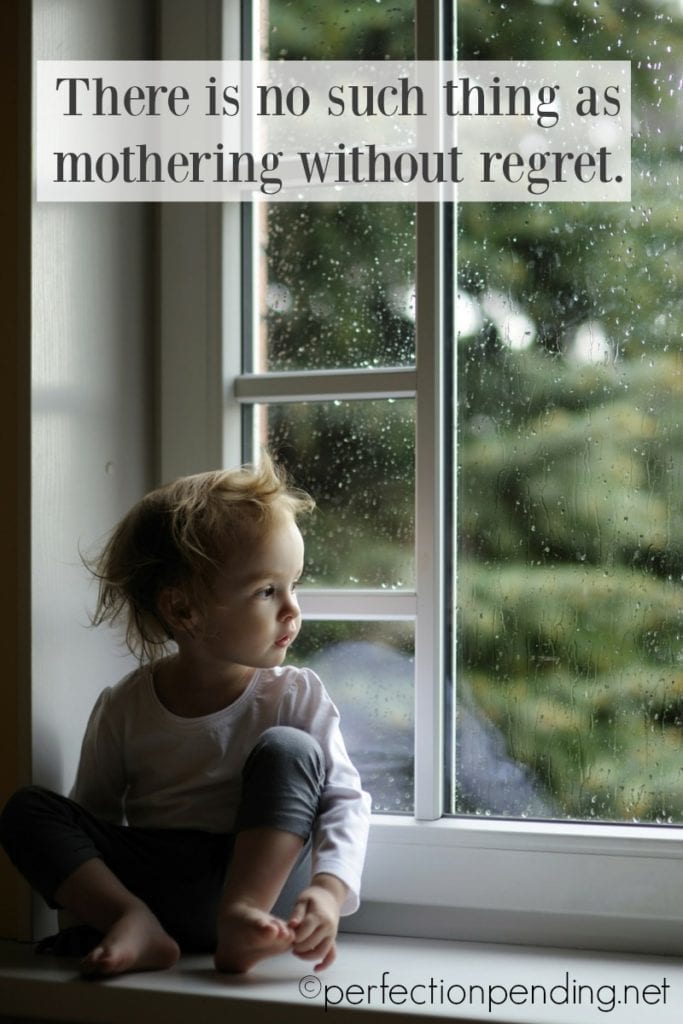 Which is why when someone tells me to enjoy every moment, I'm listening now. I want that wake-up call to remind me. Because reminders help us open our eyes to what is right in front of us. We will never accomplish everything that is required of motherhood without regret. Mothering without regret is impossible. Because there are no perfect mothers.
When you mother with eyes wide open, a change can take place. You will be wide open to the fact that you're not perfect, but some days, you do good. REAL good. You're raising human beings that require all of you, which you cannot possibly give because you're a human being too. Some days you fail but other days you don't.
On the days when I'm tempted to feel guilt, I fight it with action.  I engage with my kids more. I forget the laundry, and play a game instead. I go outside and enjoy being with them. I soak up enjoying it until I feel like I can't possibly hold anymore joy. And, really, that's all any of us can do.
We need to accept that we're doing it. We're mothering, and it's enough. Stop yourself when the world is telling you you're not doing enough. Look. With eyes wide open, and then stop that guilt from rushing in by telling yourself that it's without a doubt entirely impossible to get it all right all of the time.
Point out to yourself (over and over if necessary) the moments when you are doing good and you are present and you are paying attention so that you're getting a clear picture that you are, in fact, doing your best.
Accept that regrets are part of what you signed up for because there is no such thing as a perfect mother.
So let it go, mama. Let it go that yesterday you didn't read one last story, or give one last hug when you were tired and drained, and just over all of it. Breathe a sigh of relief that no matter what you do, you will still regret. It's not depressing really. It's just what mothering is. But, vow to mother with eyes wide open more often. If you do that, the guilt will wash away, and you'll feel peace knowing you are doing enough.
For me, I feel comfort in knowing that one day when my house is quiet, and there is no one begging me to make them a snack, I will miss them fiercely. And, that's because what I did was enough. I wouldn't miss it if I wasn't enjoying it while it happened.
It's impossible not to feel a pang of regret that you didn't see what you will see once they are gone. It's part of what we signed up for. I wish I could see it, but I can't. So I'm going to stop worrying that I'm not enjoying it enough, and mother with eyes wide open to the beauty that mothering is. I will stumble. I will fall. I will regret. But, I'll also do my best.
And, that's enough.
****
Mother's day is this week, and all we want really is to know we are enough. Share with a mama you love that needs to hear this too.