One thing I love/hate about parenting is all the little surprises that you never realized were going to be an actual part of parenting. You know what I'm talking about right?
The things that you'd never expect to hear from your own lips that sound just like your mother talking, or the unexpected things your kids say and do. Parenting is full of surprises. It's hilarious, and it's terrifying at the same time. Because the unexpected is around every corner. And, some days nothing surprises me, while other days, I'm just in awe of being a parent and the unexpected things that brings to my life.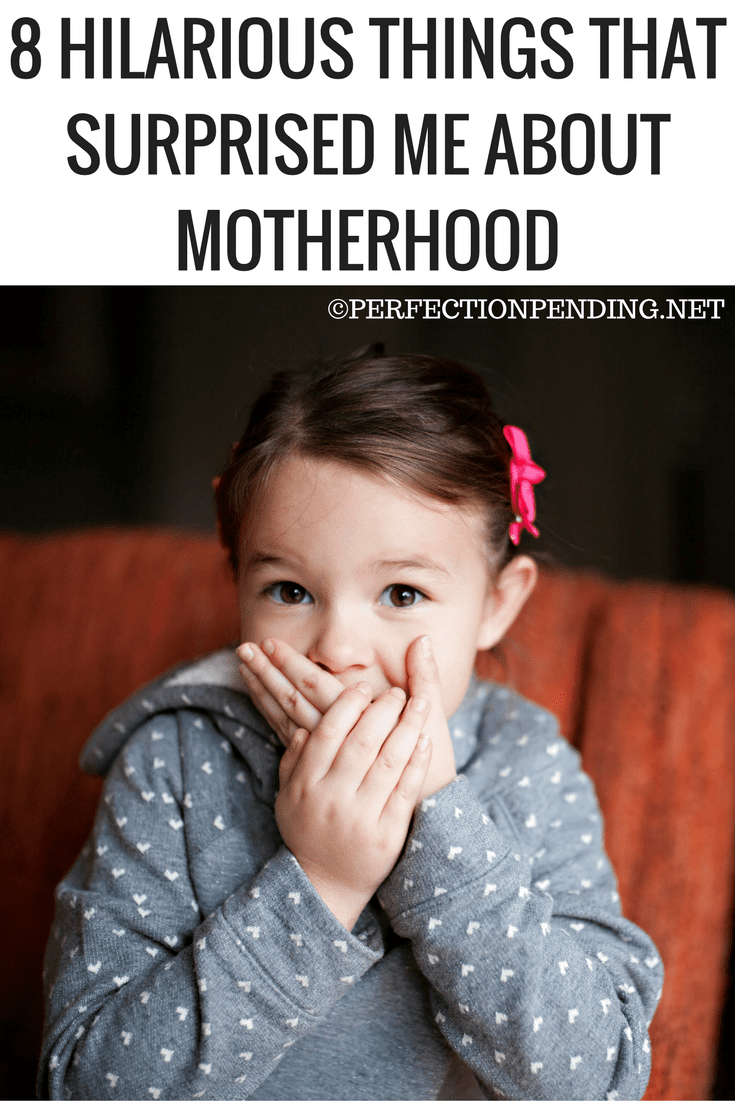 The other day, my 5 year old was yelling at my 2 year old in his best drill sergeant voice. I was listening from the other room.
"DO YOU BELIVE IN JESUS!?" he yelled.
And I heard a tiny voice yell back, "YES!"
"DO YOU BELIEVE IN SUPERHEROES!?" he yelled.
"YES!" was the immediate response.
I mean, seriously. I couldn't make this stuff up if I tried. And, I wonder, if I had been into reading mommy blogs before I had kids, would I have been scared to death of the things that Moms blog about? My guess is no. I would have naively still entered the world of parenting thinking, "My kid won't ever do that." or "I won't ever do that." or "That won't happen to us."
When you're pre-kids, you can't even wrap your head around what having your own will be like because maybe you have some interactions with nieces or nephews, or friends' kids and it's so easy to erase whatever negatives that you might witness with thoughts like, "Oh isn't that cute" or "What are THEY doing wrong?" or, "That's HILARIOUS" when you're on the outside looking in. You just don't get that one day, those same experiences will likely happen to you in one form or another.
And, I started thinking about some of life's little surprises that have happened to me recently that I never expected.
They will want to play on your lap and your FACE. My two year old feels like my lap is his personal playground. If I'm eating, he's standing next to me with a toy in my lap playing. If I'm on the computer, same thing. If I'm sitting at all, he is there. Yet, the surprising thing was the day when I had too many things thrown at or touch my face in a 24 hour period that I tweeted this out:
Apparently my kids think MY FACE is their playground. Help me.

— Meredith Ethington (@PerfectPending) March 6, 2014
You will catch vomit in your hands, and probably get peed on too many times to count. Just this week, my 2 year old decided that shoving an entire piece of bread in his mouth was a good idea. The nice thing is that the body works and he managed to get it out as you would expect by throwing it up so it wasn't lodged in his throat blocking his tiny airway. The thing that always surprises me though is the feeling that I need to catch it. I did.
They will wake you up even when they're 7 years old. Honestly, it still surprises me how often I wake up in the middle of the night when technically they all "sleep through the night".  My 7 year old still wakes me up because she's thirsty, or had a bad dream, or hot, or cold, or whatever. There is no true sleeping through the night ever again. I naively thought there would be, but not in my house anyway.
Ridiculous things will come out of your mouth. There are too many of these types of things to count, but I recently actually said this:
I just heard myself say to my 2yo: No. You don't need to brush your teeth now. Finish your sucker instead. Mother of the year right here

— Meredith Ethington (@PerfectPending) February 28, 2014
You will negotiate with dictators and terrorists, otherwise known as toddlers. I don't know how many times that I've begged and pleaded for the simplest things. They are in control, and they know it. So negotiation is inevitable. Bribery happens. And, you will fail to follow through sometimes. Don't beat yourself up about it. It happens to the best of us.
It will feel like they are plotting against you. And, they very well might be. I don't know about you, but I swear there are times when I feel my kids have conspired to make my life miserable. Sure, one of them may not be that verbal, but the power between siblings is real. It's super human. Like yesterday, for daylight savings time, they all got up an hour earlier than normal. I'm pretty sure they did not communicate this plan to each other ahead of time, but it's eery how they all just knew to do it. So that was fun.
They will have quirks that you feel the need to explain. My 5 year old has some extremely sensitive eyes. You can just say the word eyes or talk about his eyes, or tell him to look at you in the eyes and his eyes will start to water. This past week, he had another ear infection, and his eyes became so sensitive it looked like he was getting pink eye. He wasn't. It cleared up on its own, but I had to explain his eye sensitivity to friends, other parents, and his teacher. The weird thing is that he is AMAZING at the staring game. The kid does not need to blink. Either that or he's a sociopath.
They will figure out potty talk entirely on their own. I would hear other kids do this and think that the parents must talk like this. But, I will promise you that my kids did not learn this behavior from me. Suddenly, talking about anything potty related is hilarious. And, it usually happens at dinner.
Overheard as my kids were playing: 5: I just double tooted. 7: Let's play the fall into the toilet game. I don't even want to know.

— Meredith Ethington (@PerfectPending) March 1, 2014
If there is one thing I know for sure, being a parent will never be boring. And, I'm grateful for that. Even if it makes me a crazy person.
PS-You should totally be following me on twitter.