My child has friends, but no best friend.
When my daughter was eight years old, I had one of those parenting days where I felt like I got punched in the gut. My daughter usually comes home happy from school. I greeted her with a big hug and said, "How was your day?"
"Not that good" she responded quietly burrowing her head into my waist.
"What? Why!?" I asked.
She proceeded to tell me that her friend (that I just started hearing a lot about in the last couple of weeks) took her BFF necklace back. She had just given it to her the week before.
As she was racing out the door that morning, she made sure to go back in and grab that necklace at the last minute. Obviously it was special to her. They just had a playdate last week and had a great time. How did all of that change so suddenly? The little girl actually took it off of my daughter's neck.
We had a LONG talk after that. We talked about friends, and what that means, and how it's important to be friends with everyone. How one day she will figure out who her true best friend is, but if she takes back her necklace, she probably isn't the right kind of friend anyway. I encouraged her to continue to be nice to this girl, but that she didn't have to be her friend if she didn't want to. But, she still wanted to, she told me. We problem solved for a few minutes, and I think she felt better.
Mean girls exist and I was heartbroken for my daughter. She's a sensitive one, and just didn't seem to understand why her friend would do that. The reason that she took the necklace away was because my daughter chose to do something nice for another child. And, then she threw in that "there was another reason too, but she wasn't going to tell her."
It seems to be a common thing for young girls to test the waters of being "mean".  Sure, we can blame it on the parents, but I'm smart enough to know that even kids that come from good homes can still be mean. I like to think that they are all just trying to figure out social skills, and choosing friends is part of that, but I've decided that the term "best friend" is something I don't want to encourage right now.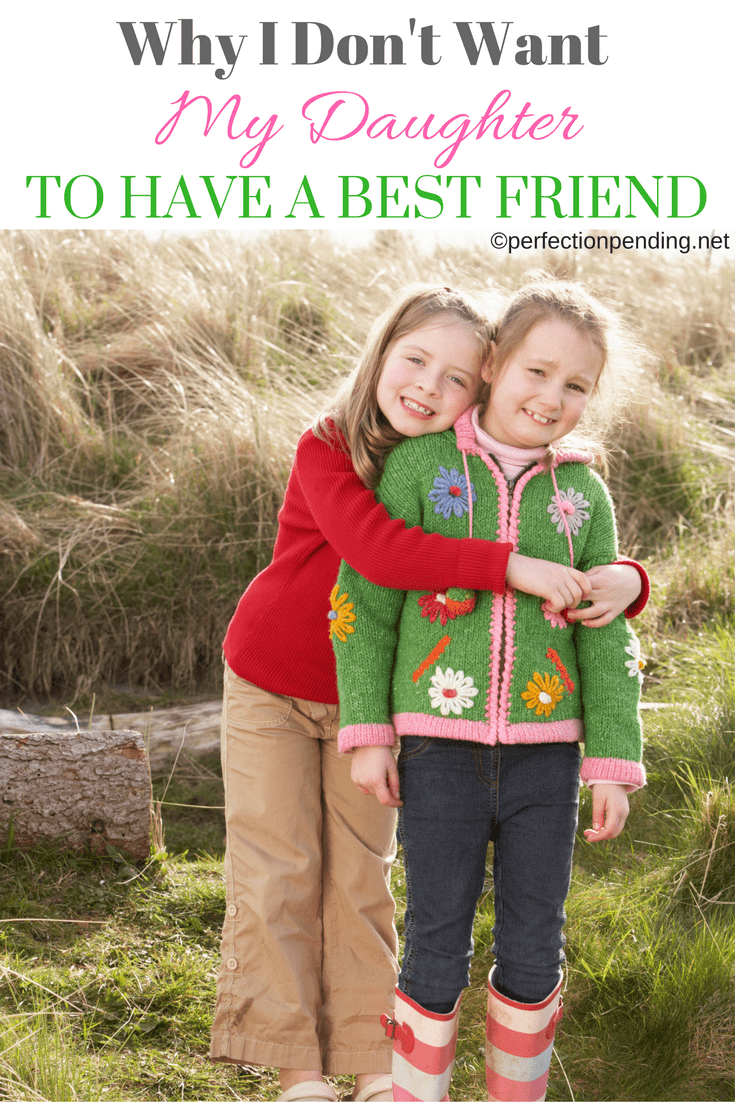 In elementary school, friends change weekly.
One day someone is your bestie and the next day, they don't want to talk to you. But, one thing I've tried to explain to my daughter is that by choosing a best friend, you're excluding others. Whether you mean to or not. And, it's OK to love a friend more than others, but we don't need to broadcast that fact to all our other friends.
Maybe you might argue that it's all harmless fun, and that there is nothing wrong with having that one special friend, but if we are truly talking about teaching our kids social skills, maybe teaching them to latch on to one person is the wrong way to go about it. Because human nature is that humans sometimes hurt each other. And, if they only have one friend, it might be much more devastating when that friend rejects them. Which at seven and eight years old, is a very likely possibility.
Having lots of friends encourages you to learn about different personalities.
Now, I'm not suggesting that we teach our kids that they HAVE to be friends with every single person, but I'm suggesting we encourage them that having lots of friends is better than just one. Why? Because having lots of friends encourages you to learn about different personalities. Some friends may be fun to go kick the soccer ball with while others will be the one you might choose to take to a movie with you. Everyone has different talents and I know that my life is truly blessed by having friends from all different backgrounds and personalities!
Let's teach our girls to be confident in who they are.
However, if they have lots of friends, it will be easier to encourage them to focus on other friends for a little while until whatever pre-tween drama blows over. By teaching our kids to be confident in themselves and realize they have LOTS of friends to choose from, aren't we giving them better tools to deal with real life challenges? Because even adults lose best friends. And there's proof that  women use indirect aggression to get ahead. But, what about those quieter, less aggressive girls? Some of them just aren't born with the ability to fight back in that way.
We can be kind without being exclusive.
So, what do you do when your child is offered the "best friend" necklace? I don't want to teach her to be the mean girl by rejecting it. Here's an idea for a good response:
"Thank you! I'm so glad we're friends. I'm not going to wear it at school so it doesn't get lost, but, I love it and am so glad you gave it to me!"
Finding a best friend will happen naturally over time.
I met my best friend in 5th grade, and apparently I was the mean girl that first year. So much so that her Mom almost didn't let her come to my house in the 6th grade because I had been mean to her in the past. I didn't remember it, but she sure did. But thankfully, her mom said yes, because we've been friends ever since. But, it took us until middle school to realize we were perfect for each other.
But, I think finding a best friend will happen naturally over time.
For now, I am going to focus on teaching her to be confident in herself. Love everyone. And, treat others with kindness. A recent study shows that those kids who were encouraged to treat others with kindness had a boost in popularity. That's good news. There is hope. And, I believe kindness can go a long way. And, I hope that one day she will find her true bestie that will have those same qualities too.
Do you encourage best friends? I want to know what YOU think.