This is a sponsored post. I was compensated, but all opinions are my own. See my full disclosure policy here.
So, as some of you know, I work from home, and often find it hard to keep my kids busy while I work. My four year old is perfectly content watching TV or playing on the tablet, but I think he gets PLENTY of screen time if you know what I mean. So, I'm so excited to have found a life-saver product for moms that makes the perfect quiet time activity for kids — The Coloring Table. It's a re-usable, washable tablecloth.
Not only that, it would be so great for birthday parties, or just laying on the floor and having TONS of space to color and get creative. But, for me, and my needs? It became the perfect quiet time activity.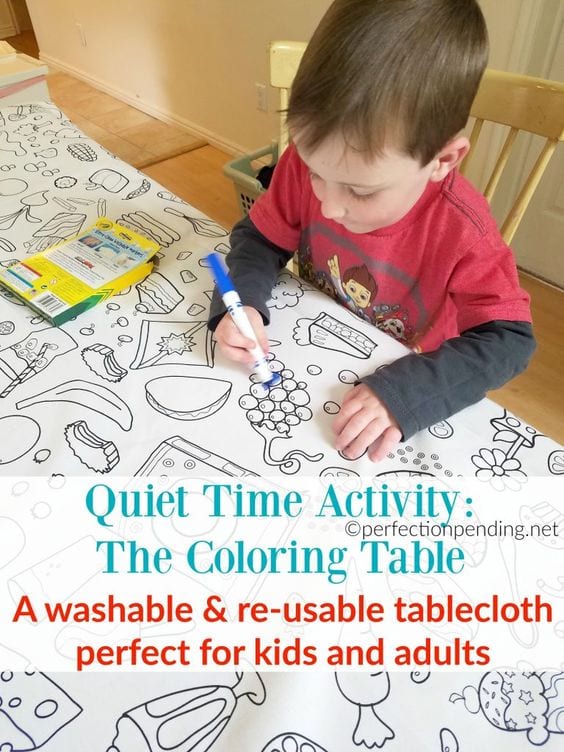 The coloring table is a re-usable table cloth that you can color on. Here are some reasons I love it:
It's a mom owned business. And, I love supporting other moms with smart ideas.
The fabric is high quality and machine washable. You can color and wash and color and wash all day long. Seriously, this fabric feels awesome. It has a plastic liner on the back so it won't soak through onto any surfaces either! So, better than paper, right?
The fabric is versatile and can be used with washable markers or permanent fabric markers if you only want to use it once.
The owner Megan says this: "We have developed a fabric with whimsical designs meant to be colored on and embellished with permanent fabric markers for a lasting keepsake or with washable markers and crayons for multiple uses.  Our uniquely crafted fabric guarantees that markers will not bleed through onto your table.  The fabric is completely machine-washable and wrinkle-free and there's not a product on the market like it."
And, they make the product here in the U.S. and the packaging gets done by employing people with disabilities. I love that. And there are 3 different sizes to choose from.
Megan sent me a tablecloth and my kids were so excited. My four-year-old ripped open the package before I even had a chance to take a picture. I decided to put it to the test and let him color while I worked. It was awesome. And, I have to admit, I got a little distracted and colored too. How could I not with all those fun designs??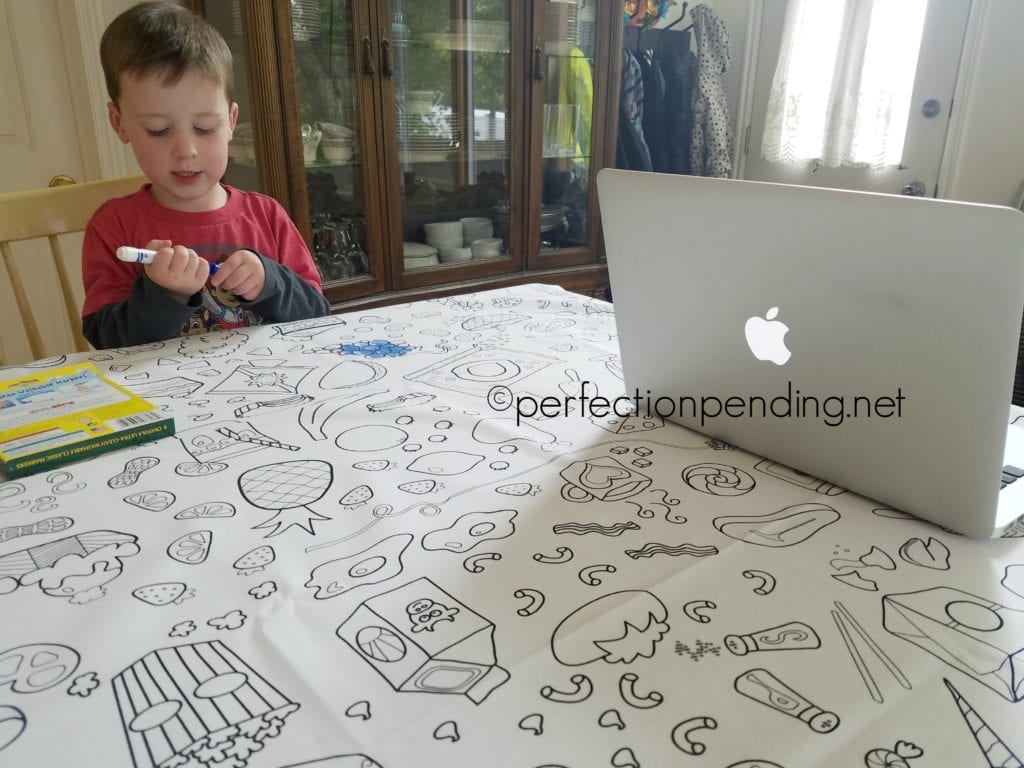 And, even though it's great for younger kids, my 9 year old (almost 10) LOVED it more than my boys. She's my artistic, creative kid too.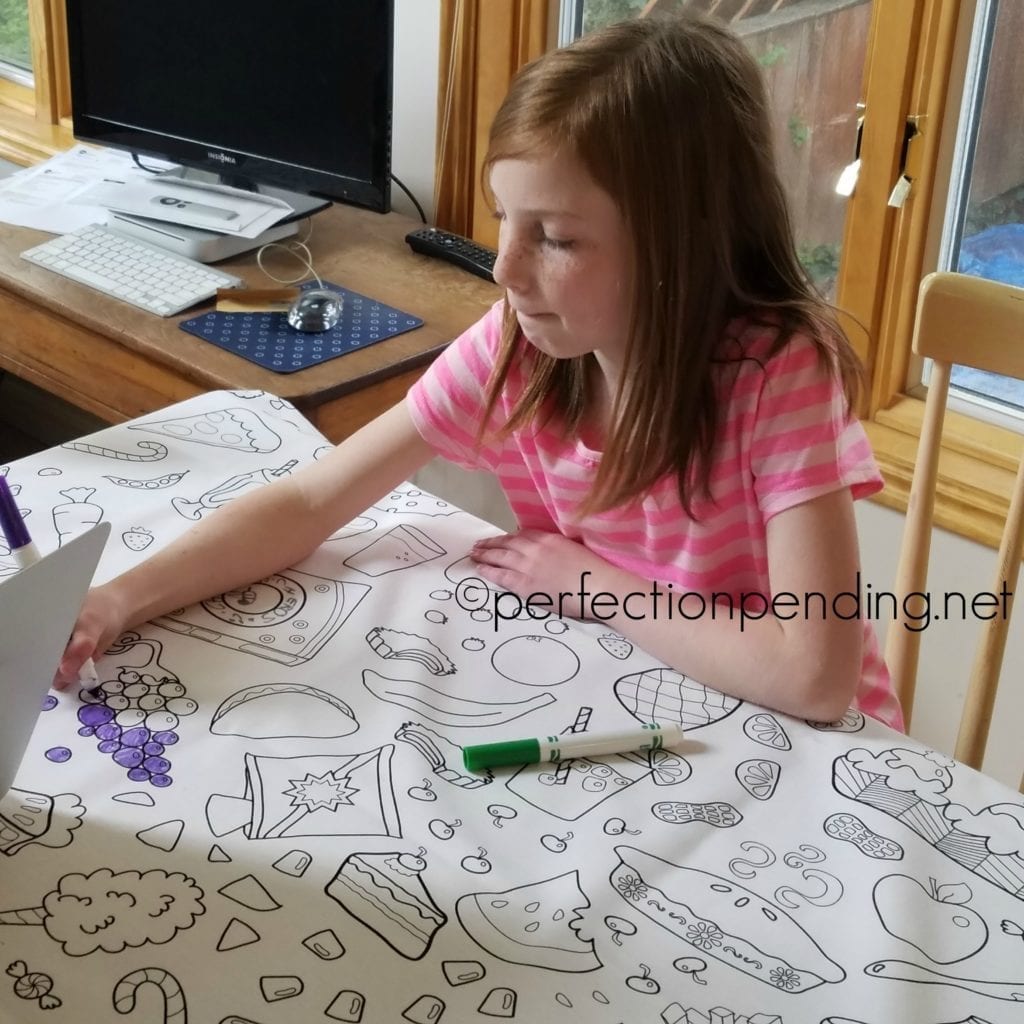 (That's her concentration face.)
It would be so great for birthdays, family gatherings, preschool activities, and for quiet time. Such a smart, fun idea.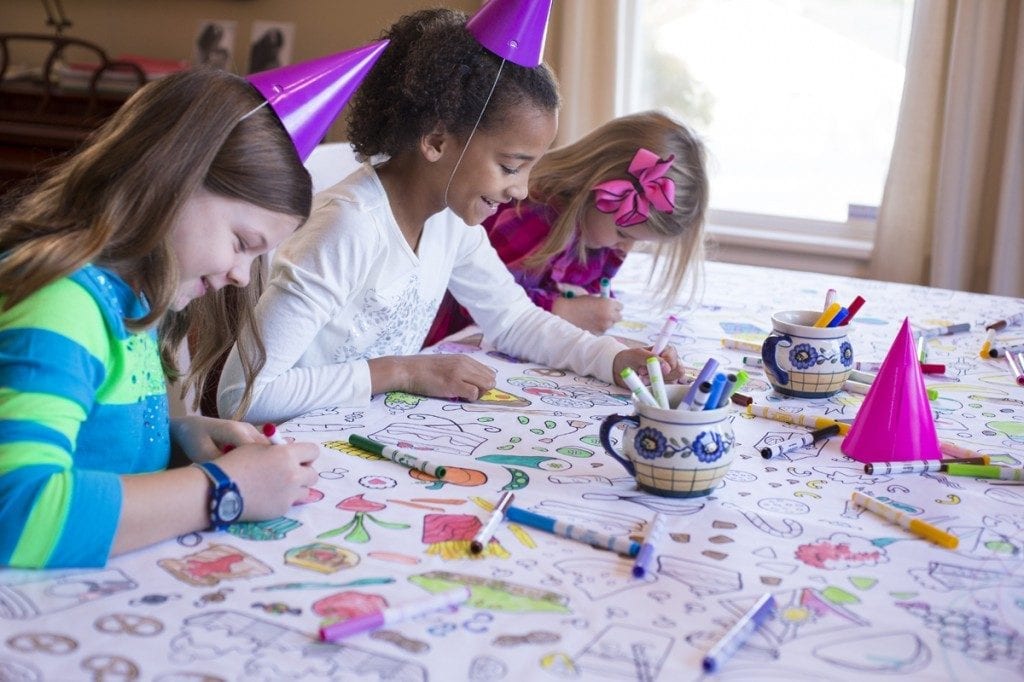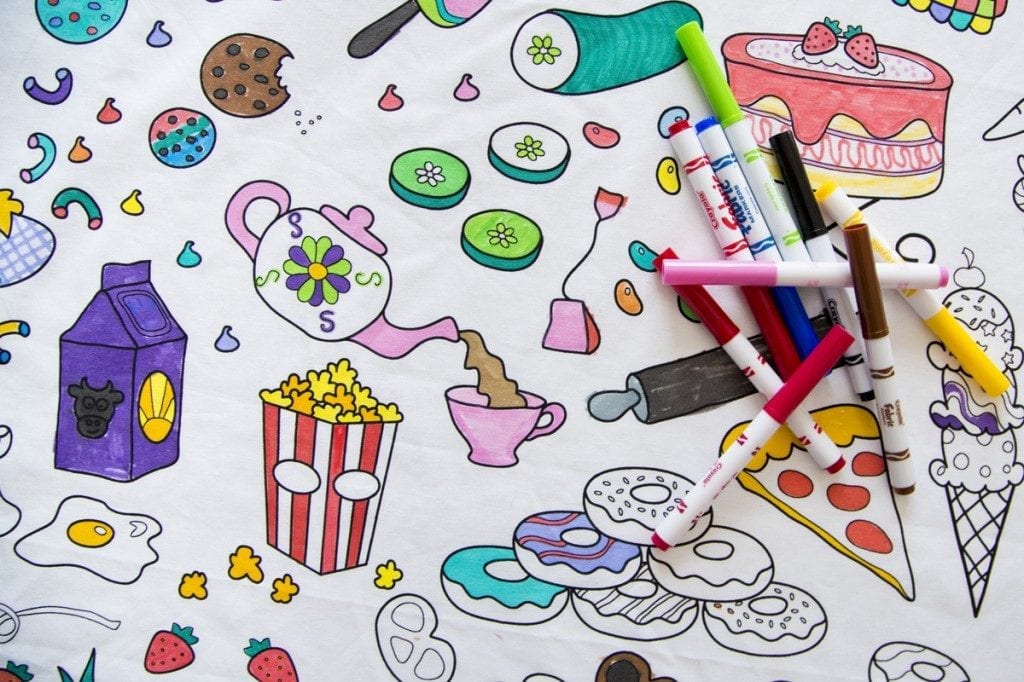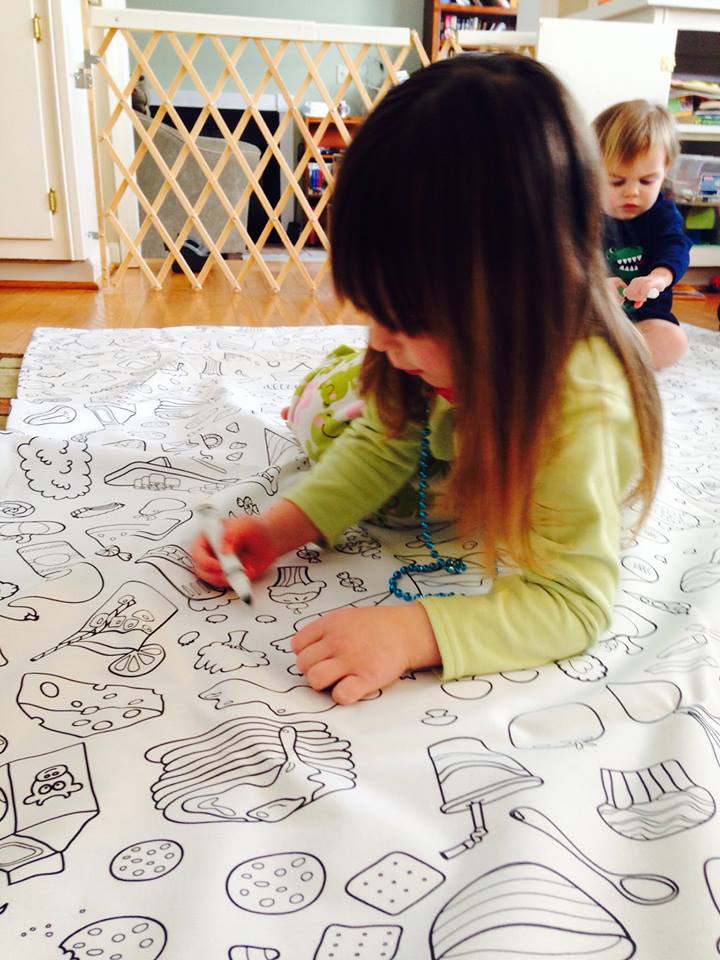 Seriously, I can't say enough good things. Aren't you dying to get your hands on one? And, it's CUTE, right?.
If you're an Amazon junkie like me, hop on over and buy one here (that's my affiliate link, see my disclosures). And for my readers only you can use code PERFPEND (after 2pm Central time today) to get 10% when you checkout. (code is good through the 28th of May. They would make great birthday gifts, or even something to keep at Grandma's house so she has an activity to do with the kids.
What do you think? Would your kids love one?
Make sure and follow The Coloring Table on Facebook, Twitter, and Pinterest too.