October is spooky season, so it's the perfect time to share some scary family movies you can watch with your kids. When I was a kid, I remember all kinds of scary movies we watched. I'm not sure what was up with the 80's and early 90's but I don't remember a lot of, ahem, supervision in the movie watching department.
My kids have never seen what I would consider a "scary movie" but that's because my definition of scary is something more like a horror film. What's the difference between a horror film and a scary family movie?
Lots.
Horror films are usually full of blood, guts, and murder. Scary family movies don't have to have any of that. Although if that's your family's thing – go for it.
Whether or not a movie qualifies as a scary movie or not is totally subjective.
When I was a kid, I remember being scared by Gremlins, Goonies, and Watcher in the Woods (what was UP with that movie, Disney?) But, to be honest, I was a kid that was scared of everything so it was easy to give me nightmares.
How do you know if your kids are old enough to watch scary movies then?
I would say you totally know your kids best and what works for your kids might not work for mine.
My oldest for example went and saw the new Beauty and Beast live action movie when it came out, and there was one little scene in there that spooked her. It was the scene with Belle's mom and the black plague death mask (it's OK most people don't even remember it.) She was freaked out for DAYS about that. She still hates masks.
So, I thought I would share some ideas for introducing scary family movies to your kids.
But as always – YOU are the best judge of what your kids will be scared by or not. You're also the best judge on how scared you want your kids.
I know parents who grew up with the attitude that as long as they were with their kids, they could show them whatever scary movies they wanted. My cousin grew up watching horror flicks with her mom, and she still loves them today.
I love to use Common Sense Media when researching a scary movie. Watching the trailer beforehand is a good way to gauge whether or not your kid will be scared, too.
Here are my top 10 Good Scary Family Movies to watch in October to celebrate Halloween rated PG or less.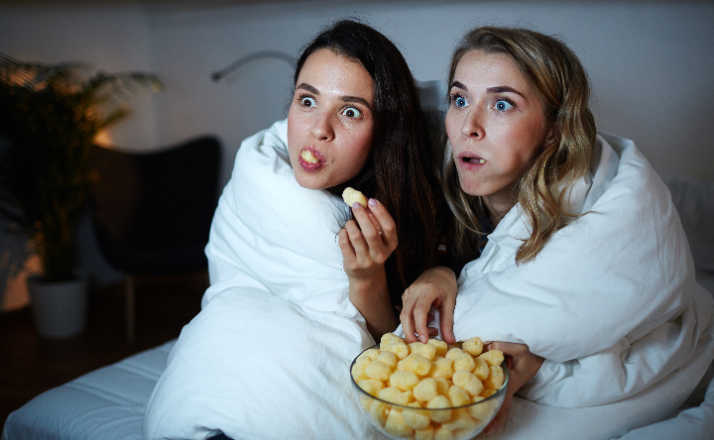 Since these scary movies have a PG rating or less, they're really not "scary." However as always use caution with your own kiddos. You know them best. Spooky can sometimes be enough.
Nightmare Before Christmas – Rated PG, and scored age 7+ on common sense media by both kids and parents. This is a stop motion animated musical and is does have scary/spooky looking creatures, but the storyline is very cute. You'll find the songs getting stuck in your head, and while quirky, it's a great one to watch every year.
Hocus Pocus – Rated PG, and scored age 10+ on common sense media by parents and an 8+ for kids. I would definitely save this one for the tween camp. It's funny, and non-animated, however there are some themes of sucking the life force out of kids (one child dies) etc.
Coraline – Rated PG, and scored age 10+ by parents and 9+ by kids on common sense media. This movie is too dark for little littles, so I would agree wait until your kiddos are older. 10+ seems like a fair assessment, but if you have a kid that spooks easily, I might wait until 12 for this one. For the record, my 13 year old said this movie is scary. So proceed with caution, or maybe just watch it yourself first.
It's the Great Pumpkin, Charlie Brown – Rated G, and parents say 6+ and kids say 4+. This is a CLASSIC animated movie that can be a tradition every year for your family. Who doesn't love Charlie Brown, after all?
Toy Story of Terror – Rated G and parents say 6+. I love this little film and it's great for short attention spans. It's only 22 minutes. Perfect for when the little kids come home from trick or treating early, and the bigs are still out.
Goosebumps – Rated PG and rated 9+ by both kids and parents, this is a good one for kiddos that like a little spooky. If your kid is iffy, I'd skip this one until they are a little older. One of my kiddos got scared by the realistic looking "demons." It's got Jack Black in it, which is always fun, and it's based on the book series which is also worth checking out if you have kids into the scary.
Beetlejuice – Rated PG and rated 12+ by parents. This one was done in 1988, so you know the scale is a little off on the appropriateness. The theme is a ghost that lives in a couple's house and possess people (if you don't already know the story line) so I would definitely wait to watch this with older tweens and teens. But, it's fun, and a classic that will stick around forever.
Muppets Haunted Mansion – A Disney+ 2021 film that gets a family rating from Common Sense Media. Parents say it's OK for 5+ and kids say 7+. But, muppets just aren't that scary ya know? This is a great one for the whole family to enjoy. Maybe even the brave little littles.
Ghostbusters (the original) – Rated PG and admittedly I'm an 80's kid so a little biased on this one. This one scared me when I was little, but it's just the right amount of scary for early tweens in my opinion. Perfect for the kid that wants to feel grown up and watch a scary movie with mom and dad. Parents and kids rate this about the same as age 11+ and 10+ on Common Sense Media.
The Addams Family – Honestly this one is OK, but it's animated, and might be one you can sneak in for a brave five year old and up. Rated 7+ on Common Sense Media by both kids and parents. A couple of jumpy scenes, but overall not that scary. But, a cute adaptation to the classic we grew up watching back in the olden days.
Scary Family Movies on Amazon Prime
Here are a few scary family movies you can find on Amazon Prime that didn't make my top 10 list that you can still watch as a family that fall into the scary/Halloween category. I haven't watched all of these personally, so make sure to read all of the reviews.
Scary Stories (PG-13)
Tim Burton's Corpse Bride (PG)
Casper (PG)
Just Add Magic (a series for tweens)
Harry Potter (PG)
The Dog Who Saved Halloween (PG)
The Haunted Mansion (PG)
Scary Family Movies on Hulu
If you're browsing for some scary family movies on hulu, here are a few that didn't make my other lists.
Lights Out (PG-13)
Monster Family 2 (PG)
Madagascar A Little Wild (G)
Tiny Toons Night Ghoolery (G)
Blippi's Spooky Spells Halloween (TVY)
The Wolf (TVG)
Scary Family Movies on Disney Plus
Disney Plus has become a favorite in many households for family friendly movies, and while they have lots of the ones listed above, here are a few scary family movies you can find on Disney+. Again – read reviews and decide for yourself.
Spooky Buddies (G)
Halloweentown (rated 7+)
Return to Halloweentown (8+)
Halloweentown High (8+)
Frankenweenie (PG)
Zombies (8+ Disney Musical)
Twitches (8+)
Girl Vs. Monster (7+)
Scary Family Movies to Watch On Netflix
Netflix is a front runner these days in original movies and series that we love for families. Frankly, I'm a big Netflix Family fan myself. They have a ton of options for little littles that want to watch something "spooky."
Here are some spooky or Halloween themed movies you can stream on netflix right now that the whole family can enjoy. My advice? Watch the trailer first! Parents should enjoy the movie too, right?
Monster House (PG)
Hubie Halloween (PG-13)
Nightbooks (11+)
Bigfoot Family (7+)
A Babysitter's Guide to Monster Hunting (11+)
A Go! Go! Cory Carson Halloween (4+)
Starbeam: Halloween Hero (4+)
The Spooky Tale of Captain Underpants Hack-A-Ween (7+)
Super Monsters: Vida's First Halloween (4+)
Ghost Patrol (7+)
Spookley the Square Pumpkin (4+)
Super Monsters Save Halloween (4+)
A Witches' Ball (7+)
Lemony Snicket's A Series of Unfortunate Events (PG)
Funny Scary Family Movies
I feel like I already shared the best of the best, plus a few random scary family movies (45 so far in this list!) that you can watch this October. But, if you're still itching for more, here are a few that fall into the funny scary family movie category that haven't already been mentioned.
Dracula: Dead and Loving It – stars Leslie Nielson and was made in 1995. PG13 but use caution.
Little Shop of Horrors – 1985, again PG-13 but beware of 80's ratings
Buffy the Vampire Slayer – PG13
So I Married An Axe Murderer – PG13
Death Becomes Her – PG13
Paranorman – PG
The Witches – PG
Tremors – PG-13
Scary Family Movies You Can Watch With Your Teenagers
It's always fun when your kids start growing up and you can get to scarier movies you can watch together as a family. While, I don't let my kids watch rated R movies, here are some PG-13 movies you can watch with your teens that will be plenty scary for all of you.
The Goonies – You know the treasure hunt story we loved in the 80's. Not really scary, but great Indiana Jones type scary/jumpy moments.
Gremlins – Your kids will probably have a blast laughing at the old school scary themes in this one. Totally not that scary.
Edward Scissorhands – A classic Tim Burton creepy 80's love story movie.
The 6th Sense – Some say this one should be rated R, so proceed with caution. Definitely creepy.
The Hours – One of my favorite ghost movies that has a lot of jumpy/scary/spooky moments.
The Ring – This one gets a big NO THANK YOU from me. I am still scared of this movie. But it is PG-13 and some parents say it's OK for big kids.
What Lies Beneath – A great scary murder mystery with a twist at the end. Definitely scary and made for teens and up.
A Quiet Place – My 13 year old loves this movie, and said it was just the right amount of scary for him.
Signs – This is a suspenseful Shyamalan movie that has an alien fear factor to it.
The Village – This one is on my list to watch with my teens. Also a Shyamalan movie that will keep you guessing until the very end.