You found contentment in sitting at the edge of the world going on outside our front door. You were happy watching, playing with your cars, as long as you could look while your big brother and sister played outside. You are the littlest. And, you will always be my baby.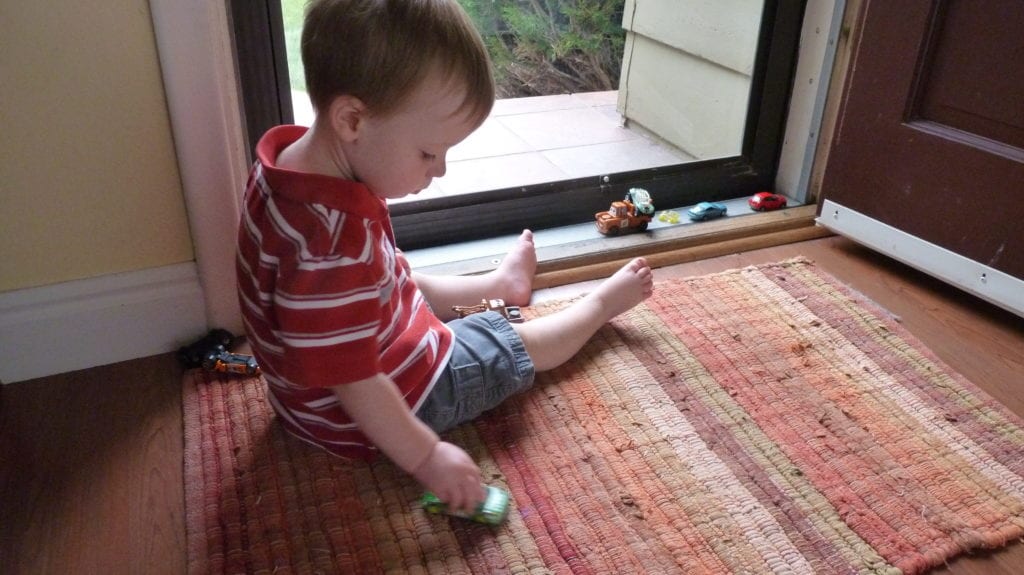 From time to time you would look outside. Point. And say something that sounded like your usual, "Eh?" sound. But, you were content being inside with mama and that made me happy.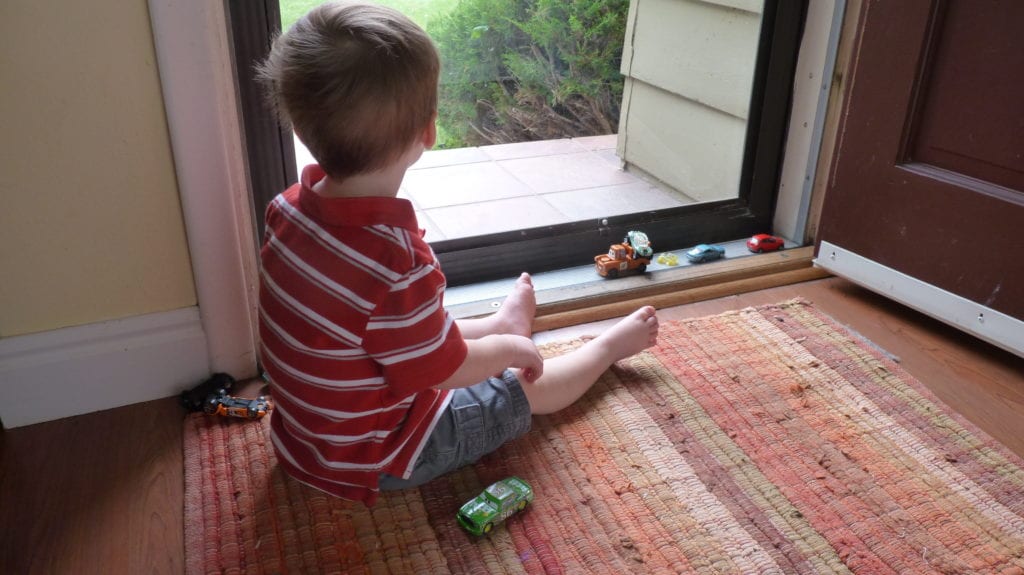 I don't take for granted the stage you are in now. In fact, I think I enjoy it more than I ever realized I would when we made the decision to have another baby. Being my third, you would think that it would all be old school to me now. But, it's not. I love every stage. I am not in a hurry for you to get bigger. I am not in a hurry for you to get to the next stage. In fact, I wish I could slow down time. While I'm dying to see and HEAR the person that is trapped inside that toddler body that mostly speaks to me through his eyes, I'm dying just as much at the thought of you no longer needing me as much as you do now.
But, as I look at you trying to interact with all of us with your limited vocabulary, I know that pretty soon, you will be out there with them. Playing with friends that are your world. And, I will miss those days when you were happy with your cars just sitting on the edge of that world.
In many ways, you are a mystery to me. Like, how you seem to warm up to men so easily (especially in nursery at church), but women seem to make you a little more uneasy. I guess your mama is the only woman for you for now. But, in other ways, we speak the same language. Like today when we found your missing shoe. I was frustrated all morning not being able to find it. So, we put on a different pair and went on our way. When I was excited about finding the other shoe hours later, you pointed to it, saying "Eh?" and then pointed to your self, "Eh? Eh? Eh." I knew what you were saying as you then pointed to your shoes you had on, "Eh. Eh." I replied, "Yeah, you had to wear different shoes because we couldn't find that one huh?" You smiled at me. You knew I understood your language.
And, I loved it.