Did you know the founder of Mother's Day was never a mom herself? It's true. Not only was she never a mother, but by the time she actually got people to approve mother's day 6 years after she started trying, she turned around and renounced the holiday. It had become too commercialized even for her taste.
She said:
A printed card means nothing except that you are too lazy to write to the woman who has done more for you than anyone in the world. And candy! You take a box to Mother—and then eat most of it yourself. A pretty sentiment.

—Anna Jarvis
I don't know why, but that pretty much cracks me up and fascinates me all at the same time. Ann Jarvis was a social activist wanting to honor her own mother who had passed away when she went on the crusade to start mother's day. She wasn't out to buy her mom something fancy (her mom was already gone), but she wanted to show appreciation for her. That was it. There is something so simple about that, that I really love.
Last year, I wrote this blog post, and thought I'd re-blog today in honor of Mother's Day coming up this week.
Kyle: Mommy, I forgot to tell Daddy that I wanted to get you a new make-up bag for mother's day.
Me: Oh. Well, you better not tell me because then I will find out. You better remember to tell Daddy.
I so don't need a new make-up bag. But, find it freaking adorable that my 4 year old boy thinks I do.
My husband came and told me last night that he had been on pinterest. WHAT?! He makes fun of pinterest anytime I bring it up. And, rightly so. I've been known to make fun myself. But, I mentioned to him a couple of weeks ago that I really wanted a necklace that I've been hinting about for at least a year. I was giving him plenty of time to order it, and get it shipped, etc. but thought it very unlikely that I would actually get it. And seeing as he just got around to looking into it, it's not going to happen. "It's OK" I said. "Wait for my birthday".
You see, my husband made me realize something profound not too long ago. I remember a couple of years ago being mad that more effort wasn't put into mother's day for me. I think I even cried about it, and said that it would be nice if he would put more thought into it. After all, our kids were so little, I expected it to be hisjob to do something nice.
Then, he said something that really opened my eyes. I can't remember exactly the wording but it was something like, "I guess I was just thinking more about my own mom than about doing something for you." I knew he felt bad and sincerely did not even think it was his job to make my day special. It really isn't.
That may sound heartless to some of you, but it really made me realize something. My expectations were too high because while I am the mother of his children, and he should do something to celebrate that fact, I am not HIS mother. I think this conversation took place not too long after his own mother had passed away, and therefore made me feel like a total jerk.
But, ever since then, I have taken on a new attitude about mother's day. I need to be happy with a gift from my kids that reflects their age and capability. Not my husband's.
Now, don't get me wrong, motherhood needs to be recognized by husbands as the most important role. But, as a blogger friend and I were just discussing, they see us more as the wife, not the mother. And, I think that's a good thing sometimes, because I don't want my husband seeing me as his momma for one second. (No, it is NOT my job to put away your size 13 shoes).
The problem is, that when you are a mom to little ones, you just want someone to freaking recognize how hard it is. Validate you. Say you're wonderful. Praise you. Tell you that you are the most wonderful mom in the world. Yet, your 2 year old is too busy throwing his same tantrum he has everyday at the same time, and your 4 year old still needs you to wipe his bum. So, frequently, mother's day is just like any other day. Especially to the little people in your life.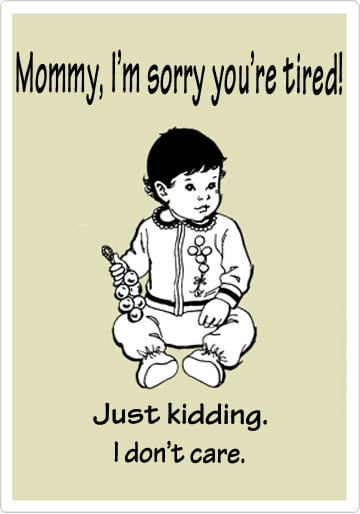 Last year, my husband let me have a day to myself the Saturday before since Sunday is usually really busy with church responsibilities. Then, on Sunday, the kids made me a giant card where they wrote (with Daddy's help) all the things that make me a good mom. It was really special. And, perfect.
So, to all you young mother's out there, don't be too hard on your husbands if they screw up mother's day again. They can't help themselves. And definitely don't get on pinterest and search for Mother's Day and see all those cute ideas our husbands will never do. Instead, take joy in the little things, and relish that hand-made card from your 1st grader, and let it be enough. Instead, let's find ways to celebrate ourselves and let that be enough. Looking for validation from a husband (that cannot possibly understand all there is to being a mother no matter how much he appreciates you), or from a 2 year old is impossible. Instead, validate yourself, treat yourself, or just say what you want instead of expecting your husband to figure it out on his own. And, most importantly, be proud of the mom that you are! And let that be enough.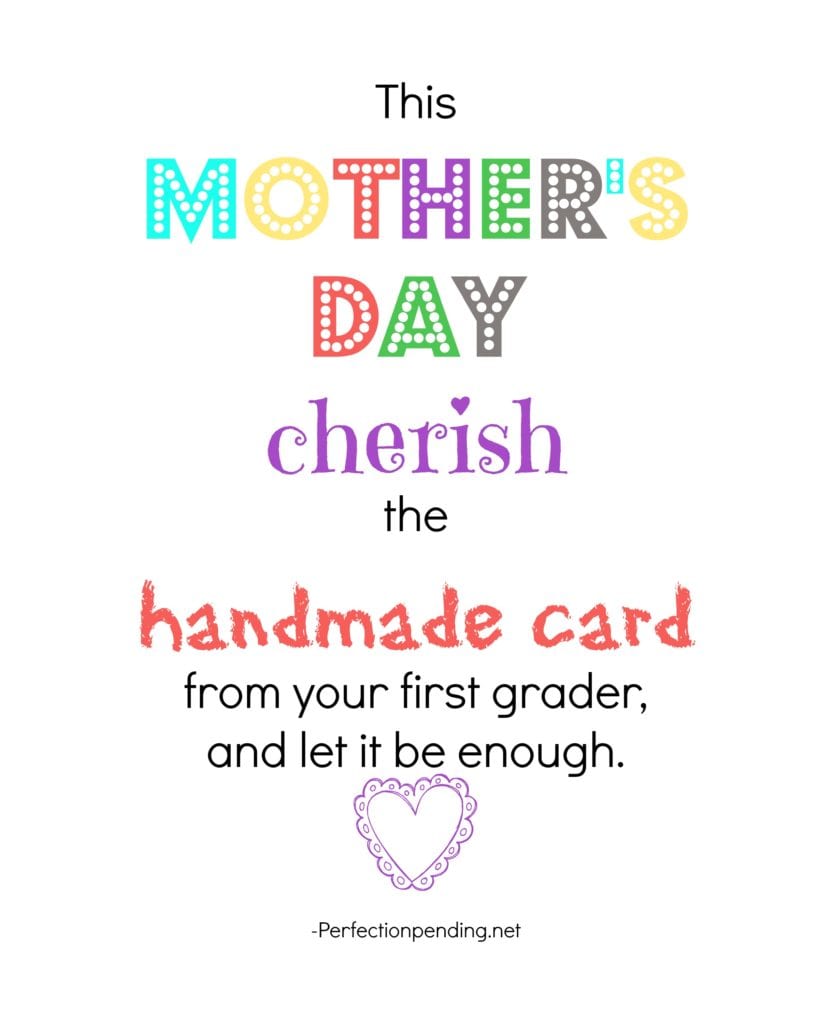 And just to be clear….
What I really need for mother's day? Sleep.
What I could really use? Some socks without holes in them.
What I really want? To not have to do a single motherly duty for an entire day.
Fat chance of that happening. Anyone else find it ironic that what all mothers want for mother's day is to not be a mother for the day? I do.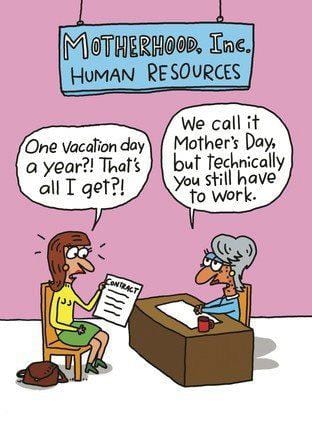 ***************
This is a parenting blog hop. What are you thinking about this week? Link them up so we can visit each other and hear about what's going on in YOUR parenting world.
Going to join us? Here are the "rules" (Feel free to follow them loosely):
1. Add your link below
2. Grab MY button found below and add it to your post or sidebar, and then come back and link up with us here. It's that easy! I'll try to promote your post on social media by pinning, tweeting, and sharing.
3. Visit the other awesome bloggers that are also linking up and leave comments on their posts!