A year ago today, I wrote the post, Letting Kids Be Kids. An entire year has passed since that post. Yet, it feels like I wrote it yesterday. And, a LOT has happened in that year. It begs the question, did I change at all in 2013?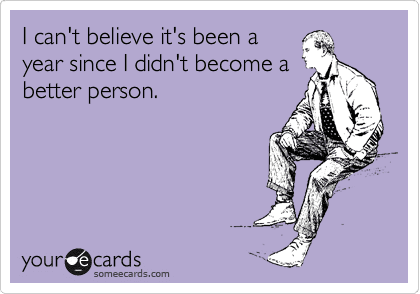 Did I do any of those things that I typed out at the beginning of 2013? I wasn't really trying to set goals for myself as a mother…but let's face it, I must have been thinking about goals. It was January 4th!   In some either conscious or subconscious way, I was setting goals for how I was going to be a better mother in 2013. Let go more. Let my kids be kids. In other words, stop being so dang controlling.
Two days later, I wrote this post proclaiming that I was going to let go of the mommy guilt as my resolution.
Then the very next day, I wrote yet another post about measuring our success as parents.
Sometimes, it can be down right exhausting to be in my head.
This year, I'm not making any resolutions. Instead, I'm letting myself off the hook this year. Instead of making a list of things I need to accomplish or achieve, I'm telling myself it's OK not to box myself in. Instead of saying, "you must let your kids be kids more often, Meredith", or "let go of the guilt", or do x,y, and z, I'm saying…let. freaking. go.
That's the gift I want to give to myself. The lack of pressure. The lack of goals. The lack of trying to live up to a standard.
Now, don't get me wrong. Goals are a good thing. Period. But, unattainable ones like trying to let go of all of the mommy guilt this year is not realistic. At least for me, the perfectionist who messes up one day and feels like all hope is lost. I'm the queen of unrealistic goal setting. And, those are the types of goals I usually set for myself. Whether in a list, or in my head, what difference does it make?
But, if 2013 taught me anything, it taught me that it is OK to be me. I'm a good person. A good mom. I'm a progressing person that is working it out day to day. Which means….I will screw up. Some days, I will eat an entire bag of M&Ms. Did I fail for that day? Of course. Does it matter in the long run? Not really (as long as I don't continue eating a bag of M&Ms every single day).
It's the same when it comes to parenting. We will screw up. It's a given. Because kids are unpredictable little creatures that seem to live for messing with our heads…good thing they're adorable and we love them, right? But, they are growing and learning too. We don't expect them to be perfect. We can't be either.
So, I'm saying forget the goals this year! Every single day there is a goal of some kind when you're a parent. As long as we're trying everyday to do our best for that day (let's face it…some days your best is just keeping them alive), then let's call ourselves the awesome parents that we are afraid to admit that we are.