Friday night, we went out to eat as a family. We chose a simple place without waiters to drag out the event. Our kids ate good, and we were finishing up when the boys started to get rowdy. The attention span of a 2 and 5 year old at a restaurant is limited.
They started pestering each other. Luckily, it was a noisy, casual place and they weren't really bothering anyone except us. At that moment, I looked up and saw a police officer coming toward the door that we just happened to be sitting right by.
"Look! Here comes a policeman to arrest you if you don't stop hitting each other! You better be careful. He doesn't like little kids misbehaving in restaurants." I said jokingly.
My kids froze. They stared in anticipation as that police officer walked up to the door casually, and came inside for his cup of coffee, oblivious to the three petrified children at our table.
My husband and I looked at each other like, "It worked!" and laughed. My 7 year old quickly caught on that the policeman was not there to arrest anyone, but the 5 year old was still unsure, and the 2 year old still had his eyes locked on the policeman across the room. He started pointing at him and was convinced, from what I could tell, that this policeman's only goal in life was to arrest small children misbehaving in restaurants.
When he casually walked out the door, we said, "Well, I guess he's going to the next restaurant to look for more kids misbehaving since you guys stopped acting crazy."
5 minutes later, they were acting crazy again.
I found it so endearing when I gasped, "Look! He's coming back!" and my youngest gasped, whipping his head around to look out the window, and got the cutest look of surprise/terror on his face fully expecting to see the policeman that wasn't there.
And, yes, I know it's not good to lie to your children.
But, my husband and I had such a fun little moment there. Not just because we were scaring our kids, but because a little memory was made for all of us. Sure the 2 year old may not remember it, but my oldest got a laugh, and for a moment, all was peaceful, and fun, and happy.
I realized later the magic in that moment. How children believe so much of what you tell them. How, as a parent, you can craft a magical moment out of pretty much anything. Even something as torturous as going out to eat with three small kids. Because children are magical.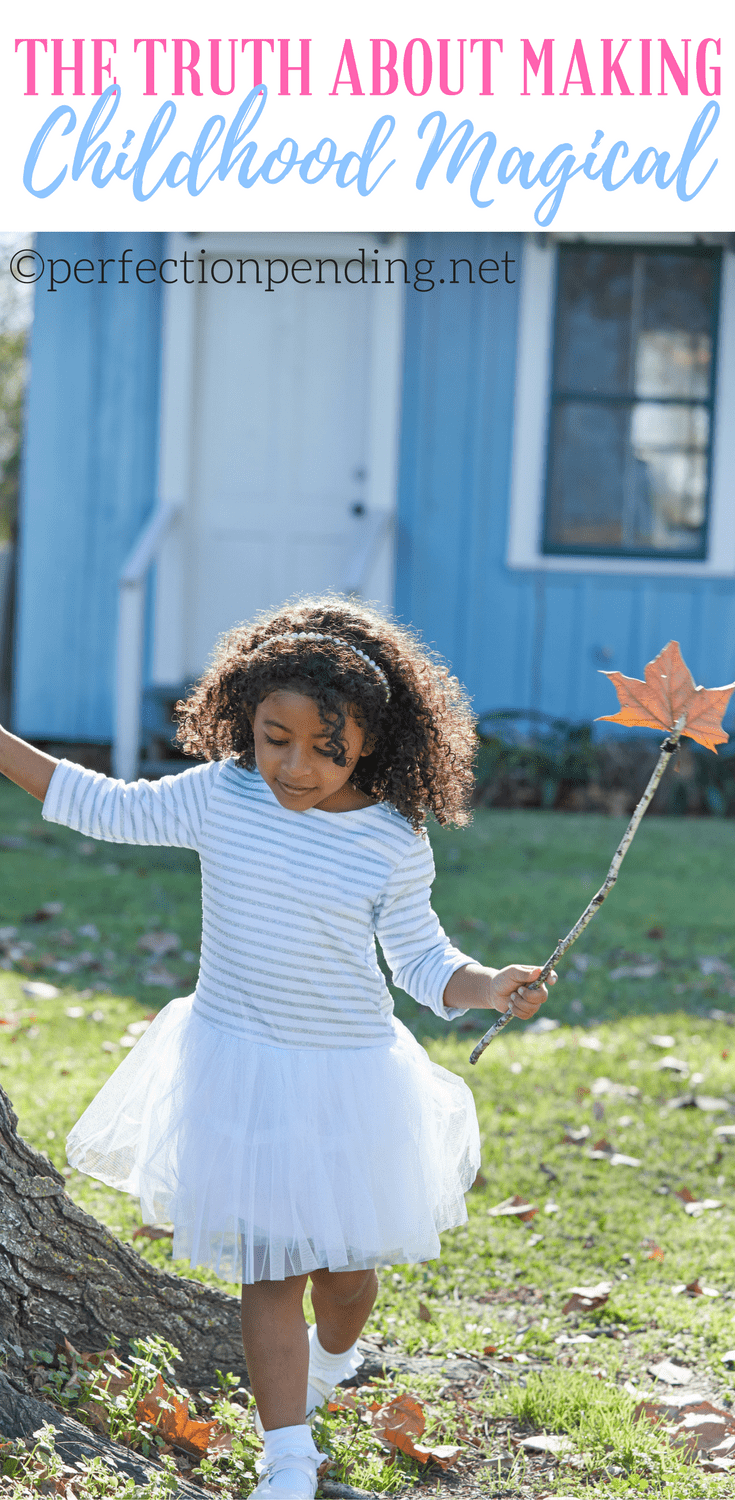 While, I hate the elf on the shelf shenanigans as much as the next mom. I think kids are magical enough all on their own. Childhood is magic.
I think the problem is that the parents have lost the ability to see the magic.
All we have to do is look into our kids eyes, hearts, and minds, and it will be there, pinterest crafts or not.
The other day, my daughter sat in our tree in the front yard and wrote a poem and drew a picture. Friends were running around below, but what she wanted in that moment was to dream about trees, and draw pictures. She did. And, I smiled at the magic in that moment. I saw it.
Yet, I get caught up too. I can slip into the trap of trying to create a magical moment for the kids. Like the other day when I decided to draw funny hats on the driveway and take pictures of the kids because I had seen it on pinterest. It was a simple, fun, summertime thing and I thought, "I can do that! So, we did.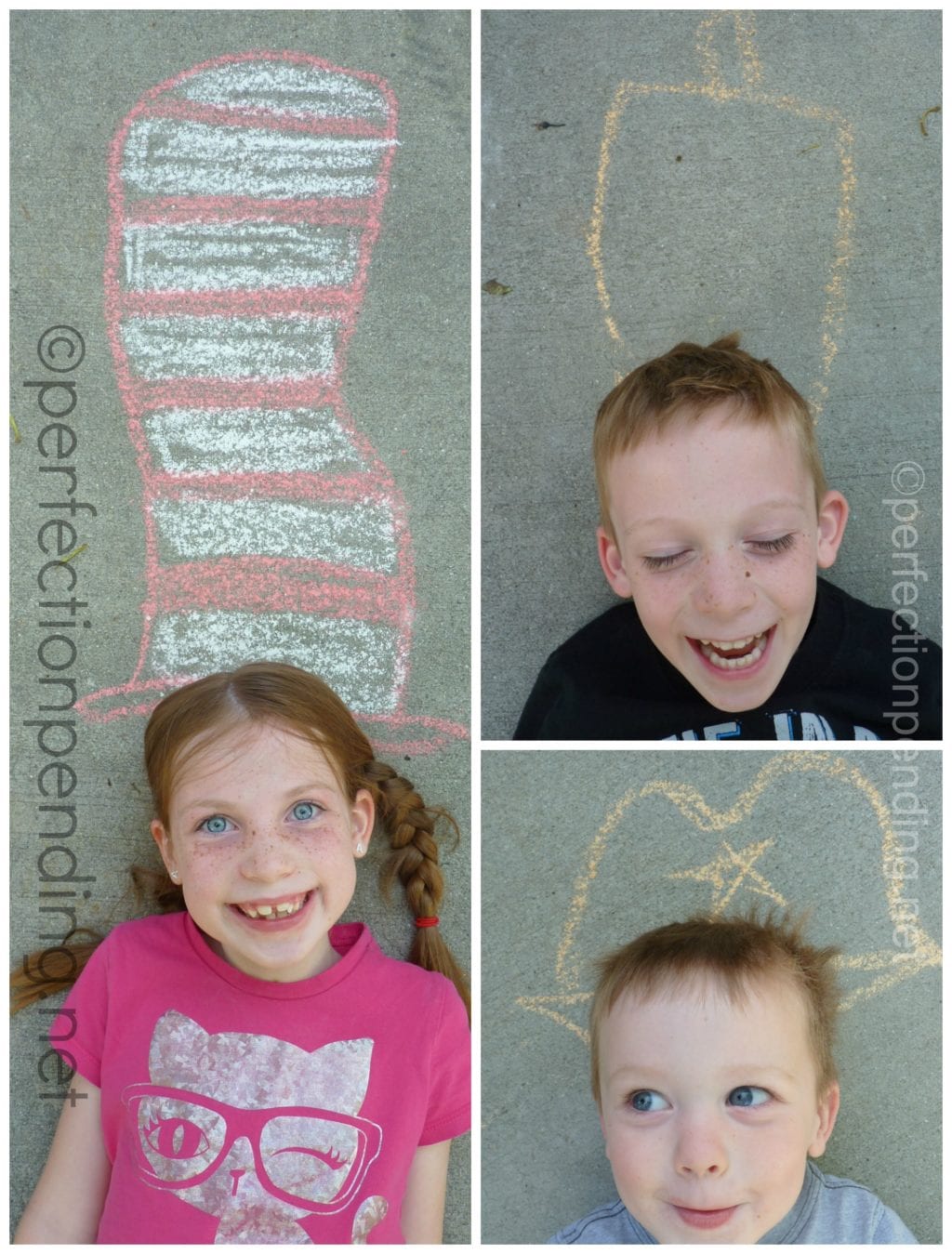 The reality of it was so funny to me, though. I realized:
A. The kids weren't as excited about the idea as I was.
B. I sucked at drawing hats (in my mind it was going to be amazing)
C. It wasn't all that magical.
Sure, it was funny, and FUN. They got a chuckle as I showed them their pictures. But, the real magic is that moment watching my daughter draw, sitting up in a tree. Teasing the 2 year old about being arrested. Or writing down something funny my 5 year old said this week: "Mommy, I think the only thing that would make my tummy feel better is playing the video game" when he was on day 1 of video game detox.
The childhood magic is right there if parents can just open their eyes. It is happening.
I'm as guilty as the next parent of missing the moments. Forgetting that they are just kids and just being makes life magical. They love walking around our little block, or playing soccer at a friend's house past bedtime, or thinking about things their growing brains (and mine) don't understand. Like when my 5 year old asked, "Is it ever daytime in space?" Ummmm….
Childhood is magical. No matter if you try to create it, or it just happens. It's the parents that are missing it when it's right in front of them. Try not to miss it. That's what I'm trying not to do. And, with just a little bit of effort, I see it everyday.