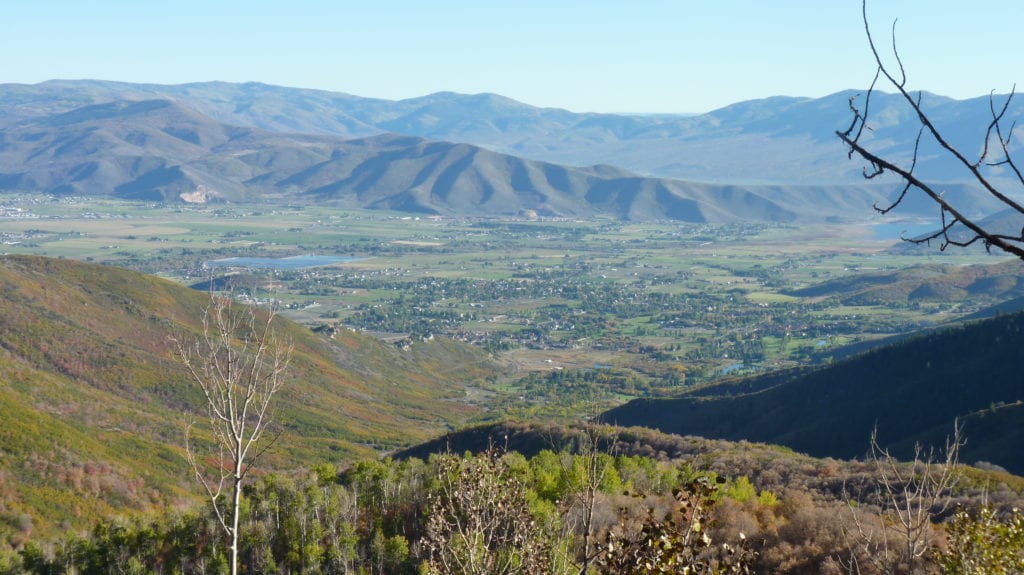 This past week, my husband suggested that over the weekend, we go for a drive in the  mountains. I casually threw in there, "OK, but if we do that, we all have to be dressed cute in case I want to take any family photos." To my shock, he agreed.  Little did he know by "cute" I meant coordinating, and by coordinating, I was imagining us all dressed to perfection in fall outfits casually strolling through the aspen trees and having an amazing shot worthy of pinterest.
That did not happen.
For one, we have yet to ever hire a professional photographer. Maybe it's because we are too cheap, but the truth is, we are poor. Which is basically the same thing. And, no we aren't really poor, but too poor to spend a lot on family photos by a photographer. Maybe next year.
However, I am happy with some of the shots we got. Eventually. If you angle them just the right way. 😉
But, in all seriousness, I was able to scrounge up some things at the last minute that semi-coordinated, and I told my husband to be prepared to take pictures. He was a good sport. He even put jeans on for me. Which, knowing my husband, says a LOT. And he brought the tripod. So, my hopes were high.
Five minutes into the trip, my kids start asking if we are there yet. I think they missed the part that when you go on a drive, there really is no "there". You're just driving. When we tried to explain this to them, they still didn't really get it were not too happy as you can imagine. Then, there was the, "I'm hungry" or "I'm thirsty" every other five minutes. So, yeah, that was fun. And, since we aren't allowed to own a mini-van, the kids were all crammed on top of each other in his small SUV. All in a row. With the ability to kick each other, and breathe in each other's direction. Not good considering we are planning a long trip in the car soon, and we couldn't even make it 30 minutes away without complaining. I was already feeling claustrophobic myself.
So, by the time we actually did get out of the car, someone had to pee. And, let me tell you, it was not one of the kids. Which sucks, because I swore off peeing in the woods a long time ago. Yet, I knew that I would be extremely miserable for the rest of the time, and we hadn't even taken a single photo yet. So, I did it, and I survived. Soon after, we were on our way again to scout out a place for photos. 30 minutes later, we found a spot. In some beautiful aspens. And, while we were not strolling leisurely with a paid professional taking the shots, we did manage to set up the tripod on some wet leaves, and use the timer. Which my youngest thought was actually entertaining. He's the one I worried about most. Trying to get an almost 2 year old to sit still and look at a camera is near impossible, but that blinking red light helped.
Little did I know it was the four-year-old I had to worry about.
Just when we thought we were done, I looked at the 10 or so photos we had taken while the kids were walking to the car. The last three were the best. Except for my four-year-old. In one, he had his mouth wide open (although kind of smiling), the next one? tongue sticking out. And, the last one? Rolling. His. Eyes.
So, I demanded told everyone to take their places again (which was not a very welcomed idea) and I took 3 more.
None of which were spectacular.
But, the truth is, it's killing me that I'm not going to share the photos with you, because they are downright hilarious. And, like many of my friends pointed out when they saw them was that they do show his personality perfectly. And, they do. And, although I was disappointed at first, I kind of love them now.
So, how do you take the "perfect" family photo? I can tell you what not to do.
Don't have very high expectations.
Don't expect that clothes will be free of grass stains, or food you had to feed them in the car, or mud when they fall down in wet leaves, if you dress your kids 30 minutes beforehand.
Don't imagine a pinterest spread titled, "The perfect family photo shoot".
Don't think your kids will have fun.
Don't think that someone will be able to hold it when traveling to remote areas.
Instead, be realistic. Your husband will cut you off at some point. When the kids are shivering without their coats on and there's snow on the ground. (I mean, that didn't happen to us. I'm just using it as an example.)
My biggest piece of advice if you want to take your own family photos?
Just go with it. Whatever you get is probably pretty darn close to reality in the first place, and it's much more fun to look at reality than the ones where everyone looks perfect. Don't you think?
At least that's what I'm telling myself.