Often when we are dealing with narcissistic parents, we don't realize that one day they will turn into narcissistic grandparents when you have your own children. So what are the best way to handle narcissistic grandparents?
What are the symptoms of Narcissistic Personality Disorder?
According to psychiatry.org Narcissistic personality disorder is "a pattern of need for admiration and lack of empathy for others. A person with narcissistic personality disorder may have a grandiose sense of self-importance, a sense of entitlement, take advantage of others or lack empathy.
And, while the term is often thrown around loosely in society to describe family members and friends that are self-centered, there are other characteristics that can help you determine if your own parents fall into the category of a true narcissist.
Here are a list of common symptoms of narcissistic personality disorder you can look for according to the Mayo Clinic:
Have an exaggerated sense of self-importance
Have a sense of entitlement and require constant, excessive admiration
Expect to be recognized as superior even without achievements that warrant it
Exaggerate achievements and talents
Be preoccupied with fantasies about success, power, brilliance, beauty or the perfect mate
Believe they are superior and can only associate with equally special people
Monopolize conversations and belittle or look down on people they perceive as inferior
Expect special favors and unquestioning compliance with their expectations
Take advantage of others to get what they want
Have an inability or unwillingness to recognize the needs and feelings of others
Be envious of others and believe others envy them
Behave in an arrogant or haughty manner, coming across as conceited, boastful and pretentious
Insist on having the best of everything — for instance, the best car or office"
So how do you know if you are dealing with toxic grandparents that may also be narcissistic?
There are many signs that are obvious when you're dealing with a narcissistic grandparent. We're going to talk about a few and what the scenarios may look like.
Guilt trips are used for control.
Adults should never be using guilt trips to get a child to behave or do what they want. Usually this is about controlling the child instead of figuring out what is best for the child. Plain and simple, a grandparent should never guilt a child into doing something they do not want to do.
If you want your kids to have a healthy relationship with their grandparents, the guilt trips need to stop.
Narcissistic Grandparents use manipulative tactics to get you or your child to do what they want.
Maybe they don't use guilt trips, but they manipulate their child with coercive tactics or language. This is toxic behavior. Narcissistic grandparents can also try to manipulate you to parent the way they see fit.
They often do this by overstepping boundaries, or making you feel like you are not a good parent to your child.
They often think they know how to parent better than you.
It's common for a narcissistic grandmother to make negative comments about your child's appearance, or behavior in order to make you think that you are not doing the right thing. This is a typical tactic of narcissists.
It could be something as simple as commenting on letting your boy wear a pink shirt. It might be as serious as accusing you of emotionally harming your own child when they are the ones disrupting the whole family.
Expensive gifts are given to your children.
While this one may seem like a nice gesture, it is usually shrouded in their own need for attention and praise for giving such a nice gift.
Your child most likely won't recognize this as "bad" behavior, but over the top gifts are usually not discussed with the parent.
This might look something like a new gaming console for your child when you have a family rule of no video games in the house.
Toxic grandparents often step over your own boundaries.
This might be breaking a family rule, or going directly against your own wishes when your child is not with you. Sometimes the rules get bent when a child is with their grandparents (like eating too much sugar) and that is totally normal.
However, something more extreme could be taking them to a church when you have forbidden it.
There is often a power struggle in the relationship between the grandparents and parents because of this type of narcissistic abuse.
Physical abuse of your children occurs or threatening of physical abuse.
No person in your child's life should ever physically abuse your child. Physical abuse is not OK. It's especially damaging and shows lack of being able to respect firm boundaries for a grandparent to use physical force.
Threatening physical force is emotional abuse. Children are easy targets for this type of behavior and it should never happen.
Abusive grandparents can have a negative impact on your child and there is a good chance the relationship can be damaged or ruined permanently.
If you suspect physical abuse of your children, it is best to end contact, at least until new boundaries or rules can be put in place to protect your kids.
Narcissistic grandparents harm the family dynamic by pitting family members against each other.
This is a common tactic of toxic parents and grandparents. By creating unnecessary drama and disrupting the entire family, they become the center of attention again.
It's never OK for your children to get wrapped up in manipulation tactics or gossip about their own family members. Grandparents should try hard to never speak negatively to their grandchildren about you.
They need to be the center of attention in conversations and phone calls with your kids.
Kids have so much to offer with their pure hearts and innocent minds. The grandparent grandchild relationship is a special one in your child's life. A narcissist grandparent will often be too consumed by their own egos to really listen and hear their grandchild.
They want to usually talk about their own life rather than listen to your child's life.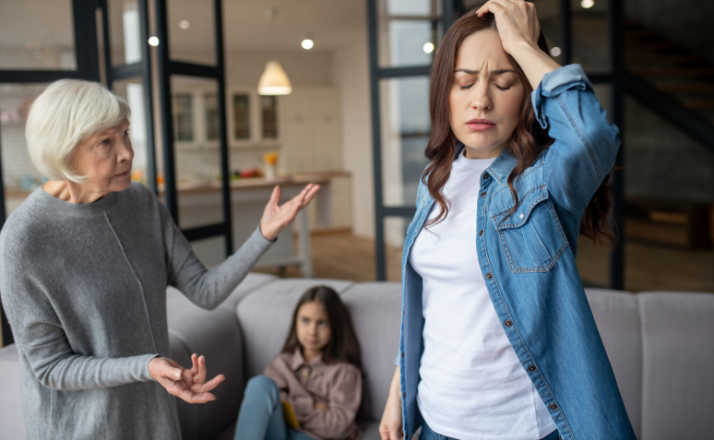 Toxic grandparents will diminish the feelings of a child.
Sometimes a child will get brave enough to stand up to their toxic grandmother or grandfather. However, sadly, because of their tragic lack of empathy, a narcissistic grandmother might use a phrase like, "Oh you're just being too sensitive!" when a child expresses discomfort.
They only show conditional love.
Children deserve unconditional love from loving grandparents. A child will quickly learn that grandma or grandpa is only happy with them when they perform or behave the way they want them to if they are in a relationship with a narcissist.
You want your child to have a good relationship with their grandparent, however it's up to the grandparent to learn how to love their grandkids unconditionally. Narcissistic people have a hard time doing that.
Children of narcissists can typically spot narcissistic behavior right away.
The good news is, if you think your parent or parents are narcissistic, you will have learned healthy boundaries in dealing with your parents, and can teach these healthy tactics and boundaries to your own children.
The victim of a narcissist often wants to protect their own children from the narcissistic tendencies. And, while it's easy to want to cut all ties, sometimes a huge step in your own growth is being able to set boundaries that will protect your own children from the negative behavior that narcissists exhibit.
So, how can you foster a close relationship with narcissistic grandparents? Is it possible?
I'd say it is absolutely possible, but first you must decide what type of behavior you are willing to overlook in your child's life. Dealing with toxic people can affect your mental health and the mental health of your children. Narcissists can also create low self-esteem in those they interact with.
So, you must pay special attention to your own children and what they are capable of handling.
Perhaps, you may decide one day to cut all ties with your parents for the sake of your children and that's OK too.
But, if you want your kids to know their grandparents despite their narcissistic behavior, it can be a learning experience for all of you and a great way to teach your children.
They can learn valuable lessons about emotions, toxic behavior, and setting boundaries for themselves.
Now for the crux of it all – what to DO about narcissistic grandparents.
First thing, set boundaries, and then set them again.
A child's parents are their best advocate in navigating these tricky boundaries. They need emotional support and someone to protect them. The best way to do this is by setting clear boundaries, stick to them, and then set them again when they get broken.
The most important thing to remember is that the narcissist will cross a line, and it's up to you to reiterate what your boundaries are and remind them that breaking those boundaries will result in the access to their grandchildren being taken away.
Boundaries may include everything from time spent together to things that are said.
Depending on the narcissistic traits and behavior being exhibited, you may literally have to spell out or make a list of boundaries you have. If you don't want your parents sharing information with your children, you need to say it. If you don't want them to spend the night at the grandparents then that needs to be clear, too. The best thing you can do to protect yourself and your kids is to have open, clear lines of communication.
Don't get emotional.
A big part of dealing with a narcissist is to refrain from being the emotional one in the confrontations. This is extremely hard because a narcissistic mother or father is bound to know which buttons to push with you and how to make you seem like the one that is out of control.
The more you stick to your boundaries you've set and refrain from getting emotional or upset when they break them, the less the narcissist will be able to blame you for confrontations or conflict.
Talk to your children about mental illness.
When your child is old enough, it's OK to explain that the child's grandparent is different and we need to act differently because of their differences. I'm a huge advocate about talking to your children about mental illness so they can understand and have empathy. However, empathy does not mean teaching your child to bend to the whims of the narcissistic grandparent.
Instead, it's about explaining the importance of protecting ourselves from people that are harmful to our own emotional well-being. Teaching your kids about mental illness will give them the tools to be able to decide later in life how much time they want to spend with their grandparents and what kind of relationship they want to have with them.
Tips for dealing with narcissistic grandparents and children.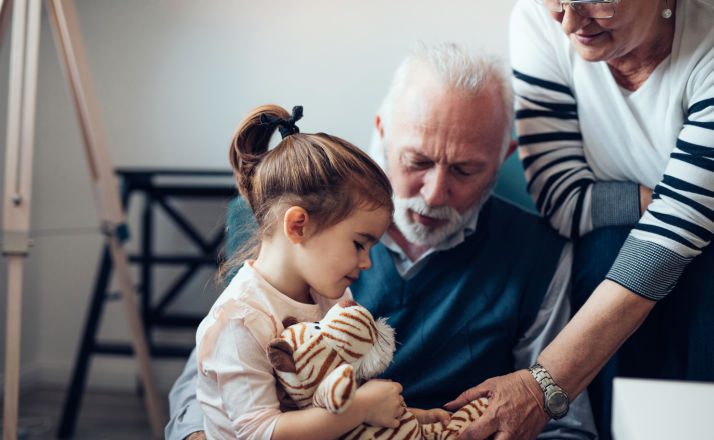 Keep visits short.
Phone calls or visits can be kept short in order to prevent things from spiraling out of control. When a grandparent loses patience with a child, there is a greater likelihood of your child receiving negative attention and verbal assaults. Day trips are a great way to let your parents have an outing with your child, and prevent longer interactions.
Remind your parents that they are the grandparents, not the parents.
Many times, grandparents want to discipline grandkids in the same ways that they used to discipline their own children. This is often very different than the parenting style of the adult children who were raised by the narcissist. So, it's important to gently remind grandparents that they should be a place of fun, comfort, love and not discipline. A great phrase to use with narcissistic grandparents and even any grandparents that are stepping over boundaries is, "Remember! You're the grandparent, not the parent."
Sometimes the only way to know what to do about narcissistic grandparents is to trust your gut.
You know your children better than anyone. You know your parents well, too. So there is a good chance that your fears about the relationship your children have with their grandparents is warranted. Don't gaslight yourself into thinking you are being too protective. And don't let your parents gaslight you either.
One of the signs of a narcissistic grandmother or grandfather is the constant gaslighting you to believe that you are "crazy" or "unhinged" or that you imagined scenarios that happened. This can be extremely troubling and can have an adverse affect on your own mental health.
Sometimes the best way to reiterate boundaries with narcissistic grandparents is to take a break. This can be a week, months, or even years. It's not uncommon for children of narcissistic parents to need to take a break from a toxic parent. It's no different with grandparents.
The difference is that you may feel more guilt from cutting off a relationship for your children.
What are the grandparents legal rights to having access to your child?
There is no precedent that says a grandparents gets free access to their grandchildren unless there is an issue with neglect or abuse. Unfortunately, some grandparents may go to great lengths to see their grandchildren if you set a boundary where they can't see them.
Research the laws in your state. Some grandparents can force contact through a contact order, however if a party objects, then they would have to file a motion in court to try to gain access.
However, typically this would include the grandparents getting a family law attorney. A better scenario is to try to come to an agreement with your parents if they are trying to force a relationship. This can be done through a family therapist, child advocacy, or through a mediator. Hopefully a narcissistic grandparent wouldn't go to the extreme of creating scenarios that are untrue in order to see their grandchild.
However, I'm sure it's happened.
Make sure that you hire your own attorney if that is the case to help advocate for you and your child.
Last, remember that cutting off ties can be temporary.
You don't have to cut off ties forever. But, sometimes it's the only way for an extremely harmful and toxic relationship to heal. Time really does heal some wounds, and as your kids get older, it's easier to have conversations about problematic behavior.
It can feel like a big deal with you take a break from a narcissistic grandparent for a long time, but it's one of the best ways to show that you are serious and will not tolerate abusive, toxic behavior.
The grandparent will be upset and angry, and may lash out even more for a while, but by cutting off ties you can re-establish your own parental authority with your own kids and heal wounds.
And cutting off ties with a narcissistic grandparent doesn't have to be forever. It can just be long enough for everyone to realize the importance of respect and clear roles and behavior in the life of the children involved because they are the most important.