I never had braces as a kid, so when I had kids of my own, it surprised me that there was an entirely new treatment plan for kids with braces. So, when do kids get braces?
The answer might surprise you that early treatment is now often considered the best step.
Let's talk about what is normal and not normal for your child's teeth.
Every child's mouth is different just like every child is different. My kiddos were very late developers when it came to their baby teeth, for example. My kids didn't typically get their first tooth until they were at least one year old.
But, I know a child who was born with baby teeth!
Even in our own family some of us were born with naturally more crooked teeth than some of us. I never had braces and my teeth have always been pretty straight. So, while I still had a bit of an overbite as a kid and a few crooked teeth on the bottom, my parents ultimately decided to opt out of braces for me.
It's normal for babies to develop teeth between 6-12 months of age.
However, you shouldn't worry if your child's teeth come in a little sooner or later. And the baby teeth aren't necessarily an indicator of whether or not your child will need braces at an early age, or even at all.
What teeth do kids get in order?
According to Healthline, there is an order and a right time for everything when it comes to your child's mouth and development.
"Your baby will get their lower teeth in each category first before teeth of a different category on the same gum line. The following timeline indicates approximately when most babies get their primary teeth.
AgeTeeth
6-10 months bottom central incisors
8-12 months top central incisors
9-13 months top lateral incisors
10-16 months bottom lateral incisors
13-19 months first molars in top of mouth
14-18 months first molars on bottom
16-22 months top canines
17-23 months bottom canines
23-31 months second molars on bottom of mouth
25-33 months second molars on top"
If you're wondering when kids need braces, you should speak with your child's pediatric dentist.
It might surprise you to know, that children can get an orthodontic evaluation for braces very early.
We were advised by our dentist with our first child, to seek out orthodontic treatment at around eight years old. While you may not think your child had orthodontic problems, and a beautiful smile, it could be that there are other complications that you haven't noticed.
Our daughter sucked her thumb for a long time which is what prompted us to ask her dentist about her bad bite.
She had an overbite, and we were worried about whether or not we needed to do something different for her orthodontic treatment.
Since my husband and I were both kids of the 80's and 90's we had no idea that early intervention is key to orthodontic treatment plans.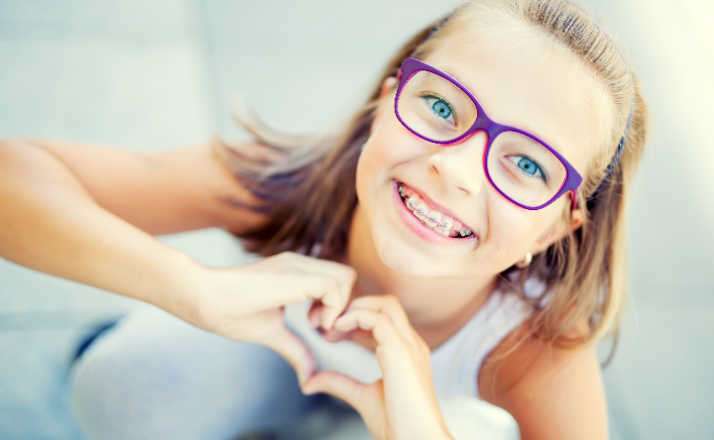 The American Association of Orthodontists recommends that your child's best age for getting an evaluation is no later than age 7.
Gone are the days when a child gets traditional braces as a teenager.
If you are noticing other orthodontic issues like mouth breathing, tooth decay, facial development, or issues with your child's jaw or your child's mouth, you may want to go ahead and book an appointment even sooner than age 7.
So, how much days an early orthodontic evaluation cost?
Usually nothing!
You can ask for a referral from your child's pediatric dentist, or simply ask other parents with children the same age as your child. When we took our kids in for early orthodontic treatment assessments, we weren't charged anything for the initial visit.
Do kids need to lose their baby teeth before going to see an orthodontist?
No! My kids all needed early intervention with a palatal expander.
This was used in order to make more room in their mouths so that their adult teeth would come in straighter and in the right place. The idea is that traditional braces when they have all their adult teeth and are older won't be as necessary.
A palatal expander is usually a removable retainer that your child can wear at night in order to keep adult teeth from overcrowding their tiny mouths and causing even more dental issues.
My children all needed help at a young with just making more room in their mouths. They have tiny, narrow palates naturally, so we had to make room. This is why it's a good idea to get treatment options for orthodontic work early.
When do kids get braces before their adult teeth come in?
This happens more often than not these days. While your child may just need a palatal expander, your orthodontist and general dentist may recommend that you get some braces to help pull certain teeth together to make room for those bigger adult teeth.
Your child's jaw is small, and as they are growing the best time to get braces is when their mouth is still moving around and changing. I know it sounds counterintuitive, but I've talked to multiple orthodontists and dentists, and typically orthodontic treatment is now done in two phases.
If your kids get braces early, do they have to get them again?
It's important to have an orthodontist tell you exactly what your child's treatment plan will be. For my kids, we went through two phases of orthodontic care. While there is no set age, typically you get one set of braces, aligners, or retainers at an earlier age, and then again as your child hits their growth spurt.
I had two kiddos that had other complications like a severe overbite, and extremely narrow palette. For this reason, they needed additional orthodontic appliances that were atypical for braces treatment.
But, all three of my kids have had two phases of orthodontic care. Phase one was typically around age seven or eight, and phase two started in high school when they are typically hitting their growth spurt and are done losing all their baby teeth.
At one point, my husband and I even asked for a second opinion on our children's treatment plan because we were surprised that they were being treated at such a young age, but it's very common, and the standard in orthodontic treatment to get early intervention at a much younger age and help your child's smile develop beautifully over time.
How do you choose an orthodontist?
According to the AAO,
"The best treatment is the kind performed by an AAO orthodontist, who has a minimum of 3,700 hours (2 or more years) in an orthodontic residency after 4 years of dental school. Orthodontic treatment is a customized professional service performed and monitored by a highly-educated healthcare professional. Orthodontic treatment is not a product.
Moving teeth and aligning jaws requires a comprehensive knowledge of the biological and physiological processes at play to safely and predictably move teeth into new, healthy positions. The type of treatment (such as braces or aligners) or brand of appliance is less important than the knowledge and skill of the individual who performs your treatment. Visit Find an Orthodontist to locate AAO orthodontists near you."
So if you're thinking that your child's first visit to an orthodontist doesn't need to be until they're a teenager, think again.
An early evaluation will save a lot of time and hopefully money as you work on giving your child the healthy smile they deserve.