Anxiety art therapy worksheets are a great way to use the creative process to treat mental health.
These art therapy exercises work well for anxiety, depression, or just giving kids and adults a safe place to calm down their mind and work on their own mental health.
Whether you're looking for a coloring book, art projects, or just good things that will help you boost your social skills, this round up of downloads will be perfect for you to use to help with mental health.
What is art therapy?
According to the American Art Therapy Association, art therapy is defined as follows,
"Art therapy is an integrative mental health and human services profession that enriches the lives of individuals, families, and communities through active art-making, creative process, applied psychological theory, and human experience within a psychotherapeutic relationship.
Art therapy, facilitated by a professional art therapist, effectively supports personal and relational treatment goals as well as community concerns.
Art therapy is used to improve cognitive and sensorimotor functions, foster self-esteem and self-awareness, cultivate emotional resilience, promote insight, enhance social skills, reduce and resolve conflicts and distress, and advance societal and ecological change."
In other words, it really is a great tool to treat anxiety disorders with something as simple as a piece of paper and some colored pencils.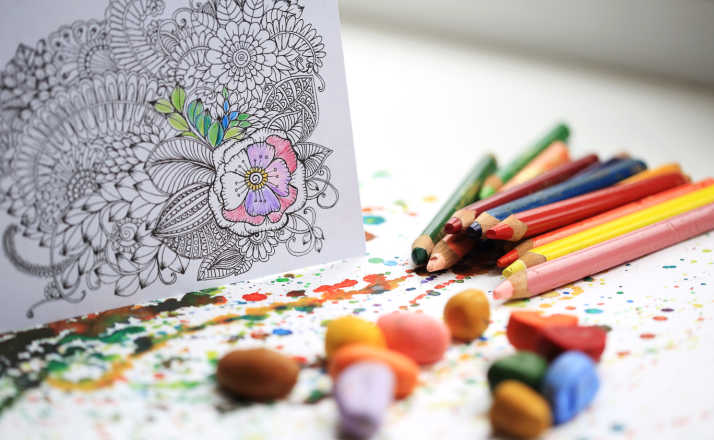 What are the benefits of art therapy?
Maybe you're thinking to yourself that you don't have a creative bone in your body. That's ok! An art therapist can help you with that. These creative activities that we are going to share below are meant to help you facilitate your own creativity.
And so much of the work is done for you through these anxiety art therapy worksheets. You just plug in the colors, or expressions that you're feeling. There is no "wrong" way to use this creative outlet.
Research has shown that art therapy can have positive effects on social anxiety, mental health issues, negative feelings of self worth, etc. According to Michigan State University, research has shown that it can do the following as well:
"Helped reduce pain, decrease symptoms of stress and improve quality of life in adult cancer patients.
Improved ability to deal with pain and other frightening symptoms in children with cancer.
Reduced stress and anxiety in children with asthma.
Stimulated mental function in older adults with dementia.
Indicated a reduction in depression in Parkinson's patients."
Can art therapy worksheets help with anxiety?
Simple art therapy activities are used by mental health professionals all the time. And these CBT worksheets and information sheets can act as therapeutic art to help you in a creative way to re-center yourself and get rid of the negative impacts that your feelings of anxiety may be causing in your life.
The benefits of art therapy include engaging the mind, body and spirit in a way that psychotherapy can't always achieve.
Of course, these art therapy worksheets aren't meant to replace your therapy.
They are meant to enhance your mental health in the privacy of your own home, or help you as a teacher when teaching kids with special needs in the classroom. Sometimes we all just need a little meditative painting in order to work through our big feelings and move on with our day!
Why start with art therapy worksheets then?
In recent years, I know that I've been working on finding meditative ways to treat my own anxiety in between therapy visits. Let's face it, life is hard, and sometimes you need to try new things in order to get yourself unstuck.
As I've struggled with my own OCD, anxiety and depression, I've used things like adult coloring books, and meditative apps to help me calm down. A piece of art or even simple finger painting can incorporate your physical sensations in your own healing.
Have you ever gone to a painting class? Even if you suck at painting, playing around with different colors on a canvas, in a group setting or art class can be fun and therapeutic.
I decided to do a round up of anxiety art therapy worksheets mostly because I wanted to create a database of resources for those that may be struggling getting into clinical settings for their kids, children or students.
There is a shortage of mental health therapists in this country, and often a lack of prioritization on mental health. It's part of the reasons why I decided to go back to school to get my Master's degree and pursue my dream of becoming a counselor myself.
Anxiety can creep up when you least expect it.
I know that if I'm in between appointments and having a panic attack, grabbing a worksheet can be a great way to calm myself down, think more positively, and control the out of control thoughts that creep in. It's a form of problem solving to have these art therapy worksheets on hand in a pinch when you can't get into your therapy groups, or see the school counselor in the middle of a crisis.
In addition to being fun, and helping with your mental health, art therapy and coloring can serve a bigger purpose with kids.
Benefits of art therapy and kids
According to Nationwide Children's, it's more than just coloring. The therapeutic activities used in art therapy can have added benefits like:
Positive Physical Impact: improving motor skills, enhanced physical movement and feeling.
Positive Cognitive Impact: improving memory, prioritization, planning, problem solving, attention span and organization.
Positive Psychosocial Impact: improving interpersonal skills, expression of feelings and collaboration. Fostering self-expression and communication, providing experiences that promote positive and meaningful interactions between patients, families, friends and caregivers.
Positive Emotional Impact: improving impaired control, easing anxiety, and easing depression from feelings of loss, loneliness, guilt and frustration. Promoting a sense of comfort and normalization. Fostering positive self-esteem and instilling hope.
But, young adults, middle aged adults like me and even seniors could benefit from all these positive impacts.
Young people and children don't have to be the only ones to benefit from art therapy. With these art therapy worksheets, we can create safe spaces everywhere.
Even in our own homes.
So, here are a few anxiety art therapy worksheets and workbooks that you can use with your family members, students, or for your own art therapies for yourself.
Art Therapy Workbook to Improve Self-Esteem
The Kitchen Table Classroom is an amazing website with all kinds of resources, and she has a free downloadable workbook to help improve self-esteem and self-expression.
It is full of art therapy activities that will help for that kid (or yourself) struggling to remember what makes you awesome. Go go grab her free workbook here.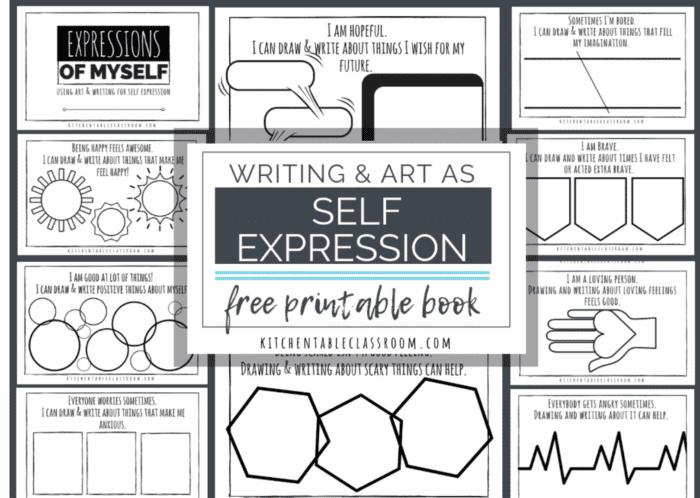 A website full of art therapy worksheets
If you don't mind paying a few dollars, and may you are a board-certified art therapist yourself, you might already be aware of the awesome resource of Mylemarks.com.
Their worksheets are not free, but they provide plenty of variety, and some worksheets cost as little as $1.25 for a download. It's super easy to download these art activities and use them at home, in the classroom, or even in therapy sessions if you're a therapist yourself!
I really liked this blank faces worksheet for kids that allows kids the chance to draw faces based on their moods. It's a great and simple worksheet for creative expression for kids.
An Anxiety art therapy worksheet to calm down
Since I am an anxiety sufferer myself, I thought it would be a great idea to incorporate some of the calm down strategies I've taught my own kids, and learned in therapy myself.
At any given moment, I can feel the physical symptoms of an anxiety attack, and my kiddos struggle with those same issues at times themselves.
I wanted a simple worksheet that teachers and parents can use to help kids calm down in a bad anxiety moment.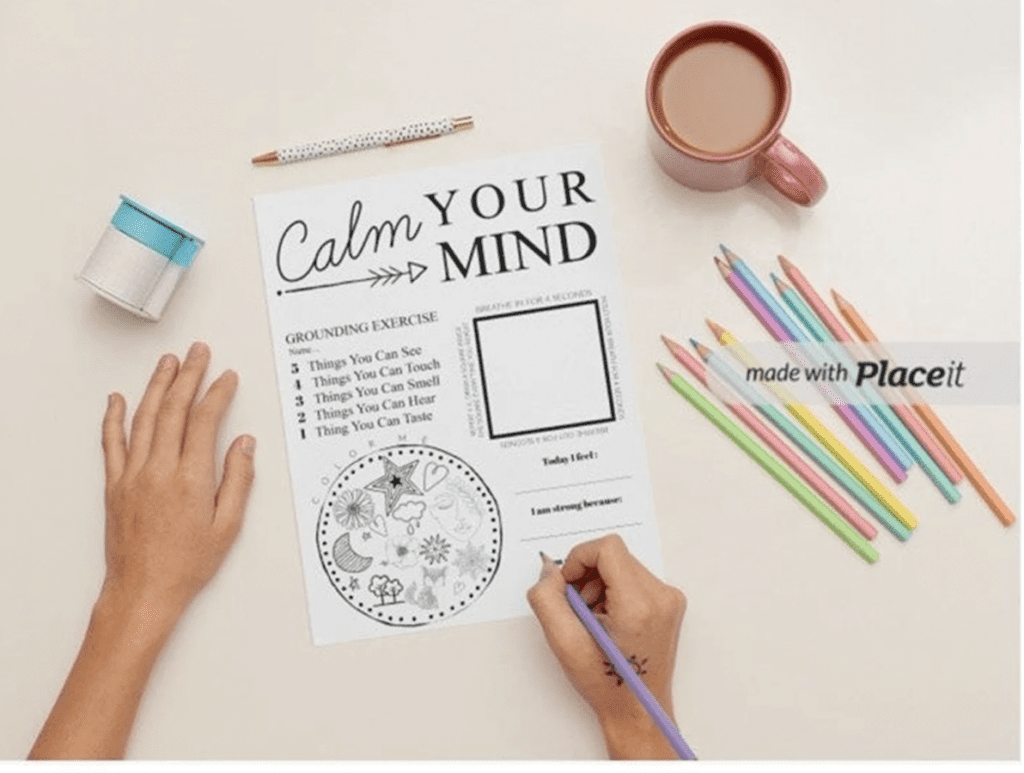 This anxiety worksheet incorporates four square breathing techniques, has a coloring section, has the five senses calm down activity, and affirmations section to help kids and adults alike to feel hope and strength again during a bad moment.
It's a digital download on Etsy that you can use as an anxiety art therapy worksheet over and over again. It's in black and white making it easy to print multiple copies at home on your own computer.
Art therapy can be as simple as coloring pages to calm your anxiety
If you go to Pinterest, and search for free adult coloring pages, you will find literally hundreds that you can download for free. According to the Mayo clinic, "Coloring is a healthy way to relieve stress. It calms the brain and helps your body relax. This can improve sleep and fatigue while decreasing body aches, heart rate, respiration, and feelings of depression and anxiety."
Here are a few of my favorite Anxiety art therapy coloring pages you can download for free right now:
Momcrafters.com Free Printable Pattern Coloring Pages for Adults
Artisbasic.com Growth Mindset Coloring Pages
Free Coloring Pages with email sign up
The Artisan Life Inspirational Coloring Pages
Parents.com 10 Free Coloring Pages for Teens
LightlySketched.com Mindfulness coloring pages for kids
Anxiety Art Therapy Worksheet Workbooks You can purchase on Etsy
(Prices are subject to change)
22 Page Anxiety Worksheet bundle for kids and teens $12.97
Inner Critic Workbook and Self Love Journal $9.34
Art Therapy Exercise Guide for Depression $4.31
Art Therapy Activity Card Deck $50
Art Therapy Worksheets Under $5
(Prices are subject to change)
What's on my Mind Worksheet $2.36
Worry Jar Worksheet $2.85
Art Therapy Basic Emotions Guidebook $7.01
50 Mental Health Coloring Pages $3.12
Zen Coloring Pages $1.80
My Emotions Wheel Printable (Free)
Tangled Ball of Emotions Worksheet (FREE)
Worry Hot Air Ballon Activity (FREE)
Art therapy is not just about coloring pages
I love being able to share a little bit about how you can take advantage of these art therapy worksheets to improve your own mental health. But, art therapy is not just about coloring pages. It is a field of psychology that has been around since the 1940's and has so much to offer in the way of mental health, trauma, and childhood therapy.
I have shared a lot over the years about my own struggles with anxiety, and I am always thinking of ways that I can improve my mental health on my own. If you're struggling with your own mental health, don't rule out finding an art therapist to help you or your kids. And if you're a teacher and you've found your way here, kudos to you for trying to find more resources for those that you teach.
If you're looking for an art therapist, I recommend using Psychology today to search for a licensed therapist in your area. You can narrow down the search field by therapy modalities, and you should easily be able to find a therapist that specializes in art therapy to begin your journey.
---
If you're looking for more printable ideas, I also have a 30 minutes Grounding checklist for kids and teachers to use in the classroom. And recently, I made a booklet for kids grieving over the loss of the family pet.
It's a great gift to give to the kiddo struggling with losing a dog, cat, gerbil, or whatever!