I remember the first time my middle child recognized a company from a commercial. We were driving through a mall parking lot and he said, "Look Mommy!! Sears!!" with a lot of excitement. I was confused. I don't think I had stepped into Sears to shop for anything for years. Except maybe for that time I got a flat tire and went to their service department.
Oh and by the way, he couldn't read. He was 4.
I laughed, "Why is Sears so exciting?" I asked him. He responded, very sure of himself, "Because they have clothes you will like".  Suddenly, I remembered the commercials with the woman telling everyone that "she got it at Sears" about 10x per commercial, and it all made sense. To him, because he saw it on a commercial, it was the only place for mommies to shop. And, bless his heart, it actually made me kind of want to go to Sears just to make him happy.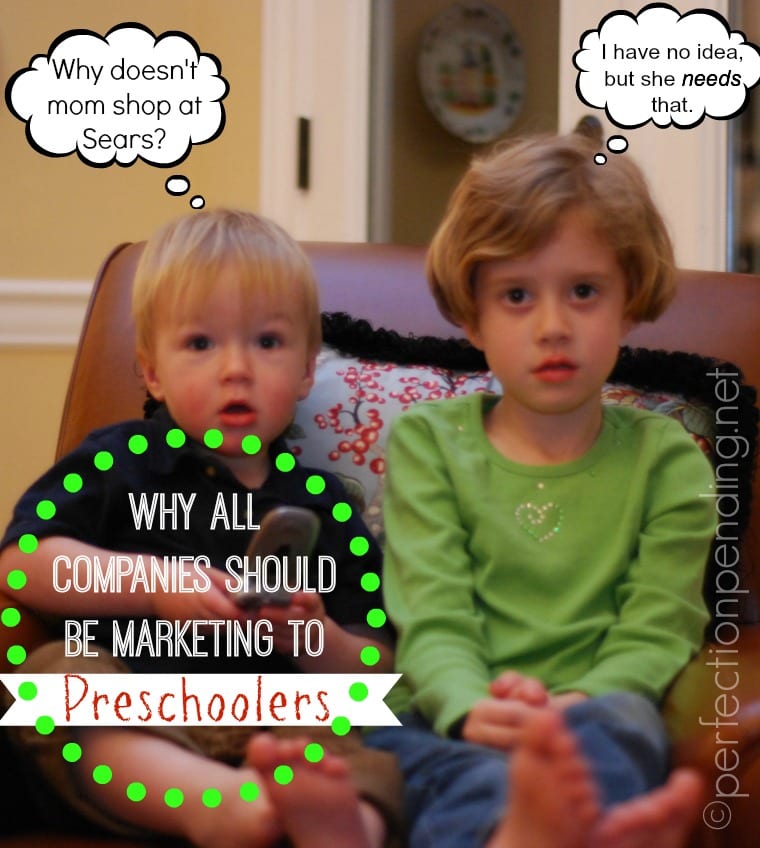 photo credit: Micah Taylor via photopin cc
I remember my sister calling me one time when my nephew was about the same age. He was very excited to tell her all about this bag she needed. "Mom! You need a Buxton Bag!!" he exclaimed. He told her all about it. How she would never lose her keys again, and she would have a place for everything. She would never have to dig in her purse again. She could even find what she needed with a blindfold!! (OK. I'm not sure he actually said that last part) But, bless his little heart, he had watched his poor mom dig for stuff in her giant bag one too many times, and he wanted her to know there was a better way. Just watch this commercial and you'll see why he was so excited! I mean, it does look pretty awesome I have to admit.
You see, as an adult, I RARELY watch commercials. I have a DVR. So, watching commercials is not in my 15 minute TV watching routine during the day while I scarf down my lunch. And, at night when I'm bone tired, I definitely don't have time to watch commercials. My kids however sometimes are forced to watch actual, live TV. The horror!! They have a rough life, I know.
So, why aren't all these companies marketing to children that can't read? I mean, think how much more successful they might be. And, really, the commercials wouldn't have to be that complicated.
"Hey kids! Tell your Mom that the absolute best kind of greek yogurt is Chobani because we like puppies and kittens and star wars!!"
"You should only shop at JCPenney because if you do, we will give you a free pony!"
"TJ Maxx LOVES the color purple, and pink, and yellow, and blue, and red, and orange. You should shop here because that is your favorite color too!"
I mean, what kid wouldn't want to tell his mom to buy those brands?
And, sure, there would be disappointment when the kid actually convinces mom to go to JCPenney to do her shopping and realizes he won't in fact be getting a pony, but kids forget things quickly.
Trust me, I make promises all the time and don't follow through.
"No, we can't play with Jr. today. I will call him tomorrow for a playdate" I might say with no intention of actually calling.
I know, it's mean. But, I might not like that kid, and if I can put him off until tomorrow, then maybe he'll forget about it. "Hey buddy! Let's go to the park today!!!" I will say in an excited voice the next day. "Yay!!!" he will reply and forget all about Mr. hits-a-lot that I didn't want to invite over anyway.
Sure, maybe 3 weeks later he might bring it up, but distract him again, and you'll probably be good.
Ok. So, maybe it's not a perfect tactic, but I still think these businesses are going about it all wrong.  They should be marketing to preschoolers. Not adults. Adults don't have time for TV, much less real, live commercials. Netflix anyone? And, preschoolers are easy to win over. I mean, why do you think we have to talk about stranger danger so much at that age? Because, HELLO! All you have to do is offer them a piece of candy and they will climb into the back of a white van with no windows with a guy wearing a ski mask and think nothing of it.
I mean, just today, my 5 year old looked out the car window longingly as we drove past an IHOP and said, "They have really good pancakes on their commercials." 
See what I mean?
What's something your preschooler has tried to convince you to buy?