One thing I know for sure, is that I have a tiny bit of road rage. I'm not the pull a gun on you type, but I like to yell things. Mormony-non-swearing type things. Call people idiots. Stupid. Honk.
I really like to honk.
The problem is, my kids are with me 99.9% of the time I'm driving. So, I'm sure at one point, we will have a "situation". You know what I'm talking about, right? It hasn't happened….yet. But, I'm sure it will. Like the time when my sister's little girl leaned her head out of the car in the school pick up line and said, "Move out of the way you moron!" I think she was 4. She's precious though, I promise.
But, here's the thing, I have an ever growing list of people that I don't want to drive behind, beside, or near. Some of them include:
People with beanie babies in their back (or front) dash.
People with handicap license plates.
People that wear big hats.
People that drive PT Cruisers. (Sorry if you own one. You probably are a very slow driver.)
People that drive sports cars. (Face it…the only people that can usually afford sports, or don't have 3 kids under the age of 5 in their cars are old.)
People that have anything hanging from their rear-view mirror. (I once saw a lady with her iPod hanging from it…she was looking at it while she drove)
Recently, I saw a car with a wide variety of rubber duckies in the front dash. Mental note: Add that one to the list too.
People with lap dogs.
People with bobble heads. The kind in the dash, not the real kind.
People that like to talk at you from their car. OK. This only happened once. But, I made a mental note to never talk to someone that was shouting, "How are you today?" at me from his car window. Creepy.
People with diesel trucks. I'm sorry, but I hate you.
I'm sure I'm forgetting a few. But, you get my point right? Of course, I believe, like most Americans, that I am a really good driver. But, the truth is, I'm probably not. Most likely because of one fact (thankfully not listed above).
I'm a Mom.
I know, I know. I'm probably offending moms everywhere, but think about it for a second. How good of a driver could you possibly be? Sure, I haven't gotten in a wreck for years and, tickets? I can't remember the last time I got pulled over (which probably means it will be this afternoon).
But, there is a good chance, I still suck anyway. Because there are kids in my car 99.9% of the time. Why is this such a problem? Let me tell you. And, I want you to examine your own driving while reading through this list, and admit to yourself, moms are probably the worst drivers on the road.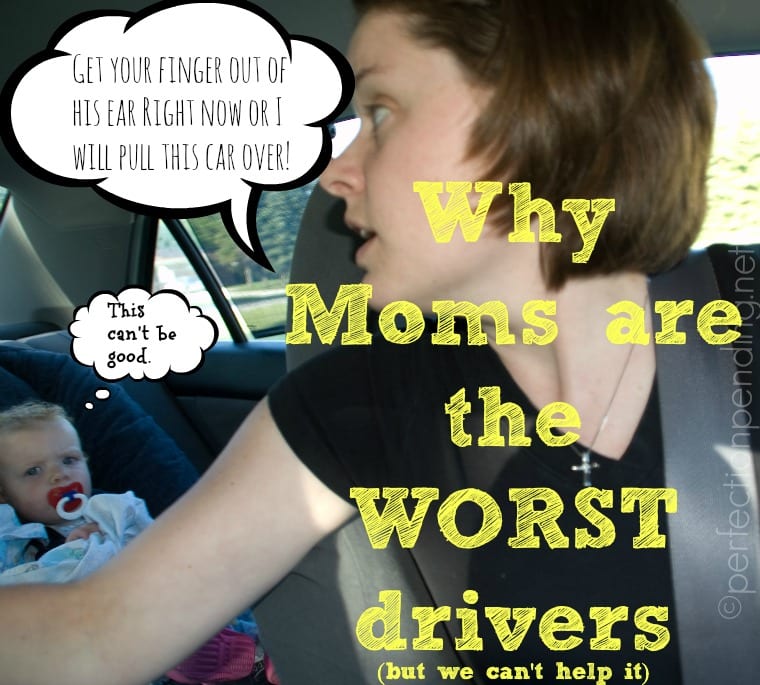 photo credit: abardwell via photopin cc

#1- I'm always late. For example, because I decided to write this post, I will probably be late to pick my 5 year old up from preschool two hours from now. Not because this post will take that long to write, but because I also have 97 other things to do between now and then and obviously blogging is the most important.
#2- I'm usually breaking up a fight, handing someone a chicken nugget, dropping a chicken nugget, picking it back up to hand to the child (3 second rule), picking up a favorite toy that a child has dropped and has to have right that second, tickling toes so they don't fall asleep on me before nap time, changing the radio ten times to suit the needs of the two year old who is particular about which songs he likes, adjusting car seat straps that somehow the little houdini got out of, telling someone to be quiet because I can't think when they are playing the fake crying game, etc.
#3- Because I have three kids, I frequently forget what I'm doing, where I'm going, or remember something at the last minute. Oooh! There's a McDonald's. I almost forgot my Diet coke as I cross three lanes of traffic.
#4- I have to look in the rear view mirror often. This is not because my kids are so cute. They are. But, it's mostly because I have to try to control behaviors while flying down the freeway. "Stop telling your brother you're faster than him." "Why is your foot on his car seat!?" "Can you wait until we get there for me to open that?" "Please do NOT unbuckle your seatbelt again."
#5- I will, at some point, have to dig in my giant purse. Can't it just wait? you might ask? Sure, sometimes it can. But, most of the time, it can't. Someone needs a kleenex or they will freak out for sure if snot actually touches their upper lip. Someone needs a mint. Someone needs a wipe because he just squirted out his yogurt all over his lap. Someone needs hand sanitizer five minutes after driving because we think that may have been poop he touched at the park. You just never know. Someone always needs something out of the big bag.
I don't text and drive. Ever. And, I rarely talk on the phone in the car. But, I seriously doubt I'm a good driver anyway. I mean, how could any of us be? Do you insist YOU are a good driver even though you're a Mom? Tell me your secret. Please.