It's no secret that I've never been a big fan of meal time. Pre-kid me would laugh at that, because it's not like I ever have skipped a meal or forgotten to eat in my entire life. But, that's not what I mean, really. What I mean is meal time sucks when you have kids. That is, if you expect meal time to go like adults think meal time should go. You know, sit in a chair and eat and converse…the sort of grown-up stuff.
I have a counter in my kitchen that I line my kids up at and feed them like a short order cook when my husband isn't here for a family meal. I literally stand on the other side of the counter answering to their every demand. Mom can I have some more cheese? Can I have ice in my water? I need a napkin. You get the idea. When they're done, I sit down and eat in peace as they run around like lunatics.
Because my kids would rather be sucked into a black hole in outer space than actually keep their bums in a chair and sit straight and lift a fork to their mouths in succession to clean their plate like normal people do.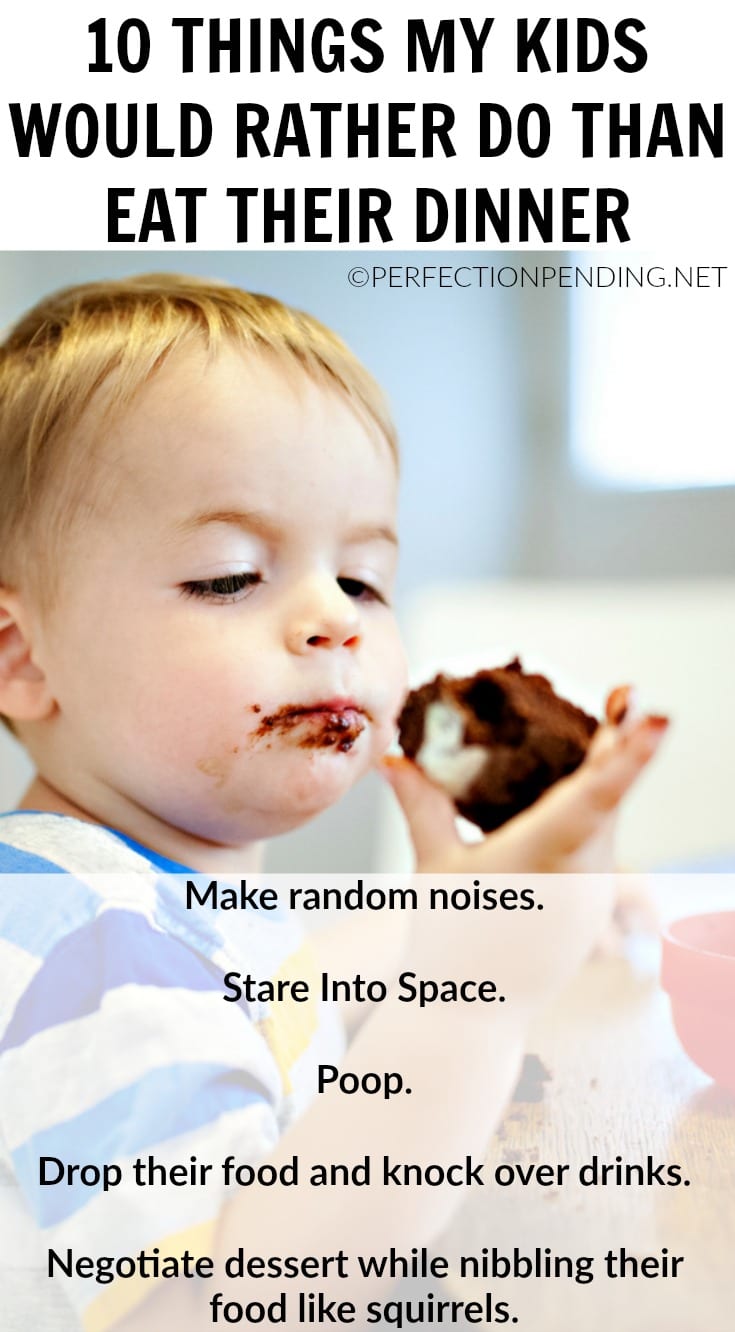 In fact, I'm convinced they'd rather do literally anything besides actually eat. Here are a few things I think they'd enjoy more:
Argue at length about whether or not any of them knows EVERYTHING. This ongoing debate in my house makes me want to scratch my eyeballs out. It goes something like this:
5 year old: I know everything.
8: No you don't.
5: I DO!!
10: What's 100 plus 100
5: 200
8: What's 1 million plus 1 million
5: 2 million
10: What's…
You get the idea.
Make random noises. This is a popular choice in my house. The more random, and the more you can make your siblings laugh, the better. Because blurting out blurgety-ba-bo in a baby voice is hilarious when you're not interested in the food in front of you.
Make toys out of food scraps and body parts. We don't allow toys at the table for obvious reasons. Yet, that doesn't stop them from making guns out of pizza crust, and building a noodle fort on their plate. Don't forget the two fingers on your hand can easily convert to a walking person that can walk right into your mom's personal space.
Stare into space. I'm amazed at how often my kids claim they are dying from hunger, then as soon as we sit down at the table, they become incapable of eating. They stare into space like zombies. Maybe my kitchen table has hypnotic powers that cause children to lose all interest in eating. If only it could work the same on moms that could stand to lose 15 lbs.
Drop most or all of their food in their laps and knock over their drinks. This seems to be the favorite past-time at dinner instead of actually eating dinner. Because I really love when I find rice in their hair and ramen noodles stuck to their socks. And, I've seriously considered making them all revert back to sippy cups and high chairs. Because somehow that now seems easier.
Have conversations with themselves. Out loud. 
Me: What did you say?
5: I wasn't talking to you.
Well, OK then. The art of actually listening when someone else is speaking, or responding when someone asks you a question is lost on my kids. They'd rather talk to themselves even when no one is responding.
Practice putting body parts where they don't belong. Because only a crazy person would keep their butt in the chair when you could put your butt in the air, and your face on the chair. Or your arm on the floor and your foot on the table. Or your left elbow in your brother's ear and your right ear in your brother's elbow. It's just so much fun to ignite the moral outrage of your 10 year old sister when you invade her personal space for the 12th time.
Poop. It never fails that as soon as we finally sit down to a family meal that someone needs to poop. They must save it up just for that time right before we pray so that all of the non-poopers get the chance to sit and watch our food get cold.
Start negotiating dessert while nibbling like squirrels on their food. The first bite barely his their lips before they ask what's for dessert.  Then, they proceed to nibble like rodents to give the illusion that they are eating. They'd rather find out ahead of time how many bites of food are required before they commit.  Heaven forbid they just clean their plates with no expectations. They eat like a squirrel so that their five bites can happen in quick succession and they will be done.
Go to the doctor,  dentist,  clean their room,  do homework,  do anything but focus for ten minutes and eat. My kids seem totally uninterested in food when it is time for family meals. Because it would be so much more fun to do anything else besides eat. After all, they've already planned snacks for right when it's time for bed.