As a mom of three amazing kiddos, I've learned a thing or two along the way, and today I want to dive into some weird and wonderful facts about babies. So buckle up, grab a cup of coffee and let's explore the fascinating world of tiny humans.
Now, let's start with a question the main question that brought you here:
Are babies born with kneecaps?
Picture this: you're cradling your precious newborn baby, marveling at their tiny fingers and impossibly small toes. But what about their knees? Well, I hate to break it to you, but those knee caps you've been anxiously waiting for are not exactly present at birth.
Yep, newborn babies don't have bony kneecaps like we adults do. But fear not! It's all part of their miraculous journey through the birth canal and into the world.
You see, as babies make their grand entrance, their delicate little knees are protected by a fascinating arrangement of soft spots and soft cartilage.
These soft spots, also known as fontanelles, are found on a baby's skull to allow for rapid brain growth. Similarly, the knee joint (or cartilage patella) in newborns is made up of mostly cartilage, which provides some much-needed flexibility during those early months.
Now, I know what you're thinking: "If they don't have kneecaps, how do they avoid knee pain?" Ah, my friend, you've hit the nail on the head. Babies may not have proper knee caps, but they do have something called sesamoid bones. These are tiny, independent bones that develop within tendons, and they're found in various parts of the body, including the knee joint.
Over time, as your little one grows and becomes more active, these sesamoid bones start to harden and eventually fuse together, forming the knee caps we all know and love. It's like watching a magical transformation unfold before your eyes! By around three to five years of age, those adorable baby knees will have solidified into hard bone, ready to withstand the tumbles and crawls that lie ahead.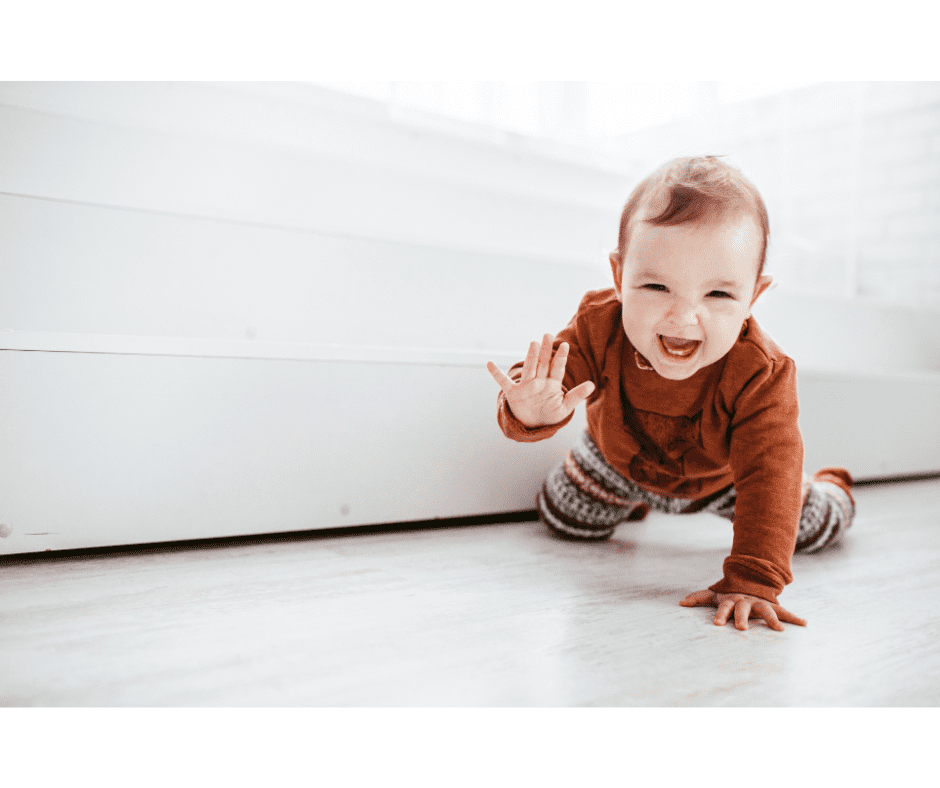 As your child grows, keep an eye out for any unusual knee-related issues.
One condition that might catch your attention is called bipartite patella, which occurs when the kneecap remains in two separate pieces instead of fusing together. While this might sound alarming, it's usually not a cause for concern and rarely leads to complications.
However, if you notice persistent pain or difficulty with movement, it's always a good idea to consult your pediatrician for further guidance and check out that bone structure on your little one.
​What are the first signs your baby may have a knee problem?
As new parents, it's only natural to be on the lookout for any signs or symptoms that might indicate a knee problem in our young children. While knee issues in newborns are relatively rare, it's still good to be aware of the early warning signs.
Here are the most common types of things to look out for in your baby's knees:
Limited Range of Motion
If you notice that your baby's legs have restricted movement or they seem uncomfortable when you try to gently bend or straighten their knees, it could be a potential red flag. Remember, the human body is amazing and newborns are naturally flexible, so any significant resistance or stiffness might warrant further attention.
But, remember, there is no solid bone yet in babies' knees and growth plates in children are not fully formed until age 10 or 12. So one of the important things to remember is that most likely whatever issue is going on is nothing to stress about.
Babies' kneecaps are one of those weird things in your little bundle of joy that needs more time to develop and grow.
Abnormal Swelling or Discoloration
While a certain amount of puffiness is normal in a baby's joints, excessive swelling, redness, or discoloration around the baby's kneecaps (or developing kneecaps) might indicate an issue. If you notice any sudden changes in the appearance of your baby's knees, it's worth discussing with your pediatrician.
Unusual Crying or Irritability
Babies have their ways of communicating discomfort or pain, and crying is often their go-to method. If your little one consistently cries or becomes unusually fussy when you touch or move their knees, it's worth investigating further.
Favoring One Leg
As your baby starts to explore movement through crawling or pulling up, you might observe that they prefer using one leg over the other or that they avoid putting weight on a particular knee or knee area when they are crawling. This could be a sign of discomfort or weakness, and it's worth bringing up to your healthcare provider.
Delayed Milestones
While not specific to knee problems, delays in meeting developmental milestones can sometimes indicate an underlying issue. If you notice significant delays in your baby's ability to bear weight on their legs, roll over, or crawl, it's a good idea to consult with your pediatrician about your baby's knees.
Remember, it's essential not to panic if you notice any of these signs.
Most knee issues in newborns are minor and often resolve on their own.
Remember these cartilaginous kneecaps are softer than you and I have and it's a good thing because it means they are developing just how they should be. However, it's always better to err on the side of caution and seek professional guidance when in doubt. And if you notice some of these same issues in older children, it's always best to consult a doctor.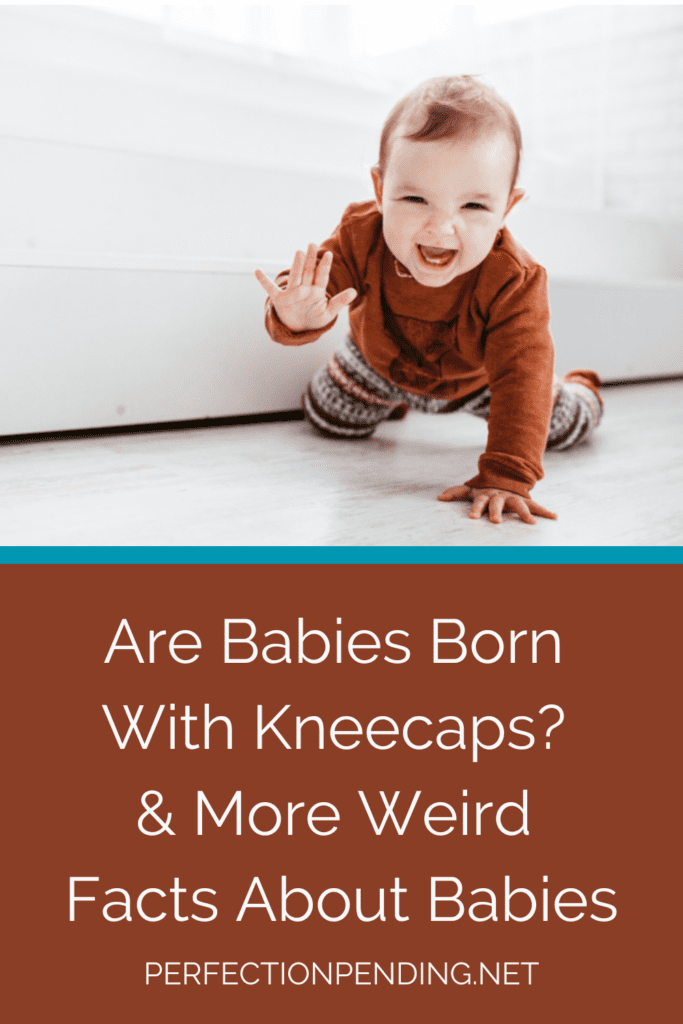 So, let's get on to some more weird newborn baby facts that you might be wondering about:
Why does a baby's eyes change color?
Many babies are born with blue or grayish eyes, which can later transform into a different hue. This magical color-changing act is caused by the amount of melanin, the pigment responsible for eye color, that their eyes produce. As your baby's melanin production ramps up, usually around six to nine months of age, their true eye color emerges. So don't be surprised if those baby blues turn into a mesmerizing shade of green or brown!
Now, let's dive into some more peculiar facts, shall we?
How many bones are babies born with?
Did you know that newborns have more bones than adults? It's true! Babies are born with around 300 bones, while adults have a mere 206. So what happens to all those extra bones? Well, as your baby grows, some of these tiny bones fuse together. It's like a puzzle game happening inside their little bodies, creating a more streamlined skeletal system. Who knew parenting would turn you into a bone expert, right?
Now, let's talk about baby taste buds.
We all know how picky toddlers can be when it comes to food, but did you know that even in the womb, babies are developing their sense of taste? Yep, that's right! When you chow down on a delicious meal during pregnancy, the flavors from your food can actually seep into the amniotic fluid surrounding your baby. This exposure to different tastes early on can influence their future preferences. So go ahead and indulge in those cravings, mama—your baby might just thank you later!
Okay, let's wrap up with one last mind-boggling fact.
Did you know that babies are born with more neurons in their brains than they'll ever have again?
It's true! At birth, your little one's brain is like a powerhouse of potential. As they grow, their brain will go through a process called pruning, where connections between neurons that aren't frequently used are eliminated. It's like a mental spring cleaning! So make sure to provide your baby with plenty of stimulating experiences to help those neurons form strong and lasting connections.
Questioning if babies are born with kneecaps is totally normal. Hopefully you learned something else while you were here too.
From kneecap mysteries to color-changing eyes and everything in between, the world of babies is truly fascinating.
I hope you enjoyed this little adventure into the weird and wonderful world of babies. If you have any more burning questions or just want to chat about the ups and downs of motherhood, feel free to leave a comment below. Remember, we're all in this together, navigating the wondrous world of parenting one day at a time.
If you liked this post about baby kneecaps, poke around a bit more on my site. I have recipes, parenting tips, and all sorts of things. I've been writing online for a LONG time and happy you're here.
Make sure to check out my new book, too. The Mother Load. Available everywhere books are sold online.