If you have yelled at your baby and feel horrible, you're in the right place. Because my guess is, that you're a mom, just like me, that's trying every day to do her best.
We all make mistakes. I remember the first time my baby saw an act of violence on TV and I realized that she was watching Law & Order with me. Now, she's 17 and a pretty well-adjusted kid. Did I ruin her by that one act? Did I still worry about it? You bet.
Good parents will yell at their kids sometimes.
This post contains Amazon affiliate links. If you click on a link, I may receive a commission. See my full disclosure policy here.
I always tell moms that are wondering if they are a bad parent that if you're worried about being a bad parent, the chances are you're actually a really great parent. We put so many expectations on ourselves as moms to be perfect. I talk about that in my book, The Mother Load a lot.
The truth is, there is no such thing as a perfect parent and you will probably have to remind yourself of that 100 times or more throughout your parenting journey. Parenting takes patience, and there will be power struggles, and the best way to really combat these feelings of guilt and shame are to put them out in the open.
I even wrote a post once called, I'm a great mom, I just yell a little. Yelling happens.
What does the science say about yelling at babies or young children?
It's important to know that verbal abuse of children is never okay. And many parents wonder if yelling at their kids means they are damaging their child long-term or causing irreparable trauma.
Clinical Psychologist Ariel Horvitz told Care.com that babies can get distressed when they are yelled at. Prolonged or continued yelling around a baby may increase their stress levels, too. But, if you're just having a bad day, and say some hurtful words, or are struggling going through a rough patch or hard time, the chances are, you're just like every other mama on the planet.
You'll take some deep breaths, feel a whole bunch of mom guilt, and then do better the next day – and you will!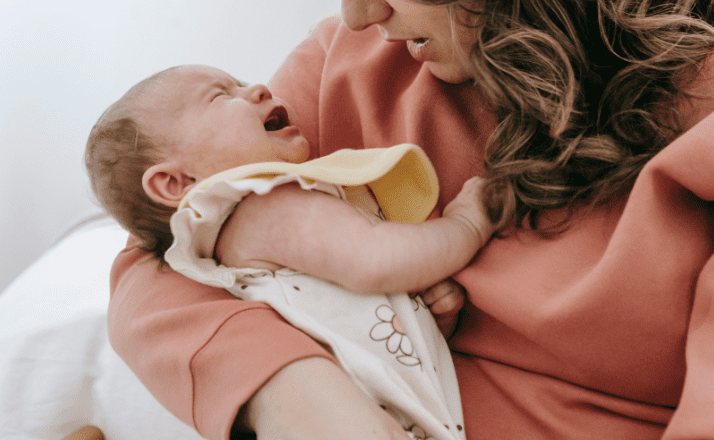 While babies aren't going to remember one incident of their mom yelling, if there is consistent anger or stress in the household babies do pick up on those clues and can have some negative effects from yelling. So, the good news is though that if you're feeling angry, or frustrated at your baby, the chances are you're really burned out. How is that good news right?
It's good news because there is help out there, and there are strategies to keep you from yelling.
So, what should you do if you find yourself yelling at your baby?
Chances are you're a good mother, but you're just at your breaking point.
First, reach out to your inner circle for help.
The right thing to do is to reach out to someone in your circle and let them know that you're struggling. Moms are human beings and we all need time to get a break. We can have negative emotions when we aren't getting enough sleep, or don't have a support system in place. But, people cannot help us unless we speak up and let our circle know that we need help so that we aren't losing our cool all the time.
Practice some self-care.
I swear I should write this on my own forehead to remember it, and it's the advice I give over and over and OVER to moms. You have to take care of yourself. You have to take breaks.
And you have to do some things to calm that racing mind of yours.
The only way you are going to be more fully present as a parent is to show up feeling like yourself. And if you sacrifice everything to motherhood, you're never going to feel like yourself and chances are you're going to continue speaking in a tone of voice you don't like, using harsh verbal discipline, or yes – even yelling at your kids.
Learn some positive parenting strategies.
No one gives us a manual when we become parents and chances are you're winging it like the rest of us. We look to the examples we had as kids, we have our own expectations for what we want to do different, and we try our best to do a good job.
But, the reality is, there is a lot of good information out there that can help the modern parent learn some effective parenting skills and strategies to get you through the angry episodes and temper tantrums. We all say things in the heat of the moment.
And, learning to be a peaceful parent takes time and effort, and frankly – it might take some research for you to get some new skills for the next time you lose your cool.
You may be asking yourself, OK but how do I stop yelling at my baby?
We all need some strategies to help us before we get to that point, right? But, I promise you if you're practicing self-care religiously, talking to your inner circle, and working on more positive parenting strategies, then those three things will dramatically reduce the risk of you yelling at your baby in the first place.
But, what if you feel that blood pressure starting to rise, and you're worried you're getting out of control? Try these ideas:
Take some deep breaths.
I actually went to a therapist who loved deep breathing as a way to calm the nervous system. It really does work! If you are unsure what four square breathing is, then I'll explain it. First you breathe in deeply through your nose for four seconds, hold for four seconds, release through your mouth for four seconds, and wait four seconds then repeat four times! The key here is to breathe deep.
You know you are breathing deep if your lungs are expanding and so is your belly! It sounds cliche to focus on deep breaths when you're feeling heightened emotion, but it really does work. If you find yourself yelling at your baby, take a step back, and focus on the deep breathing. Put your baby in a safe place, go in another room and plug your ears and do the four square breathing for just a couple of minutes.
Taking deep breaths, but they aren't working? Phone a friend.
No, literally, distracting yourself from what's going on is a great way to stop the power struggles from spiraling into yelling.
If you don't have anyone you can call to distract yourself, it's OK to put the baby in a safe place, put in some headphones and listen to something to calm your nervous system down.
Pull up some cat videos on your phone, or a meditation app. Whatever it is that makes you calm is the right choice! Set a timer on your phone for 2-3 minutes, let the baby cry if necessary, and work on getting yourself in the right headspace to go back in there.
Is it normal to to get angry at your baby?
The answer to this is a tough one because honestly, babies are innocent. They aren't manipulative, or trying to push your buttons intentionally. Usually, they just need something from you like to be held, fed, or changed.
Sometimes babies are teething, or have something invisible that's wrong – like colic – and there's not much we can do to soothe them at all. So, in that sense, it's hard to understand why anyone would get angry at a baby right?
But, I'm here to normalize the fact that parenting is frustrating even with cute, innocent babies. The chances are, that if you're getting angry at the baby, there's not a lot going on in the way of helping YOU.
Maybe you're sleep deprived, or never get a break, or going through a rough patch with a new stage of development where the baby needs more attention.
All of those things can lead to resentment over your parenting situation. But, is it the baby's fault? No. Is it normal to get angry then? I think if you're not getting the help you need – it is normal to feel resentment. But again, it's not the baby's fault, so most likely your anger is misdirected.
Let go of the mom guilt. Good parents yell too.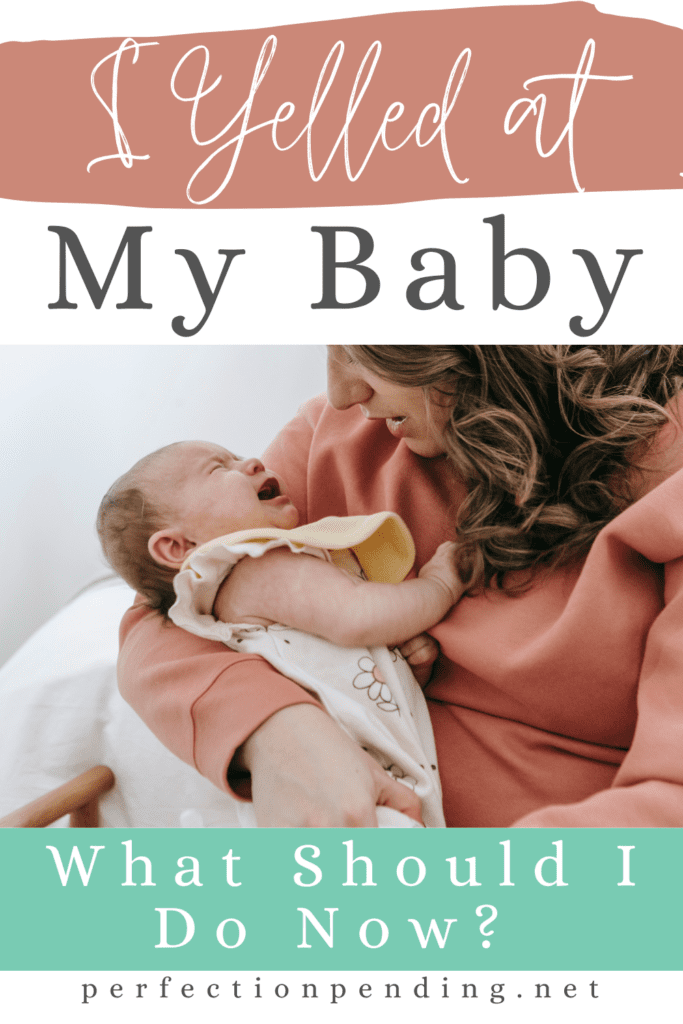 Honestly, there is so much pressure on moms today to do it all and be it all. We often never get a break either. If you are overwhelmed, you might yell from time to time.
Now, I'm certainly not condoning repeated, abusive behavior in how you interact with your kids, but it's certainly important to remember that good parents yell too.
We all reach feel such thing our heart rate start to rise, and have difficulty maintaining control. But, the majority of the time -you're a good mom! That's important to remember.
Instead of spiraling into a dialogue of negative thinking about your bad behavior, let go of the mom guilt and remind yourself that you are a good parent and taking care of younger children is HARD. The first step is to recognize that you are doing your best on a regular basis and there is no such thing as a perfect parent.
So if you're sitting in your living room thinking about how last night you lost your shit, and you're not proud of what you said, just know – you're doing a good job and the next time, you've got some better tools in place to keep you from yelling.
Don't worry – you've got this mama!