Every mother in the history of forever has mumbled to herself – "I never get a break from my child." with the next thought running through her head that sounds something like "If I never get a break from my child, how can I keep going?"
We all wonder, how we can keep doing this really hard job of motherhood day after day when we're exhausted, worn out, and stressed. And our kids are always there.
We all feel from time to time that we never get a break from our kids. And, in new motherhood that's especially true.
So, what happens when a mom never gets a break?
We all have bad days in parenting. So how do you know when you really need a break and when you are just having a bad day with the kids? Because – hello. Have you met toddlers? They can kind of be the worst. And if you're struggling because you never get a break from your toddler, we hear you. That shit is hard.
When moms never get a break, everyone in her circle should be concerned. Not getting a break from your kids can lead to feelings of resentment, anger, overwhelm, and frustration just to name a few. Long term effects can include depression and anxiety, and an overall feeling of harsh self-judgement.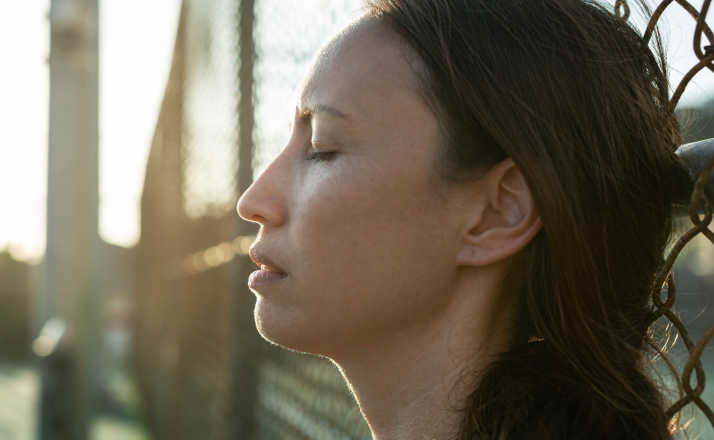 Is it wrong to need a break from your kid?
NO! I cannot emphasize enough how important it is to take breaks from your child. If you say to yourself, "I never get a break from my child" then that means you need one – stat!
If you never get a break from your baby, then of course you're going to experience burnout. Babies need care around the clock, and it's hard to adjust to life with a newborn. So, it's not wrong at all if you need a break from your kid.
If you have a toddler that doesn't sleep, it's not wrong to want them to sleep better so that you can get a damn break.
Preschoolers are learning to push buttons, and say no, and sometimes they talk non-stop (like my youngest!) and it can be an overwhelming experience to be constantly "on" for your kids. Needing a break is NOT wrong. You were a human being before you became a mother, and you need to get back to that human being pre-baby and take care of her.
Imagine being in a typical workplace and never getting a break to go to the bathroom, or eat some hot food, or even just mentally detach for a few minutes so you can catch your breath. Motherhood is like that. We would never stay at a job that didn't allow breaks, so why would you think it's wrong to take a break from your kids?
It's absolutely vital for your emotional well-being.
How often should a mom get a break?
This is a question that probably gets asked a lot by women that never get a break from their kids. I'd love to give you a magical number so that you can go to your partner and demand your kid-free time, but to be honest, there is not a set number to give.
How often moms should get breaks from their kids totally depends on the age of the child, the support system they have in place, and the means to get breaks.
I heard a story of one woman that was able to hire a night nurse to get a solid six hours of sleep per night so she could get a break from her baby and feel refreshed the next day. I thought to myself – "Good for her! There's a woman that knows what she needs, and has the means to get it."
But, most women are not going to be in a position to take a break from their child every night from 9 P.M. to 6 A.M. At least I never was able to do that.
Moms need a short break from their kids daily, in my opinion, and longer breaks from their children as needed.
When those feelings of burnout start to creep in, it's time to evaluate when you last had a break from your kid. If it's been two months, it's definitely been too long.
The longer I'm a parent, the more time away I'm able to make happen. I always feel rejuvenated when I get a break from my kids and then get to reunite with them. I tend to be a more patient parent when I get breaks from being one.
How to get a break from your child
The key to getting breaks is figuring out a way to make it happen though. HOW do you get breaks from your kids? Maybe you're strapped for cash, and hiring out isn't a possibility all the time. That's OK. You can still find ways to get a break from your kids.
First, you should talk to your inner circle.
Your partner is your first person to go to. Tell them you need a break because that's the first step to getting one. Often our partners don't know that we need a break until we speak up and say something blunt like, "I never get a break from my child and I need help."
You can also tell a friend, a neighbor, or an extended family member that you need a break. Odds are there is someone in your circle that is willing to help you get a break from your children.
How much time is it reasonable to be away from your child based on their age?
There is certainly a big difference in the amount of time you can spend when you need a break from your teenager vs. when you need a break from a newborn or toddler that needs more care and supervision.
For children before the age of ten years old or so, getting a break from your kid will require someone else being there to take care of them. You want to investigate the laws in your state regarding leaving a child home alone. Every state is different. But, it's pretty safe to bet that most children are not equipped to stay home alone before the age of eight or so.
When your kids are older, you can start to do fun things like run to the store alone, or sit in the driveway alone for a few minutes when they are in less danger of hurting themselves. That's when getting a break from your kids becomes more relaxing and not a source of stress and anxiety.
Remember that every mother needs a daily break from her kids.
Every mother should try to get a few minutes to herself daily. It's just common sense that none of us can continue to give all day long without any time to catch our breath, or rest for a minute. Find ways to work some small things into your routine to get short breaks.
Do not feel guilty if you have to use screen time to give yourself a few minutes, either. Baby Einstein videos were our favorite when our kids were babies. A baby monitor or a playpen can also give you a break from your kids without actually leaving the house.
Lock the door to the bathroom when you have toddlers and you need a quick minute without someone asking for a snack.
Take time early in the morning to yourself before the kids are up, or put your kids to bed early to give yourself a break at the end of the day. Odds are, if you can can carve out small ways to get breaks from your kids, you'll be a much happier mom.
Figure out a way to take longer breaks from your kids, too.
I promise there will come a day when you get to go to the store without a toddler in tow, but what's even better is a night away from the kids, or a girls' trip with friends. Those longer breaks from your kids are more restorative, and vital to knowing who you are outside of raising little humans.
Consider swapping childcare with another mom when they are little. I had a mom friend who swapped overnights with our kids so that we could celebrate anniversaries with our spouses.
Beg the grandparents to take the kids for a night, or hire a trusted babysitter to stay for a day while you go out to the spa.
Women feel way too much guilt taking breaks from their kids, and there truly are so many benefits to getting a break from your kids.
Why should I take a break from my kids?
We are mothers, not robots. Getting breaks from your kids will help you remember that you were a human being first, and that you are not made just to wipe bums, clean up messes, burp babies, change diapers, and break up fights.
You should take a break from your kids simply because you need it. But, the benefits will come and help you realize that taking a break from parenting just makes you a better parent. We've all heard the saying, absence makes the heart grow fonder, and that's even true in parenthood.
When we miss our kids, we realize how precious our time is with them.
Getting breaks will allow you to remember who you are outside of "mom" and the added benefit is you'll come back and feel like you can kick ass at parenting that day.
What should you do when you can't get a break from your kids?
This is a tough one, because I do feel like everyone can get a break from their kids, even if it's just a tiny, daily five minutes. But, some people do not have a partner, or a support system. Some of us work full-time and the last thing we want is a break from our kids after work. We've missed them!
I can speak from experience, however, that when you don't have a support system in place, it can be significantly harder to get breaks. So, create your own support system. I have relied on people in my circles that have filled in when my family wasn't supportive or couldn't be because they lived so far away.
If you can't get a physical break from your kids, at least give yourself a mental one.
You had passions before you became a parent, and my guess is you had goals and dreams. Do not let those die! Find ways to tap into that part of yourself mentally if you can't get a physical break.
When I was a brand new parent, I spent a ton of time scrapbooking. It was my outlet to think about something besides the demands of new motherhood. Find a hobby, read a book, watch a guilty pleasure TV show, exercise, meditate, etc. All of these things can give you a mental break when you really need it.
We all need a break from kids.
"I never get a break from my child" should never make you feel like a bad mom. Taking on the role of mother is not an easy task and all of us need breaks when we're learning something new. The emotional bandwidth that's required when you are learning any new skill is great, and motherhood is a beast unlike any other.
You will never feel like you've done enough, but you're learning as you go. Therefore, with all that learning, you need a break from kids. Period.
Your mind and body need to rest occasionally from parenthood just as much as if you needed a break from learning how to do a skill at a new job.
Motherhood is grueling, demanding work that can easily consume 24/7 of us. But, it's up to us to make sure that we make the impossible happen, because we all need a break from our kids.
And, honestly? It's not as impossible as you think.
Need a mental break from your kids? Grab my book here.