Do you ever look at a recipe in a gourmet cook book and think, pssh. Nobody cooks that for real. I know I do.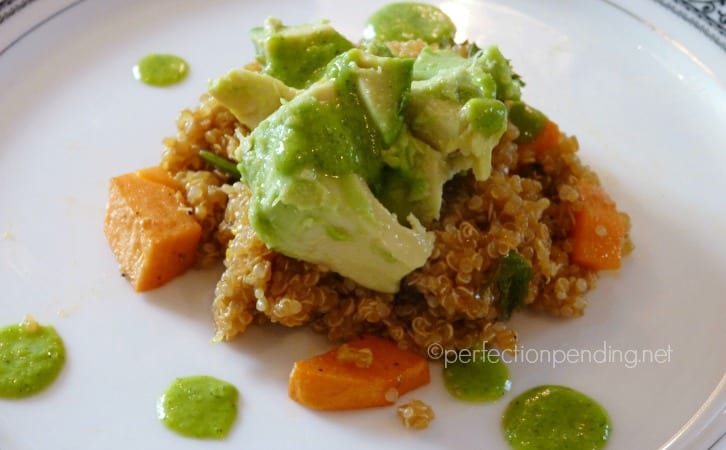 And, once upon a time, I was on a kick to do more vegan cooking. And, in another life, I will be a vegan. But, for now, for practicality, and sanity, I'm going to continue to cook chicken nuggets and other meats to avoid contention and stress at dinner time. And, so more importantly, my children will eat.
But there's this one vegan recipe that I just want to eat for every meal. I think if I could afford a personal chef, I would require that he cook this meal for me at least 3 x a week.
This one is not super fast and easy. But…well it's super HEALTHY. VEGAN. And, it's to die for yummy.
Full disclosure: This is a recipe that is adapted slightly from Tal Ronnen's recipe out of The Conscious Cook. Not my invention.
But, when I read the recipe for the first time and saw all the steps. I thought, no way. But, now that I've made it so many times, it's become so much easier. I've come up with a couple of short cuts, and left out homemade tortilla strips because nobody has time for that. Right? Trust me, it's just as good piled in a bowl as it is looking pretty on a plate at a 5 star restaurant.
I'm renaming it too so it doesn't sound so fancy. And, since I've changed it up a bit, I can do that. Right?
Avocado & Sweet Potato Quinoa with Cilantro Dressing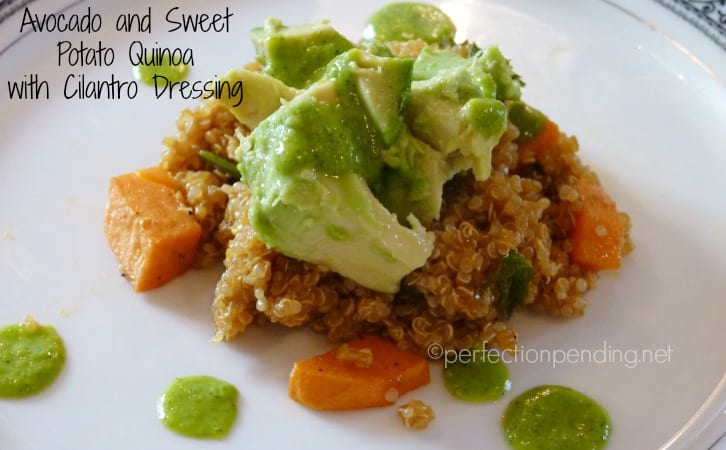 Ingredients:
1 cup Quinoa, cooked in vegetable stock. (I do a 2 to 1 ratio of veg. stock to quinoa, boil about 15 minutes or until tender)
1/2 jalapeno chopped
1 Tbsp. chopped fresh cilantro
1 Tbsp. EVOO
Juice of 1 lime
salt and pepper to taste
1 Large sweet potato
2 Large Avocados
2 tomatillos tossed in olive oil after skins have been removed
3 Tbsp plus 1 teaspoon olive oil
1 Tbsp. rice vinegar
1 teaspoon light agave nectar (a great substitute for honey)
1/4 cup chopped cilantro
Sea Salt and ground black pepper.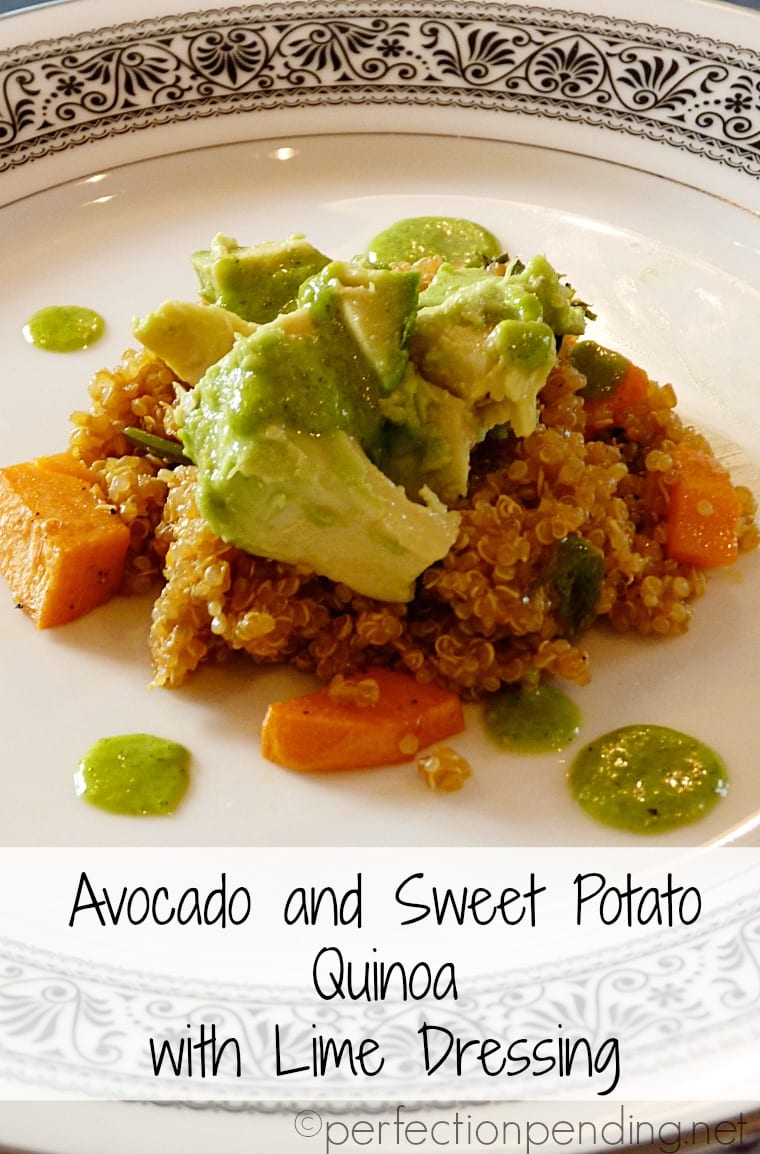 Preheat oven to 400 degrees. Next, cook the quinoa in vegetable stock. Bring to a boil, then simmer on low for about 15 minutes until done. While the quinoa is cooking, peel 1 large sweet potato and chop into small pieces. Toss with 2 teaspoons EVOO and salt and pepper. Put the sweet potato in the oven and cook until tender with a fork (about 15-20 minutes).
After your quinoa has cooked and cooled, add jalapeño, 1 tbsp. fresh cilantro, juice of 1 lime, and 1 tbsp. of EVOO. Mix together and salt and pepper to taste. Set aside.
When the sweet potatoes are done, you can roast your tomatillos so you can make the dressing.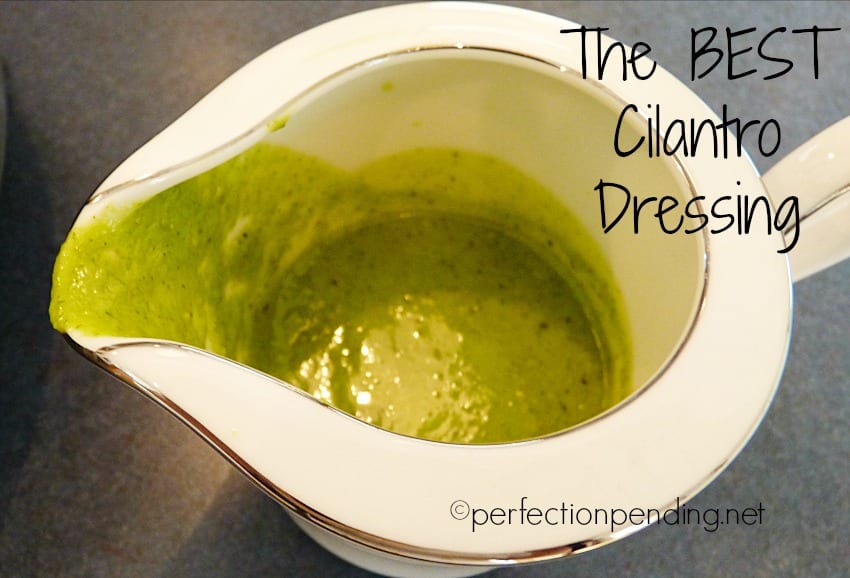 Lower your oven heat to 350 degrees. Cut the skins off the tomatillos with a knife (there is a paper like covering and a skin. Take both off). Toss them with the teaspoon of oil. Place on a baking sheet and roast at 350 degrees for 15 minutes. Once they are roasted, put them in a blender with vinegar, cilantro, and agave nectar, pulse to combine. Add remaining EVOO and continue blending.
Last, combine it all. I like to throw my cooked sweet potatoes and avocado directly into the same bowl with the quinoa mixture.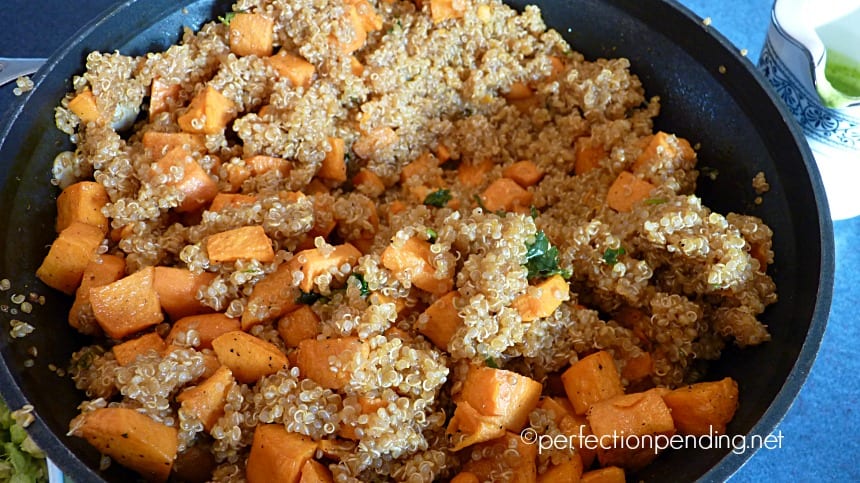 Serve that on a plate and drizzle with the dressing.
That's it. I know, it sounds exhausting, but this recipe is SO worth it. And, honestly, it's really not that bad. If you give it a try, PLEASE tell me if you love it. And, if you have no plans on making it, you could pin it for me, just because it's so pretty….right?