These lightsaber cookies are the easy solution for making a cookie that your star wars fan will love. And, kids can even help make these star wars lightsaber cookies for your next "May the 4th Be With You" Party, your Star Wars birthday party, or just because you are a big star wars fan.

It's always so fun when your kids get excited about something that you loved as a kid. Admittedly, I was not a huge star wars fan as a kid, although my brother was, and I definitely had seen the movies. However, when I married my husband, I realized what being a star wars fan was all about.
To say my kids are star wars obsessed would be accurate.
Isn't it fun to watch your kids become obsessed with such a classic like Star Wars? My kids are getting old enough too that we are finally letting them watch all of the movies even the more "scary" ones. And, they have fallen in love with the Mandalorian on Disney Plus. Specifically Baby Yoda.
That's why I thought it would be fun to make some lightsaber cookies since May the 4th is coming up. And, if you don't typically "celebrate" May the 4th. Don't worry. We don't typically either. But, I thought the idea would be fun. Or you could make these lightsaber cookies for your next star wars birthday bash or when the next movie comes out and you want an excuse to throw a party.
Since we're all in quarantine right now, it's really the perfect time to make lightsaber cookies to get your Star Wars fandom showing for May the 4th.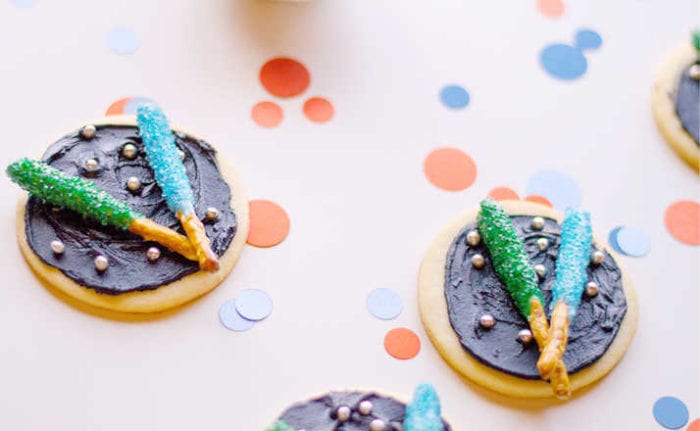 There are a LOT of star wars cookie ideas out there. But, the reason I love these is because a non-cookie expert can make them. I seriously wish I could make some of these baby yoda cookies to go with them, but I just don't think I have that skillset.
We all have to accept our weaknesses right?
Even your littlest of littles can help with dipping the pretzels in the candy coating and will have a blast making tiny lightsabers (and probably eating them as you go, too.)
I'm always a fan of being able to let my kids help me cook even though it drives me crazy. It takes a lot more work and patience, but that's why these lightsaber cookies are so great. Tip: Give the toddler his own dipping bowl and pretzels and you'll be set to make a few that look a little prettier, if ya know what I mean.
Ingredients for Lightsaber Cookies
For the cookies:
2 sticks butter, softened
1 cup granulated sugar
1 large egg, room temperature
2 tsps vanilla extract
3 cups all-purpose flour, extra for rolling
1 tsp baking powder
Pinch of salt

To Decorate the Lightsaber Cookies You'll Need:
Black buttercream (we used ready-made)
Pearl sprinkles
Small pretzel sticks
½ cup green candy melts
½ cup blue candy melts
2 tsp coconut oil, separated
½ cup green sugar sprinkles
½ cup blue sugar sprinkles
To prepare cookies:
In a stand mixer, combine butter, sugar, and egg until creamy. Add vanilla extract. In a separate bowl, sift together your flour, baking powder, and salt. Add slowly to your wet ingredients. Once your cookie dough has formed, place it in plastic wrap and let set in the fridge for about one hour.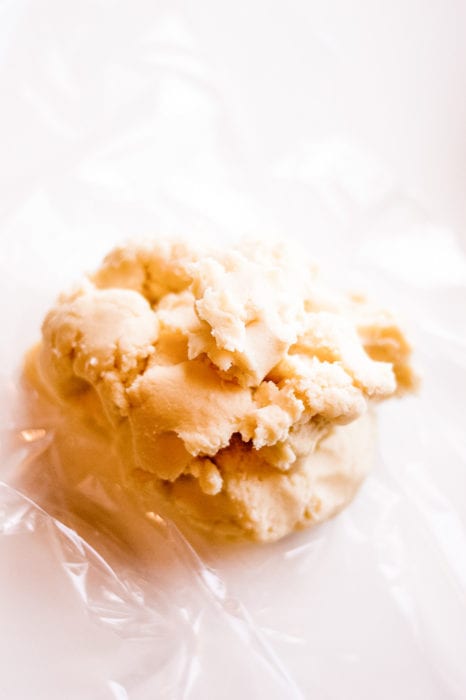 Once set, preheat oven to 350 degrees and line a baking sheet with parchment paper.
On a floured surface, roll out cookie dough and cut out circular shapes (we used a cookie cutter about 2-3 inches in diameter). Place on lined baking sheet about 2 inches apart from each other. Bake for 8 to 10 minutes (edges should be a light golden brown) and let cool on a rack.
To decorate cookies:
Once your lightsaber cookies are completely cool, spread black buttercream using an offset spatula. Carefully place the pearl sprinkles (they act as stars in the night sky).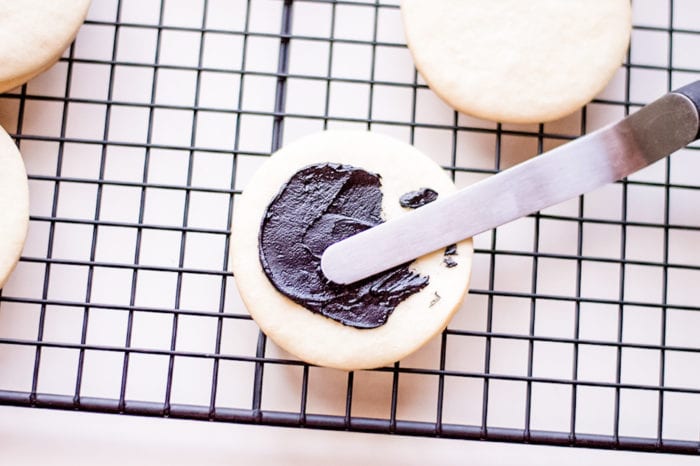 Melt each of your candy melts in the microwave (separately), with a teaspoon of coconut oil in each bowl.
You'll want both blue and green light sabers on your lightsaber cookies.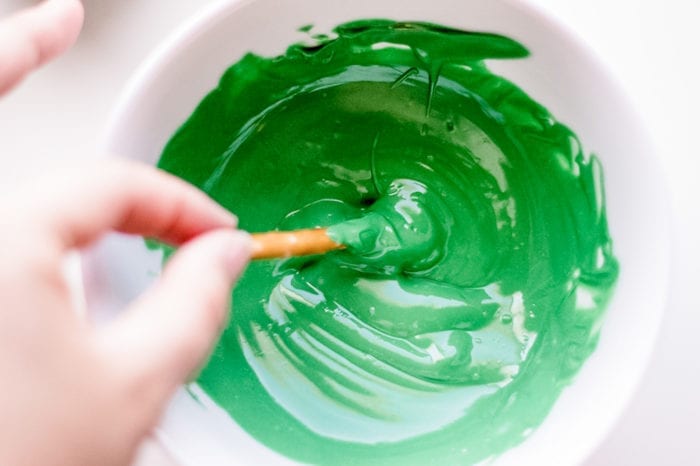 Dip pretzel stick in its respective candy melt color then dip cover with the sugar sprinkles of the same color. Place on cookie and enjoy. Isn't that so fun. And totally doable. I LOVE these lightsaber cookies. And, trust me – they'll be the hit of your next star wars party.
May the force be with you!
[mpprecipe-recipe:631]