If you're looking for an easy treat idea for a rainbow party, or for St. Patrick's day, these rainbow treats are the easiest way to throw together a last minute fun idea for a classroom party, birthday, or even use these rainbow treats for pride month.
This post contains Amazon affiliate links. If you click on a link, I may receive a commission. See my full disclosure policy here.
I will never forget when my kids first told me about the naughty leprechaun visiting their preschool teacher's house. I was like, Say what? I've heard of the tooth fairy, Santa, and the Easter bunny, but now I had to be a naughty leprechaun too?
It all sounded a little bit exhausting.
But, this easy rainbow treat for St. Patrick's Day is a great idea if you want the lazy way to surprise your kids on this Irish holiday.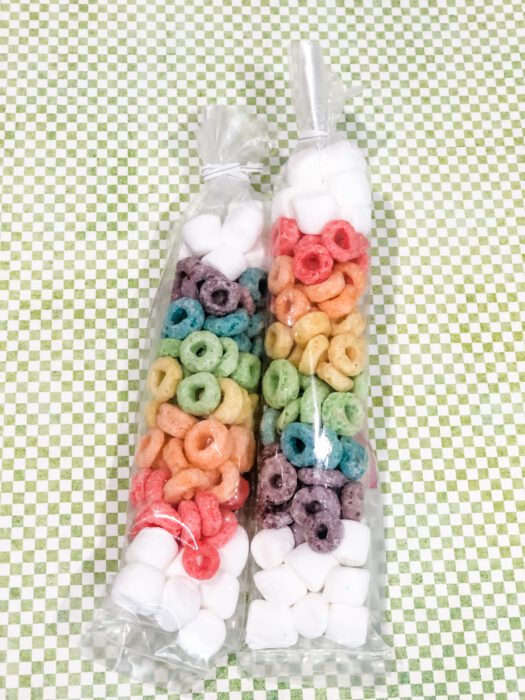 I have to admit that I balked at the suggestion of "celebrating" another holiday, even though I'm part Irish. But, these rainbow treats really are that easy.
As my kids get older, and I see their childhoods slipping away, I will admit that I put a little green food coloring in the toilet on St. Patrick's day last year, and this year, I thought these fun little rainbow treats would be something the Leprechaun could leave behind, and something that wouldn't be too hard for mom either because the leprechaun in our house is lazy.
And, while I also don't let my kids give gifts to their kids for every random holiday out there, this is one that could easily be a fun gift idea for friends for St. Patrick's day if you really like to celebrate. I think it would be great for preschool class, especially.
Rainbow Treats for a party are always a fun idea.
You don't really have to celebrate St. Patrick's day to make this rainbow dessert, because to be honest who doesn't love rainbows? I see plenty of ideas out there for rainbow birthday parties, and I love the idea of handing these out at a pride parade, or having your own pride celebration at home. These would make the perfect pride rainbow party favors!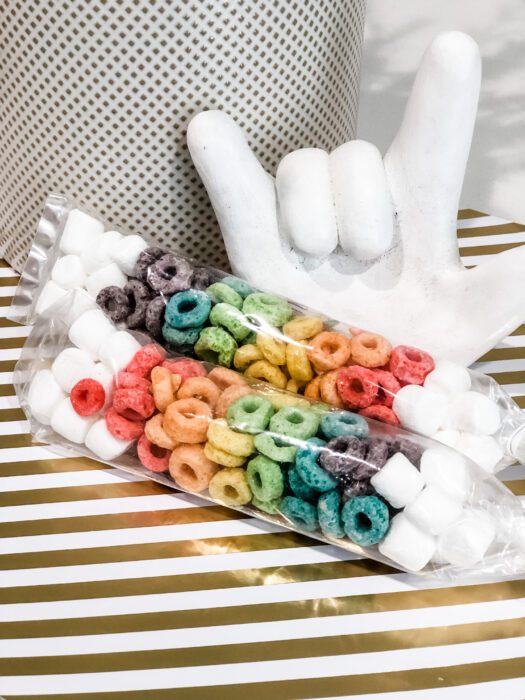 Supplies you'll need for these easy rainbow treats
You'll need just a few things you can most likely pick up at most grocery stores, with the exception of the bags, maybe. Here's all the supplies you need for these froot loop rainbow treats.
– Fruit Loops, sorted by color
– Mini Marshmallows
How to make rainbow treats
At the bottom of the clear plastic bag, place mini marshmallows for clouds.
Next, layer different colors of Fruit Loops, creating a rainbow pattern.
You can add more mini marshmallows to complete the end of the rainbow or use a twist tie.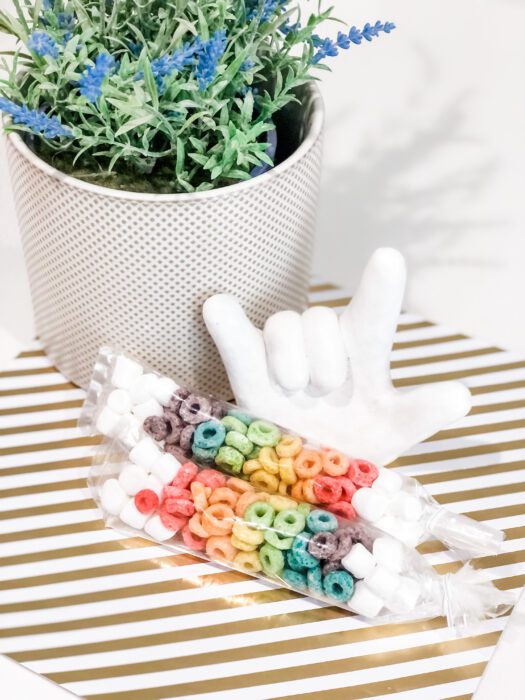 Grab a free printable tag for these easy rainbow treats depending on which holiday you're using them for.
I think it would be fun to use this cute
free printable gift tag
to attach to them also if you're using them for St. Patrick's day!