"But, I wish I wasn't this way. I wish I could just not think the way I do. Go back to how it was before. I have felt upset with myself for wanting to do this. For wanting to change and leave it all behind", I said today to my therapist.
He said, "Maybe I'm biased, but this is the most beautiful thing that could happen. It's a good thing."
And, the best part? I believed him.
***
Recently I read about the Heroic Journey in Falling Upward by Richard Rohr. Apparently he's not the only one that talks about the Heroic Journey either. It's a theme in our Disney movies, it's based in mythology, and to some extent we are always going through heroic journeys in life.
But, the big ones? The BIG BIG BIG Heroic Journeys? Those are the ones that change your life. Shift your perspective forever, and without sounding too cliche – make you a different person.
I wrote down the basics of what the heroic journey is in my journal when I first started giving this some thought.
These are my interpretations, and I'm sure someone can spell it out more eloquently, but here's what I wrote down.
First, we live in a world that seems sufficient.
It's safe and comfortable, and we are part of a community that keeps us that way. There isn't much boundary pushing going on because this stage of the journey is all about conforming. Keeping up with the status quo and being good right where we are.
But, then we feel a longing we can't explain.
As my therapist pointed out – this theme is in a lot of Disney movies. In Tangled, she wants to leave her mom's clutches in the tower, Moana wants to venture out past the dangerous part of the sea, Frozen even has a song called Into the Unknown. You get the idea.
For people that go on the BIG hero's journey (and not everyone does) they have the courage to leave home because they are longing for something more in their lives. They are curious. Questioning. And pushing the boundary to leave.
Some people never do. They push up against that invisible boundary of their home forever, often stifling their true self and never leaving the familiar. Usually – if they've felt that longing and don't go, they end up anxious or depressed.
Going on the journey is a good thing.
While on the journey, they are usually wounded in some way.
A part of yourself may even die on the journey. You pushed past the safe and predictable, and there will be injury along the way. Maybe it's internal or external, but there are most certainly conflicts here in this stage. Whether it be someone disagreeing with your choice to leave home, or whether it's your own inner turmoil of feeling lost.
We are broken down and a part of ourselves dies.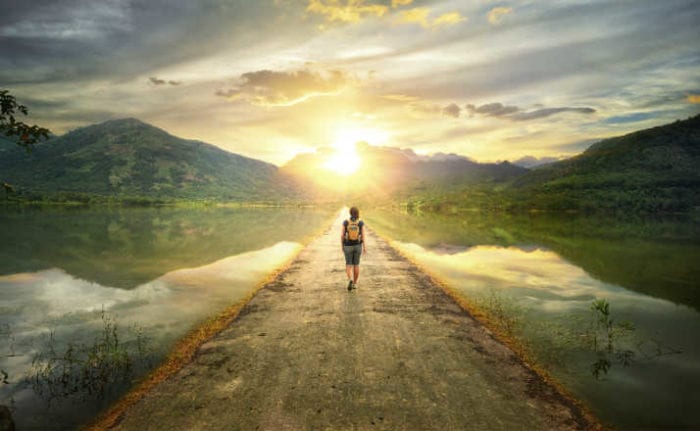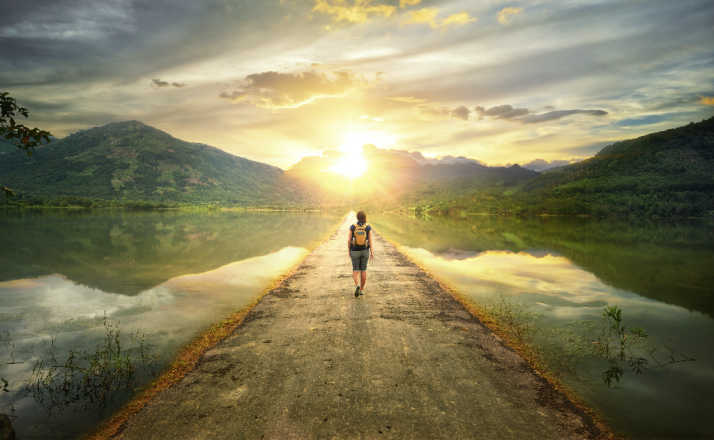 It's in the injury and the brokenness that we find our true soul.
We find our real life we've been longing for. We find a wholeness we've been seeking, and we find the thing that was pulling us to go there all along. For me, I feel like it's about finding myself. The person I was always meant to be.
Last, the hero returns home.
There is this longing with the hero to return home (with new eyes) and share what they've learned. There is never a giving up of yourself again at this stage or going back to what you were before. I imagine it as being what you were always meant to be all along. Maybe it's even returning home to yourself?
Richard Rohr says that the heroic question to ask yourself when you're nearing the end of your journey is "What to do with your new, resurrected life?
This is the million dollar question for me that I don't have answers to just yet. It even keeps me up at night wondering how to navigate my worldview when I'm in the middle of the broken part of my journey.
The beautiful part is we can still honor where we came from. Coming out of this journey isn't about belittling or shaming ourselves about where we came from or about the way we used to think.
We can still love what got us to go on the heroic journey in the first place.
So, as I was discussing this hero's journey with my therapist, I realized that it's a beautiful thing to be the hero in our own story.
Who is worth saving more than ourselves? If we can find that wholeness that we are looking for, and answer the call from within to seek and find what is out there calling us, we will save ourselves in the process.
I asked my therapist in our session about those that don't seem to have that longing. Those that are seemingly complacent and happy in the first step. Maybe they never leave, or maybe they feel the longing but don't follow it. What about them? How can I interact with them – especially if they are someone that is so close to me that I want to share my new feelings and thoughts and whole-ness with?
And the answer is simple and obvious. We honor them for where they decide to land, too.
We all have our own unique personalities that impact whether or not we take the hero's journey in the first place.
It's a beautiful thing to be a seeker. To desire more, and to be open to learning new things and leaving dogmatic thinking behind. It's scary for sure, and it's often wrought with heartache and turmoil in the process, but it's beautiful to venture into the unknown.
I will admit that while being on this journey, I have felt that a part of me has died. I'm still mourning her while simultaneously sitting in awe at the beauty in her simplistic belief system. We can love that part of ourselves that was happy at home in the comfort and security and love the part of ourselves that chooses to seek.
Whatever it is you might be going through that's forcing you to make hard decisions, leave all the things you knew behind, and venture into the dark and scary world – just know I'm right there with you on a different path, my own journey, but we both deserve to be the heroes in our own lives.
I'm a seeker. I'm on this heroic journey. It's breaking me, maybe even killing a part of me, but I realize now this is how I'm going to be found.