No matter your age, anxiety is rough. When adults face issues with anxiety, it can be easier to spot because we know the usual triggers: stress from work, finances, relationships, etc.
When looking for signs that your child may have anxiety, it requires a little more legwork because they don't have the "usual" stressors. There are different types of anxiety, and they manifest differently in each person experiencing it, which can make it somewhat difficult to pinpoint. Isn't mental health fun?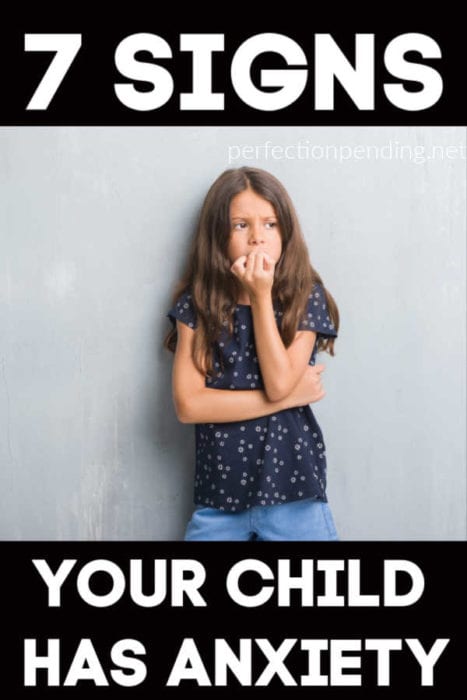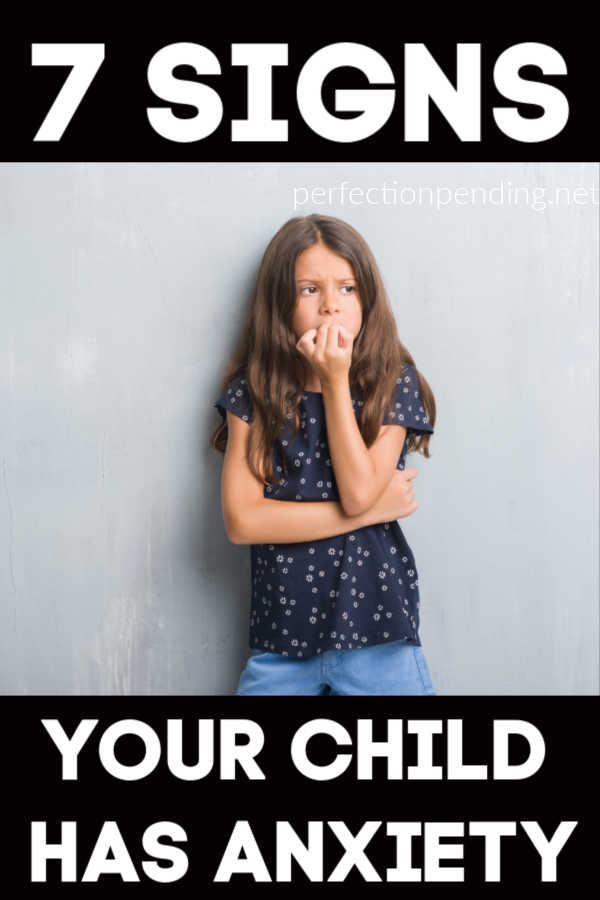 7 Signs Your Child May Have Anxiety
Anxiety is a normal part of life. We all deal with it from time to time. When it starts causing problems, like making your child want to stay home from school, it needs to be looked at and taken more seriously. So here are some signs your child may have anxiety, and some solutions for how to deal with it.
Pessimistic or Negative Thinking
Is your child always negative? Do they always think the worst of every person and situation?
Sometimes it can be learned behavior, so look at how your outlook is on situations before assuming your child may have anxiety.
For example, if your spouse is running late, do you freak out and think they must've gotten into a car accident? If you have to miss work, do you automatically think you're going to get fired?
If your brain goes from 0 to -100 in 10 seconds flat, you might be causing your child to think that way as well. If it's not a learned behavior, it can be a sign of childhood anxiety: work with your child to encourage more optimistic thinking.
Tantrums, Meltdowns, and Anger… Oh My!
Tantrums are a normal part of the first few years of life, but when they extend beyond that timeframe, there could be a reason for concern.
Does your child have meltdowns when plans change, or when they don't know what's going to happen next? Having a schedule (and sticking to it) can help alleviate some of the fears that may be causing these tantrums.
If you notice your child is angry all the time, a child psychologist can help get to the root of the problem and also assist you and your child with coping techniques.
Defiance
All kids are defiant from time to time, but anxiety can lead to excessively disruptive behavior. Many times, children are labeled as "bad" when in reality they are experiencing anxiety and don't know how to handle it.
Headaches and Stomachaches
This post contains Amazon affiliate links. If you click on a link, I may receive a commission. See my full disclosure policy here.
When the doctor can't find a source of your child's headaches, tummy aches, or other aches and pains, anxiety could be the cause. Stomach Ease Tea is something worth trying, for teens and older kids.
Hyperactive and Distracted
Some children have been diagnosed with ADHD based on their inattentiveness, hyperactivity, and other signs that manifest themselves when anxiety is present. If you think your child may be anxious, it's definitely worth talking about it with your pediatrician. Especially before getting a diagnosis of ADHD!
Fidget toys, mermaid pillows, and similar items can help limit distractions.
Doesn't Do Well With Criticism
Some kids – and some adults – don't do well with criticism. Even when it's constructive, they just don't deal well with it. This can stem from the fact that they're afraid of being embarrassed.
If your child doesn't do well with criticism (even when it's presented in a positive way), it could also be a sign of anxiety. Anxiety causes so much self-doubt! Even a critical statement can be the one thing that throws your child over the edge for the day.
It might seem small, but when they're already fighting self-doubt and anxiety in their head, an outburst towards the person criticizing them can be a normal reaction. Teaching your child not to take criticism so personally can seem like an impossible task. Trained behavioral therapists can help!
Sleeping too Much, or Not at All
Mental health is a tricky thing! Anxiety can manifest in such odd ways: for example, your child wanting to sleep all the time – or not being able to sleep at all.
Anxiety keeps adults up at night so it's natural that it'd keep kids up, too. On the other end of the spectrum, anxiety and depression tend to run together so sleeping too much can happen if they get overwhelmed.
Either way, tracking how much sleep your child is getting is the best way to see if anxiety is affecting their sleep patterns. Sometimes they need more sleep during growth spurts, so don't be alarmed right away.
A weighted blanket for your child might be the perfect solution to help with poor sleep.
More on Anxiety:
If you think your child may be dealing with anxiety, you can take an online screening and take it to your child's pediatrician. You can also download free apps for anxiety on their tablet or phone, or even onto your phone for them.
As an anxiety sufferer myself, I wish I would have gotten help as a kid to learn coping skills. Here are 15 more great ideas for helping kids cope with anxiety.
My Must-Have Anxiety Resources:
You'll Also Love:
Does this help? Make sure to Pin it for quick reference later!