It's true that as a kid, I used to have some quirks. That's why it came as no real surprise to me that my therapist said that I had OCD (Obsessive Compulsive Disorder) in addition to Generalized Anxiety Disorder. But, I was a little surprised because I hadn't talked to her too much about my quirks.
By quirks I mean the typical things you think of when you think of OCD. Obsessively washing your hands, or lining up pencils perfectly. I do obsessively wash my hands when we have a stomach bug in the house to the point that sometimes they crack and bleed. And, as a kid, I couldn't fall asleep at night until I had made the rounds of checking the locks on doors and windows, and making sure my dresser drawers were pushed all the way in. (Oh, the joys of managing your own mental health…)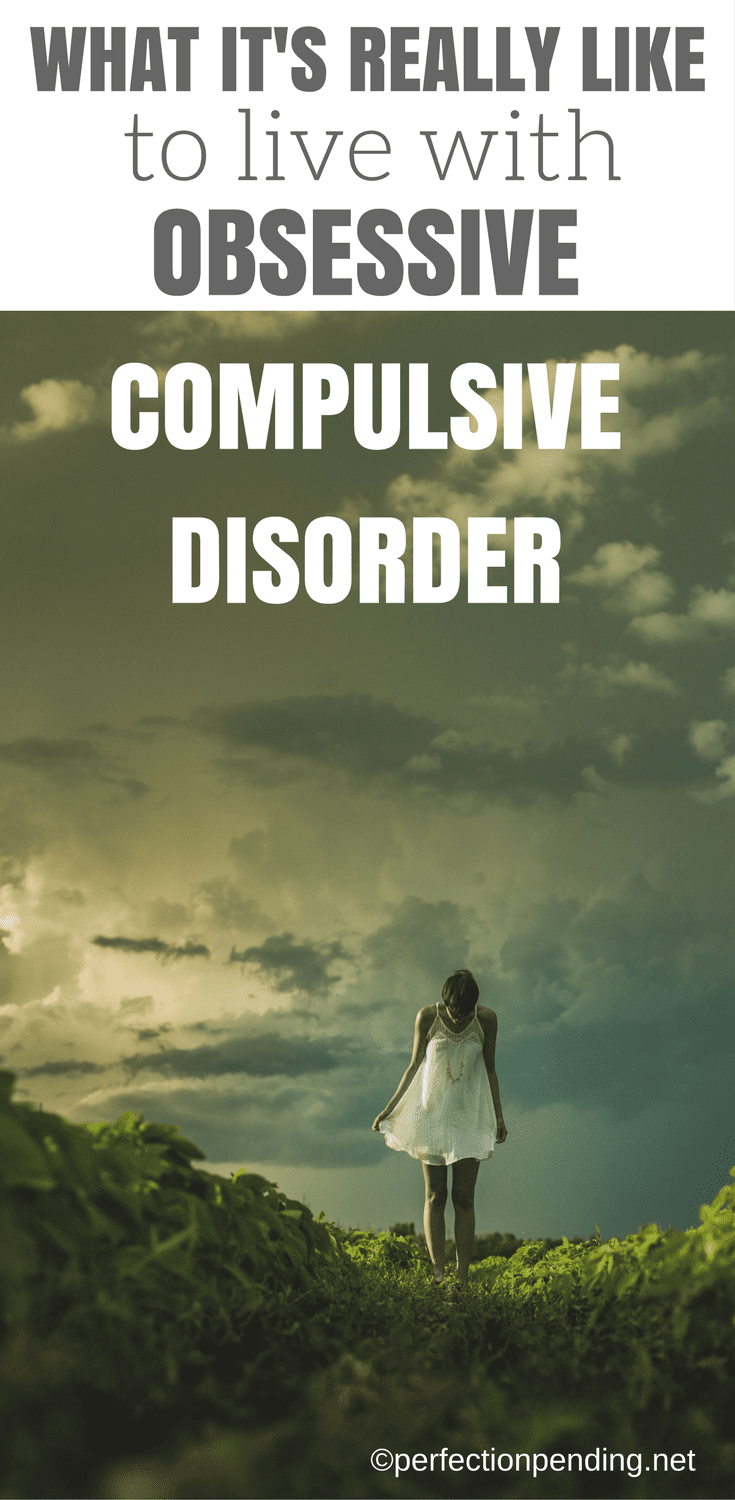 What Living with OCD is Really Like
When my anxiety is really bad, I definitely have to straighten things more often and find that I get angry more easily at little things like a paper my kids drop on the floor, or a towel not hung up where it's supposed to be.
But, my therapist and I didn't discuss those things because there were plenty of other things to discuss. So, I was curious when she told me her thoughts on a dual diagnosis of GAD and OCD, and I asked her, "Why do you think OCD?"
She said that it was because of my obsessive and compulsive thoughts.
Oh. That. 
We had talked about that plenty. And, yes it was a big part of what I was struggling with on a day to day basis. I still do.
The part of OCD that people don't talk about as often – that we should
We hear all about the hand washing, and the need for order, which can be crippling for some people, but what is crippling me are the thoughts in my own head.
With anxiety, it's hard not to obsess over things. You worry about scenarios that will most likely never take place, but it's really more than worrying. You obsess over them. They keep you up at night. You don't sleep, and you feel a pit in your stomach when you forget something or go down a dark stream of consciousness that you can't seem to stop.
In more everyday life, my obsessive & compulsive thoughts revolve around those closest to me. And it's terrifying.
I worry incessantly about a simple comment my husband makes and sometimes, I let it fester into a fight, or convince myself he doesn't love me.
A little argument can turn into a week-long obsession replaying the conversation over and over in my mind.
Something regular people have forgotten weeks before is something I'm still probably thinking about if it bothered me.
I don't like to admit that sometimes I dwell because I just want to get things right, or I just want to feel understood. Or maybe I obsess over ways I could have said or done something better. So, I'll replay scenarios over and over and OVER until my mind feels like it can let it go. Sometimes, the letting it go part doesn't happen for weeks.
And, the dark thoughts are the ones that we rarely voice. The ones where I imagine bad things happening to my children, infidelities that won't happen, or something as seemingly simple (although dangerous) as slicing my own finger open every time I chop an onion.
The mind of someone with OCD is a constantly running movie reel showing us the worst scenarios of our own lives.
It leaves me feeling downright exhausted some days just to be in my own head.
I find myself often in thoughts so deep and ongoing, imaging future events, or replaying past ones, that I'll realize I haven't spoken a word to my kids in the back seat while we're out running errands, or I hardly remember showering because I was so lost in thought.
That's the part of OCD we don't hear about as often. When I tell someone that I have OCD they imagine I am constantly cleaning my house (maybe a little) and that I can't function when there is a mess around me (also sometimes true).
But the reality is that it's so much more. It can be so much, that we don't want to keep on enduring it. It can be so much, that our family members are tired of reassuring us. It can be so much that we don't want to deal with the thoughts in our own heads anymore. We just crave quiet and solitude because we never can escape our thoughts.
But, the beautiful thing about realizing this about myself, is that I've learned through therapy that there are ways to control it.
There are ways to stop it. There are ways to snap out of the exhaustive reel in my head to find relief. It takes a lot of effort though. And, it's not always easy.
But, recognizing that my obsessing over something isn't within the "normal" realm of the everyday person is half the battle.
Because if I know this about myself, I feel like I can have a tiny bit more control over it. And, some days, even a little smidgen of relief feels like a reprieve.
More on OCD and Anxiety as a Parent:
My Favorite Resources for Managing OCD:
This post contains Amazon affiliate links. If you click on a link, I may receive a commission. See my full disclosure policy here.
You'll Also Love:
Can you relate to this post? Be sure to get my book, Mom Life: Perfection Pending. It's a humorous look at parenting today that'll have you nodding your head, laughing, and realizing that you aren't alone.