These peanut butter balls are the perfect no bake Christmas treat to give out to neighbors. They are a fast Christmas dessert idea that look festive, and combine the favorite flavors of peanut butter and chocolate.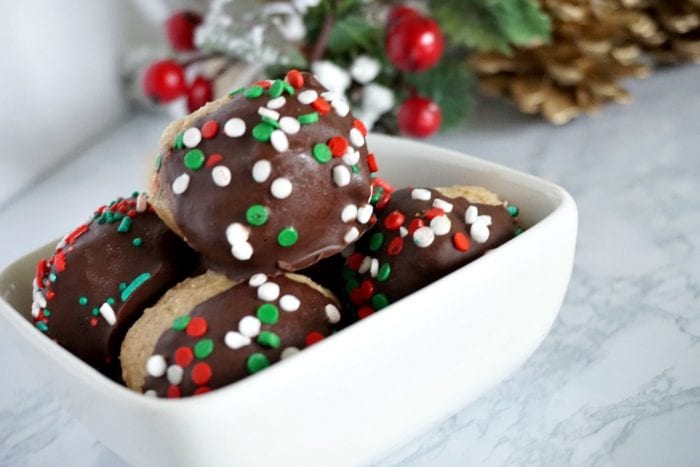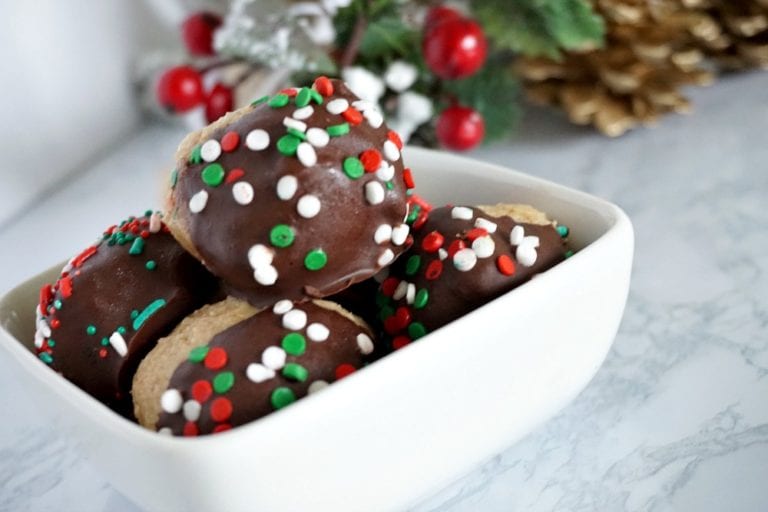 I don't know about you, but peanut butter and chocolate treats are pretty much my favorite thing ever. I've been known to just dip chocolate into peanut butter because I love it so much, and we all know the best candy ever is Reeses peanut butter cups.
These peanut butter balls are so easy. Seriously.
So, that's why I love love this easy Christmas treat recipe that I'm going to share today. Although I'm sharing it as a Christmas treat, it could really be a treat for ANY holiday. You could add different colored sprinkles depending on what you're making them for. Or, you could just make this treat and stick a few in the freezer for when you're really trying to be good – but you're also REALLY craving something with peanut butter and chocolate.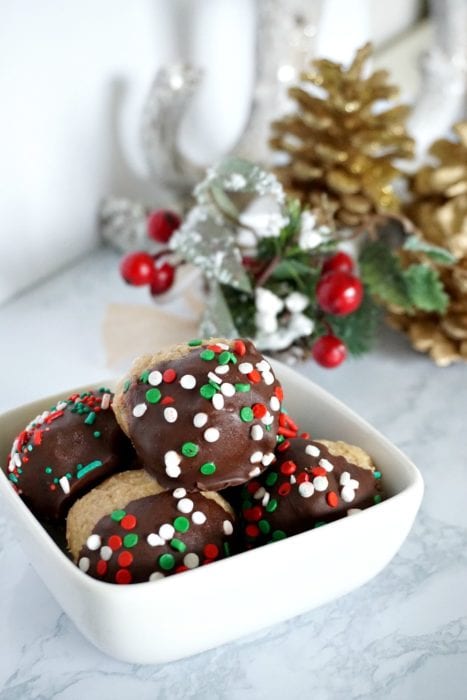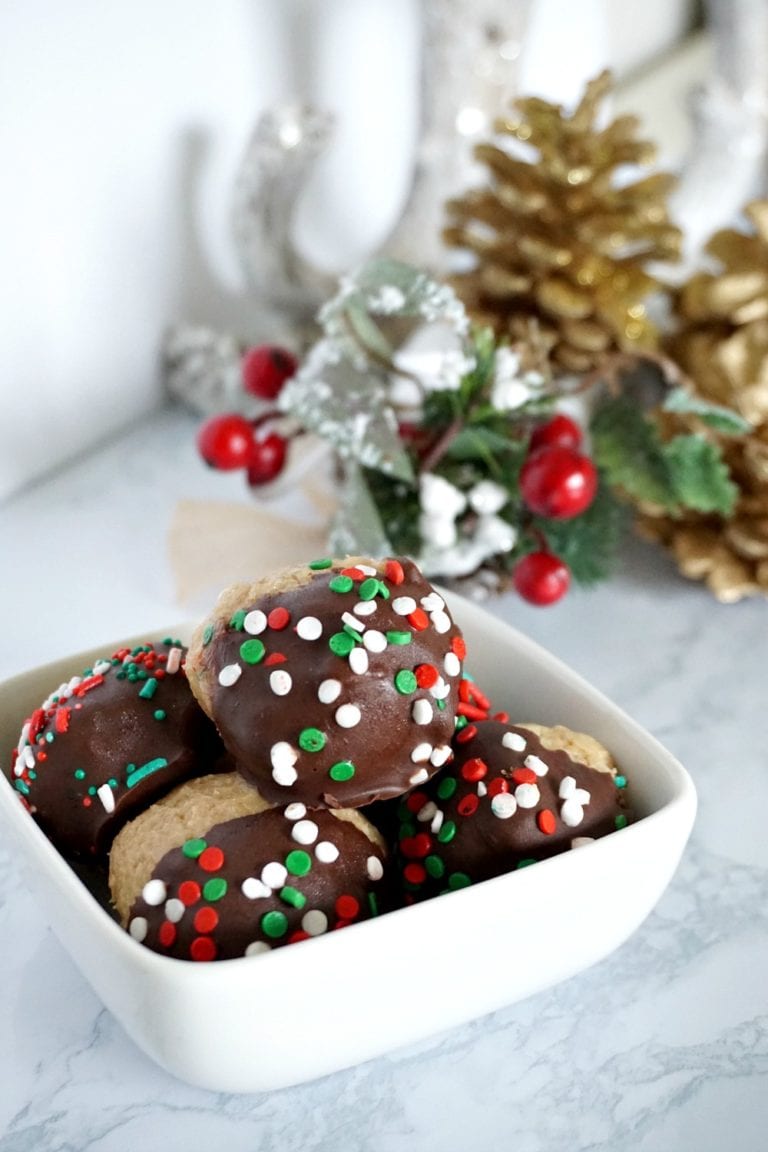 Do you do neighbor treats in your neighborhood? We often get them, but sometimes I'm so overwhelmed with the holidays, that I make this a very low priority. However, this is something that you can literally throw together in minutes. So, if you do get a neighbor treat, and you want to reciprocate, then you can whip these peanut butter balls together super fast and have something to give them too.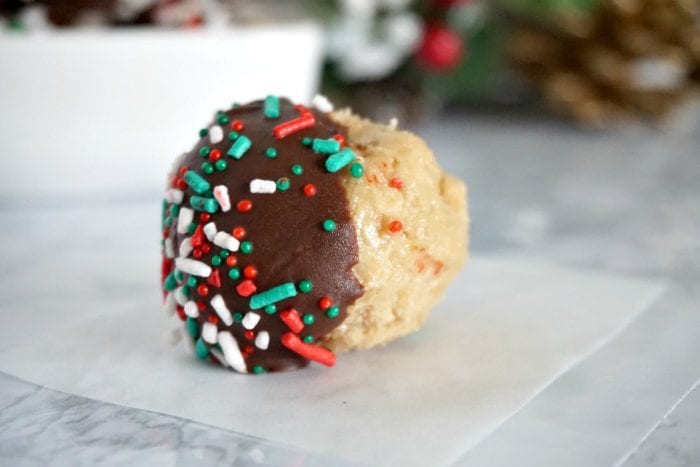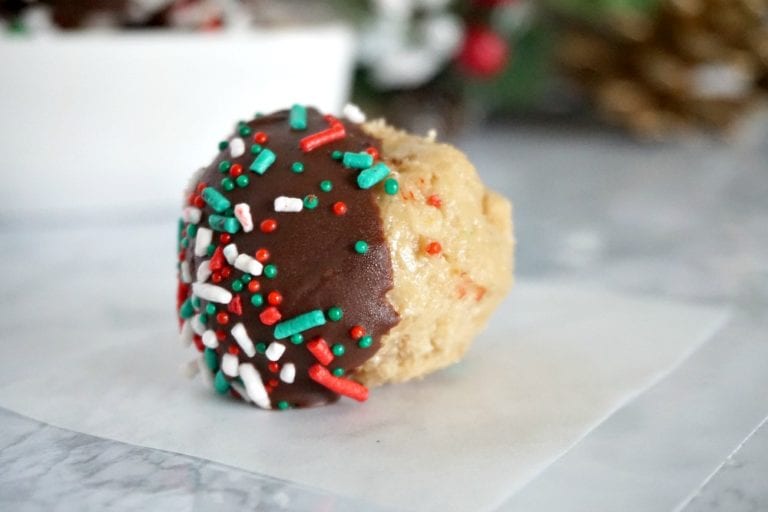 INGREDIENTS for Peanut Butter Balls No Bake Christmas Treat:
1 1/2 Cups Crunchy Peanut Butter
1/2 Cup Butter (at room temperature)
3 1/2 Cups Powdered Sugar
1 Cup Semi-Sweet Chocolate Chips
1 Tablespoon Coconut Oil
Holiday Sprinkles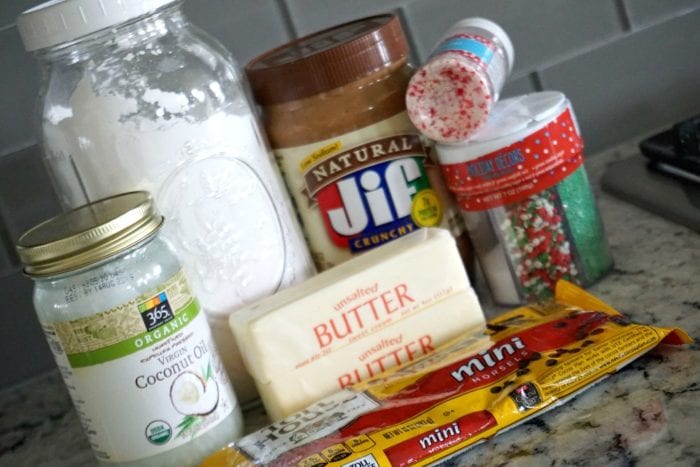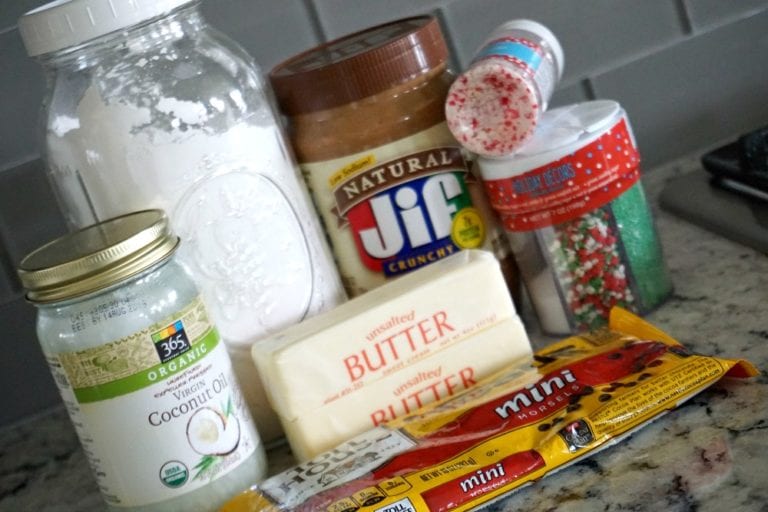 DIRECTIONS for Peanut Butter Balls No Bake Christmas Treat:
Combine peanut butter, butter, and powdered sugar in a large bowl and mix until it forms a smooth dough (you may have to use your hands to knead it together).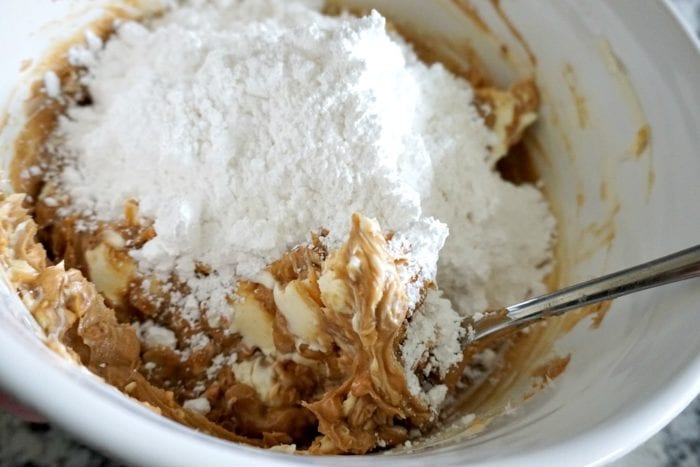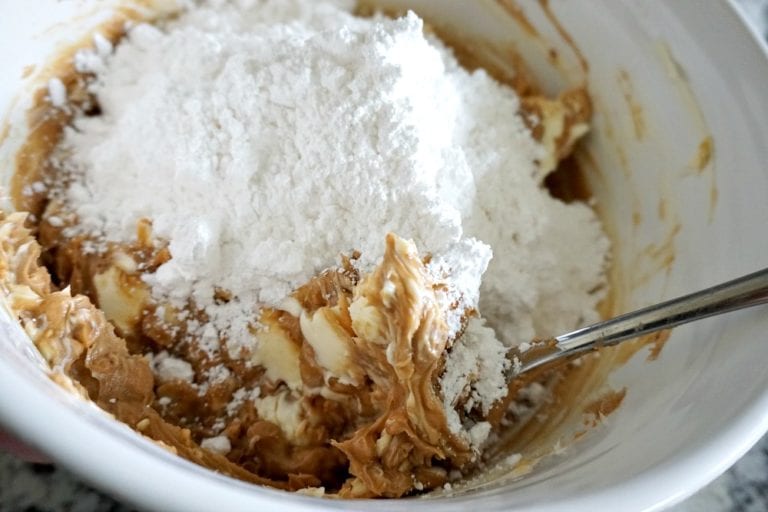 Shape the dough into tablespoon sized balls and place them on a baking sheet lined with parchment paper.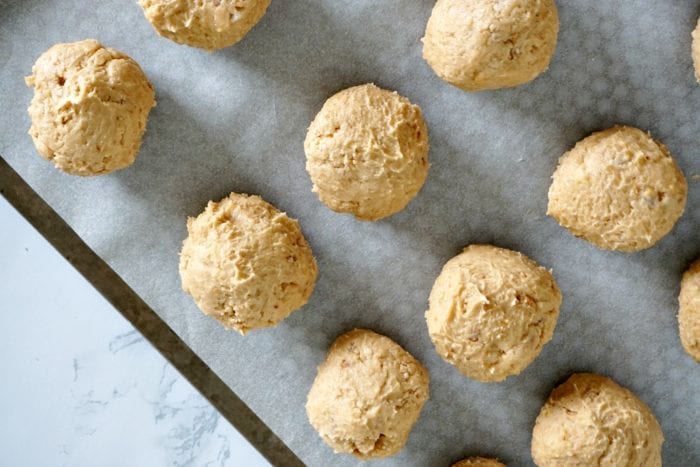 Refrigerate the peanut butter balls for at least 30 minutes.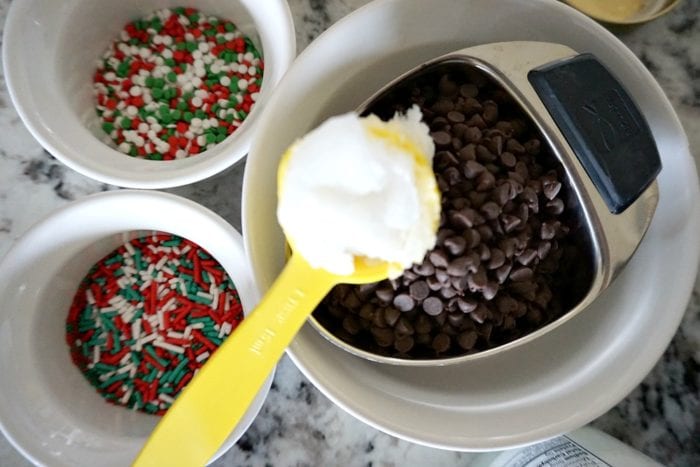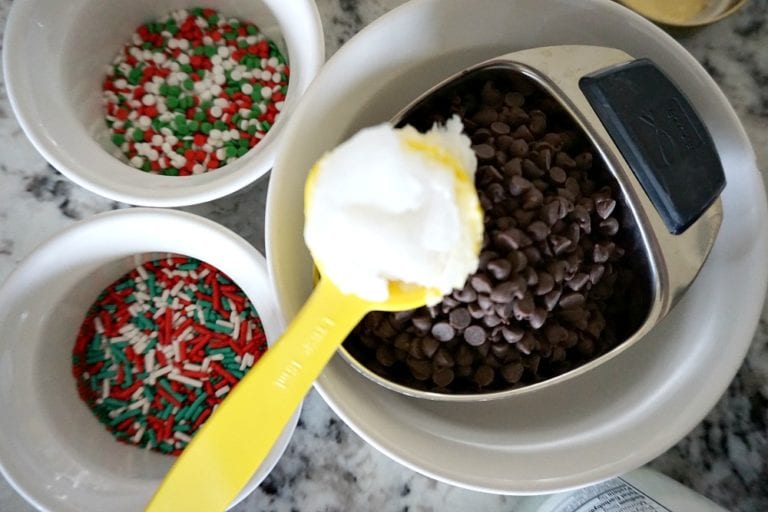 Microwave the chocolate chips and coconut oil in 30 second intervals or until smooth and melted.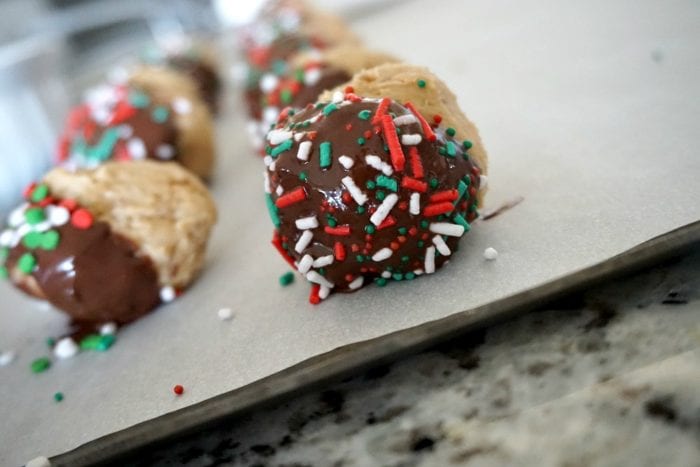 Take the peanut butter balls out of the refrigerator and dip a portion of the ball in the melted chocolate. Add sprinkles to the chocolate and set on parchment paper to dry.
Refrigerate for 30 minutes or until set.
Serve, and enjoy!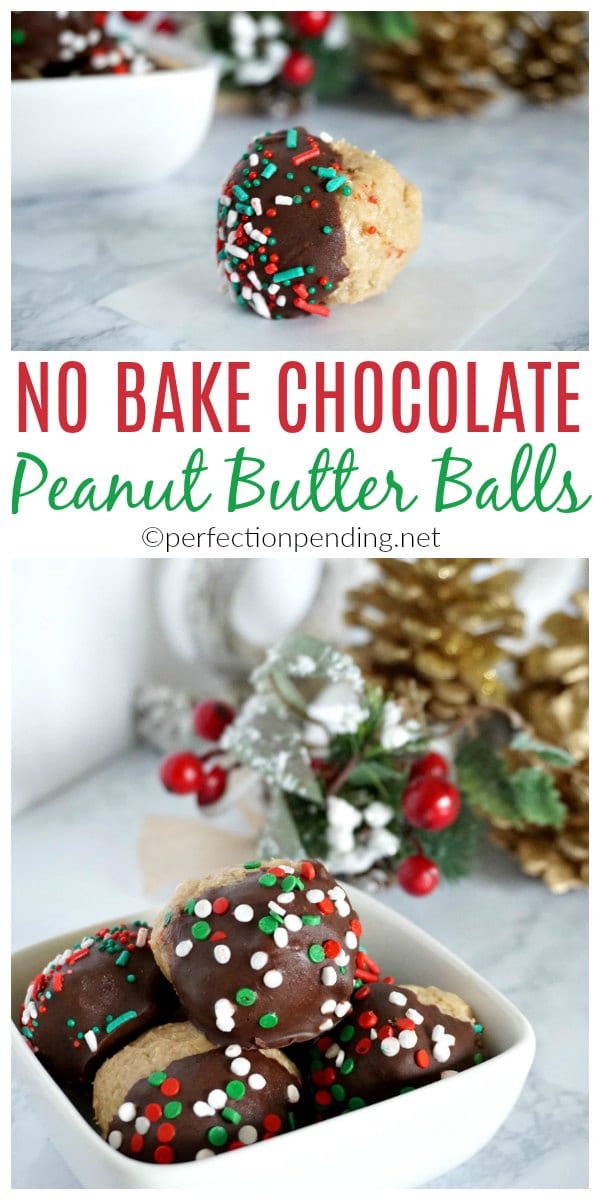 ---
MORE CHRISTMAS POSTS
YOU'LL ALSO LOVE THESE COOKIE RECIPES:
And some more of my favorite things