These pumpkin dog treats with no peanut butter are the perfect recipe to whip up in a pinch and they only have a five simple ingredients you can always have on hand.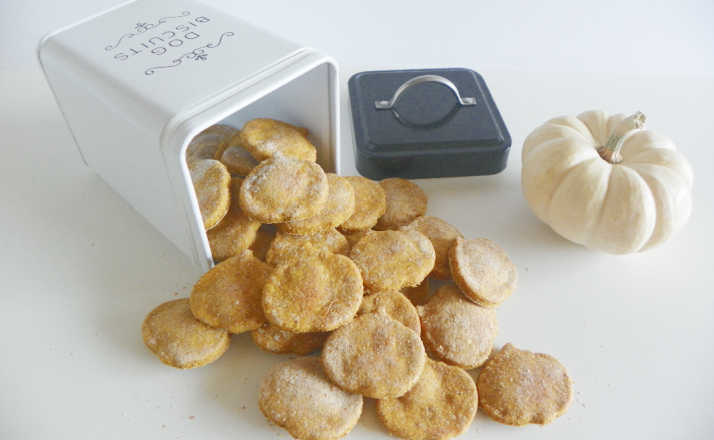 I never in a million years thought I would become a dog person making homemade pumpkin dog treats for my dog. But, alas, here we are.
Like many people, we decided to get a dog during covid, and well – it was the best decision ever for our family! We have an Aussiedoodle named Millie, (or Mil Mil, Millie Mae, or Mils as she's otherwise known.) She is the most spoiled pup around.
And she LOVES pumpkin dog treats.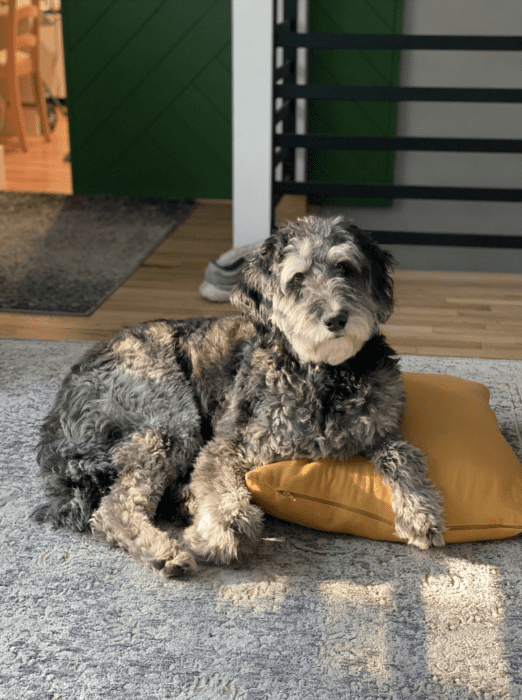 Are pumpkin treats good for dogs?
Yes! Pumpkin actually has a lot of really great health benefits for dogs. However, you don't necessarily want to give your dog a piece of pumpkin pie, or a sip of your pumpkin latte. Side note, I have a really great pumpkin shake recipe for the humans though.
But, if we're talking pumpkin in its purest form – pumpkin, then it is great for dogs.
Pumpkin is a good source of fiber, vitamin A and E, potassium and beta carotene. It can also help with digestion issues.
Is canned pumpkin or real pumpkin better for dogs?
Believe it or not, canned pumpkin is actually healthier for dogs. That's mostly because it is more densely rich with nutrients, whereas a real pumpkin has a lot of water in it. Just make sure that you read the ingredients on your pumpkin can and make sure there is no xylitol in your canned pumpkin. Xylitol can be deadly to dogs.
Check your peanut butter can too while you're at it.
Sugar free pumpkin can definitely have xylitol so make sure to check those labels before making these pumpkin dog treats.
What can you mix pumpkin with for dogs?
While it's easy enough to feed your dog canned pumpkin if they're needing more fiber in their diet, we all love our dogs to death, and want the best for them, so why not kick it up a notch and turn the pumpkin into a treat for our dogs?
That's easy enough to do with this pumpkin dog treats recipe with no peanut butter.
Why no peanut butter pumpkin dog treats though?
My dog LOOOVES peanut butter. Maybe more than she loves me if I'm being totally honest. So, that's a special treat that we add to her food occasionally, or let her lick the empty jar clean. So, she gets a lot of peanut butter already, so that's why I wanted to make pumpkin dog treats with no peanut butter in them.
Although I'm sure she would love peanut butter dog treats too, we're going to keep this simple.
There are probably plenty of households out there with peanut allergies too, so I wanted to create a pumpkin dog treat that was nut free. So, let's get started!
So what do you need to make these simple pumpkin dog treats with no peanut butter?
The ingredient list is easy. SO easy, actually.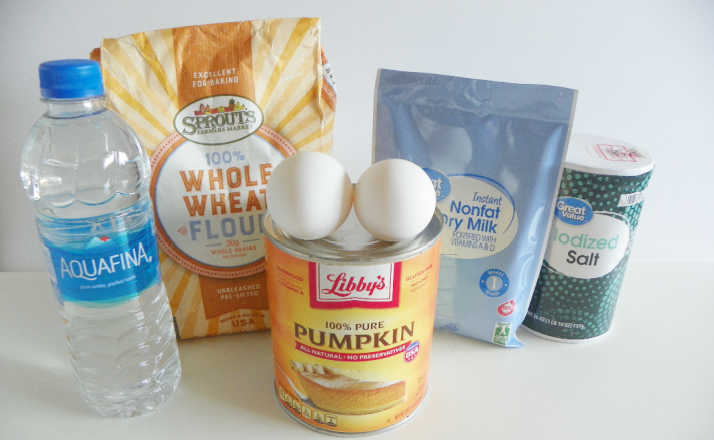 You'll need:
2 Eggs
½ Cup Pumpkin Puree
½ tsp Salt
2 Tbsp Dry Milk
2 ¼ Cup Whole Wheat Flour
Water, If Needed
Let's get started making these nut free easy simple pumpkin dog treats!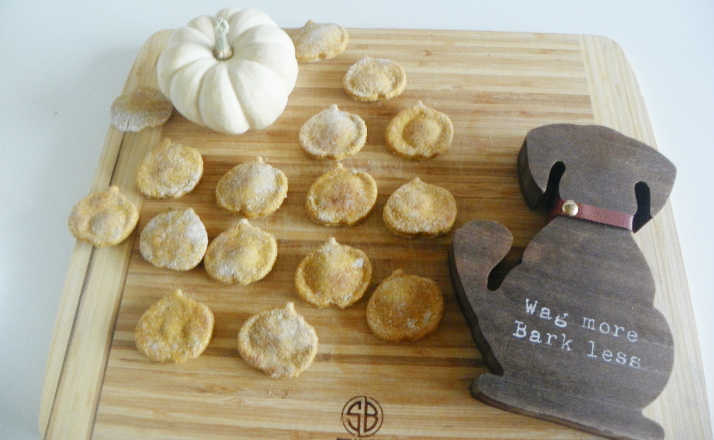 First, you'll want to preheat oven to 350 Degrees. Next, you'll blend the eggs and pumpkin together first, then add salt, dry milk, and flour.
Add water, as needed to make the dough somewhat workable. You will be rolling these out to about a ¼ to ½ inch thickness so whatever feels comfortable for you to work with and roll them out easily, that's what you'll want.
Cut with mini cookie cutter. I used a pumpkin cookie cutter because I thought it was so cute.
Place on ungreased cookie sheet, 1 inch apart.
Bake for 15 minutes on one side, then turn over and bake for another 10 minutes.
Let cool completely. Store in airtight container.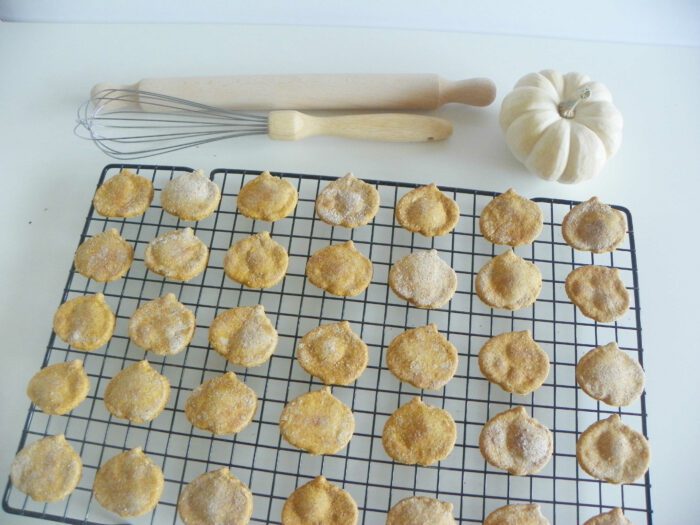 That's it! These pumpkin dog treats are really SO easy, and I really think they are a treat that even your kiddos could make with you, or in my case without me.