These Easy Rice Krispie Treat Mummies make the perfect Halloween party treat idea, or a fun treat to just make and enjoy right at home! You'll want to whip up this Halloween dessert year after year because it's so fast and easy, and NOT scary.
One thing that is so great about these Mummy rice krispie treats is that in theory, you COULD buy rice krispie treats and make it even easier! But, if you're feeling like you want to put a little more time and effort into making a fun and spooky Halloween treat, then these are only as hard as making rice krispie treats themselves. In other words – not hard at all!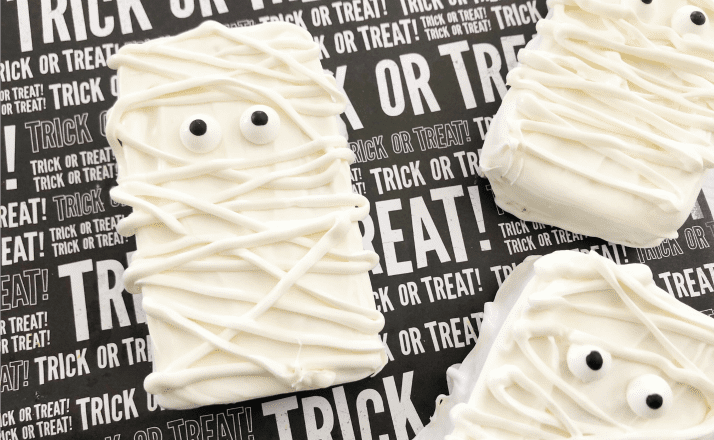 If Mummies don't scream Halloween to you, you could always make my spider rice krispie treats instead. They are adorable and kind of a little silly, too. Like I've said before, I'm not a big fan of scary Halloween ideas, but am more prone to the silly, and cute Halloween treats and parties.
There is enough scary in the world if you ask me, so that's why I love how these mummy rice krispie treats turned out. And, I'm sure your scary little monsters will love them too. Aren't they so cute?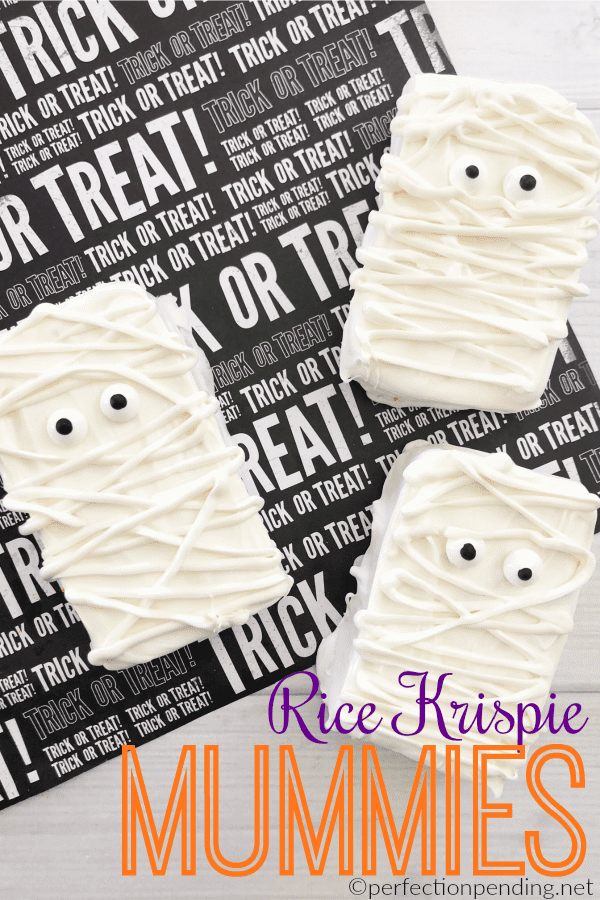 Ingredients & Materials for Easy Rice Krispie Treat Mummies
This post contains Amazon affiliate links. If you click on a link, I may receive a commission. See my full disclosure policy here.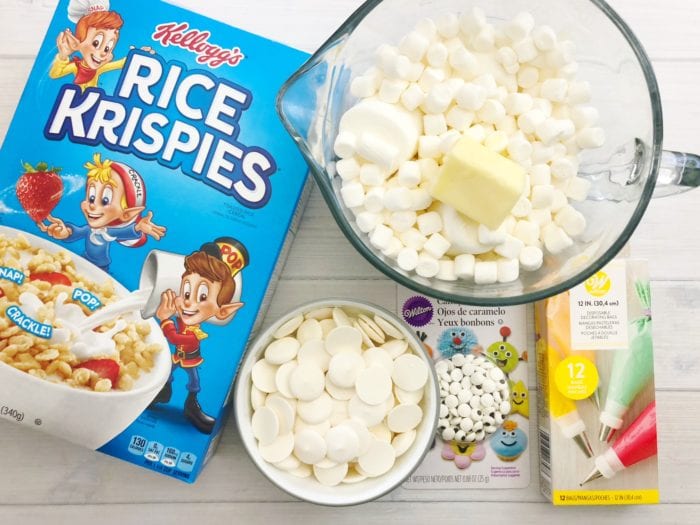 10 oz bag miniature marshmallows
6 cups Rice Krispies cereal
3 tablespoons softened butter
2-12 oz bags Wilton bright white chocolate candy melts
Large Spoon & 9×13 Baking Pan
Directions for Easy Rice Krispie Treat Mummies
1. In a large bowl, combine your marshmallows and butter and heat in the microwave for 1-2 minutes and mix.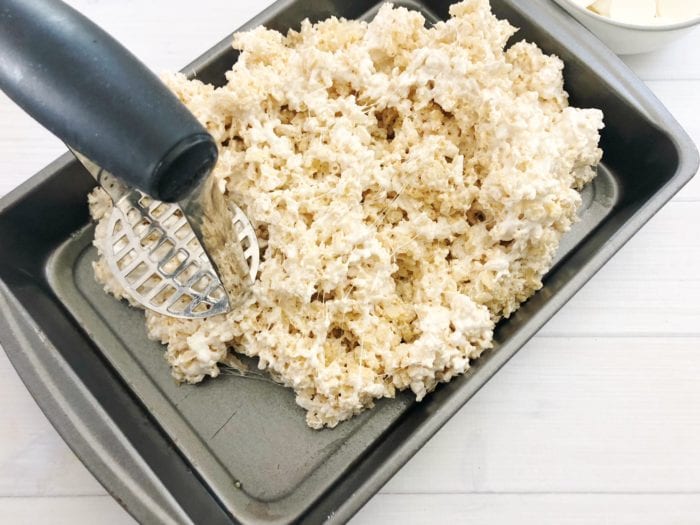 2. Mix in your Rice Krispies cereal until your cereal is evenly covered in your marshmallow mixture.
3. Grease a 9×13″ baking pan and press your marshmallow mixture into your pan firmly.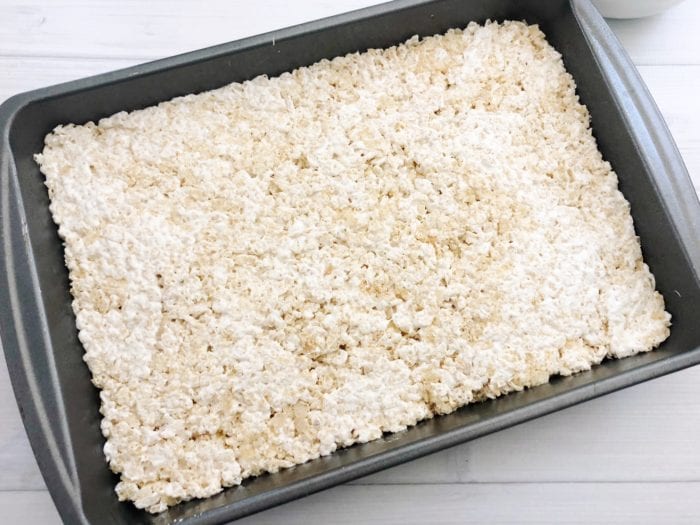 4. Let set for a few hours and cut into small rectangles.
5. In a large microwave safe bowl, heat your candy melts on 50% power for 4 to 5 minutes, stirring every 30 seconds until melted.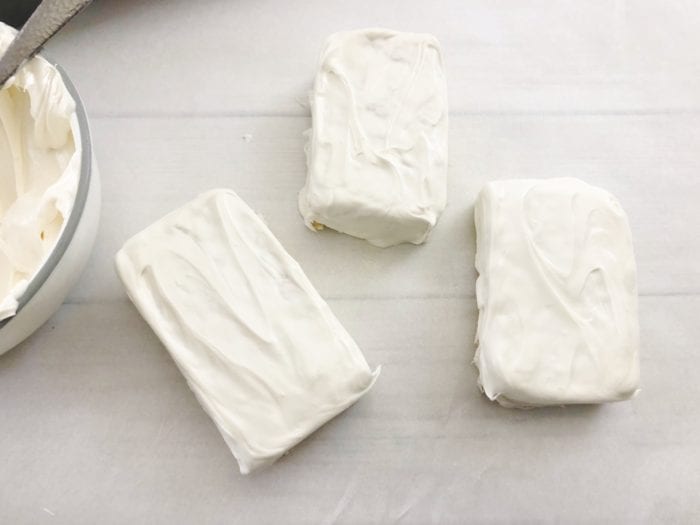 6. Lay out a piece of parchment paper and carefully dunk the top of each Rice Krispies treat into your melted chocolate and smooth the chocolate on top and on the sides.
7. Transfer to the freezer for 15 minutes, fill up a decorating bag with the remaining chocolate and cut a small tip off the end of the bag.
8. Dab a small amount of melted chocolate on the back of two candy eyes and carefully press them onto your white chocolate covered rice crispy treat towards the top half.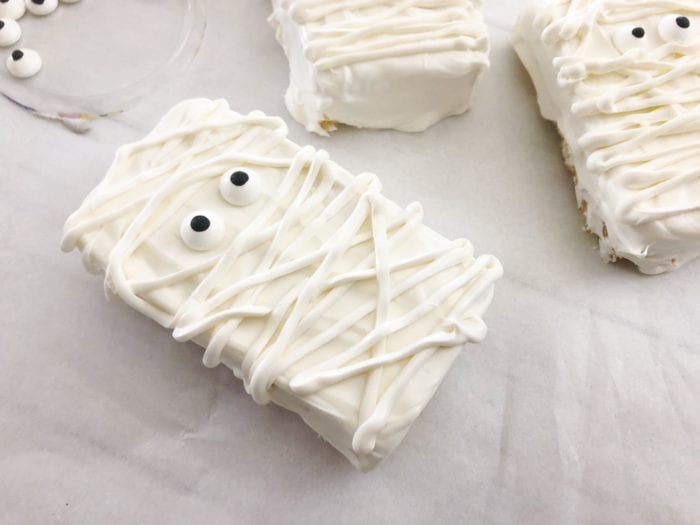 9. Use your decorating bag to draw several lines back-and-forth across the top of your Rice Krispies treat, let harden and enjoy!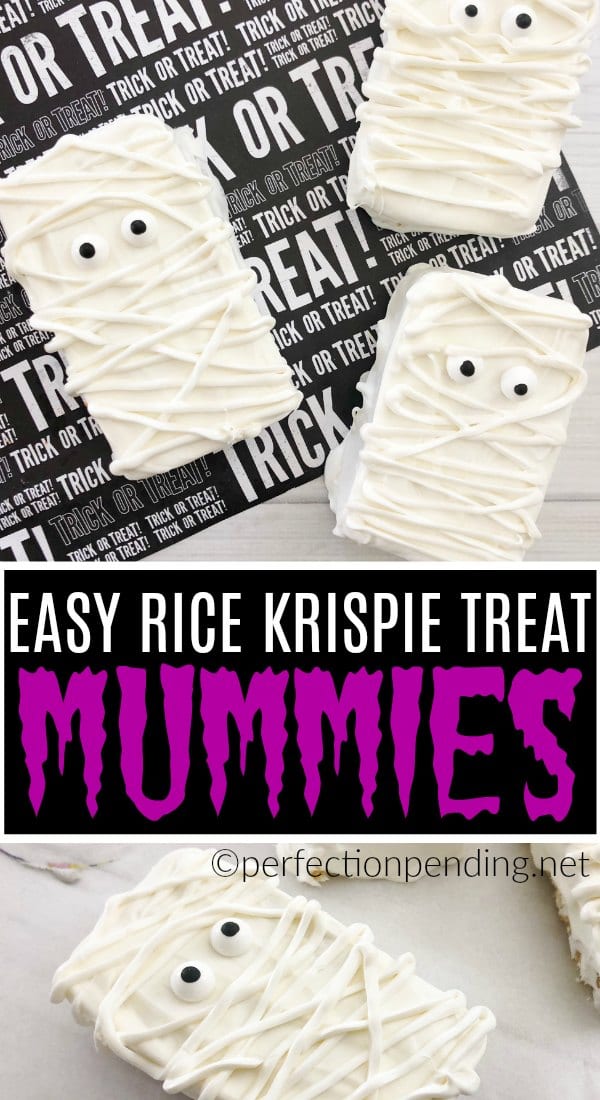 Here are some more fun Halloween Ideas You Can Try, Too!
Easy Halloween Spider Rice Krispie Treats
Super Easy Pumpkin Spice Cupcakes
The Best Spooky Halloween Party Treat Ideas
Easy Harry Potter Broomsticks Halloween Treat
[mpprecipe-recipe:44]