I know I'm going a little crazy this year with the Halloween treat ideas, but I can't seem to help it. I think I need to have a huge Halloween party this year just to share all these treat ideas that I've got up my sleeve. If your thing is cute Halloween treats versus the gooey and creepy, then these easy Halloween spider rice Krispie Treats are the perfect mix of silly, cute, and EASY. My kind of kid treat idea for a party.
And, if you're just not that into spiders, check out our silly and easy rice krispie treat mummies.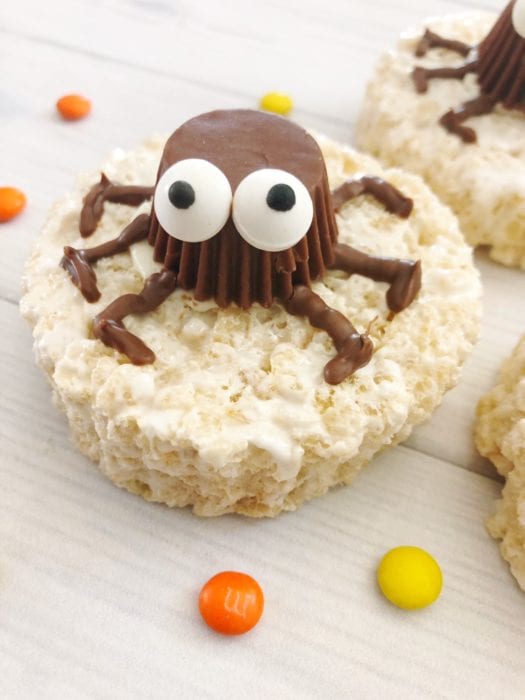 These are so easy, the hardest part is just making the rice krispie treats, and we all know how easy those are. Plus, these spider rice krispie treats are topped with my FAVORITE candy – Reeses Peanut Butter cups. And, if your thing is spider treats, don't forget to check out my Mini Spider Chocolate Donuts too. They are also SUPER easy and fun for a non-creepy Halloween party treat idea.
Here's how to make these Easy Halloween Spider Rice Krispie Treats:
This post contains Amazon affiliate links. If you click on a link, I may receive a commission. See my full disclosure policy here.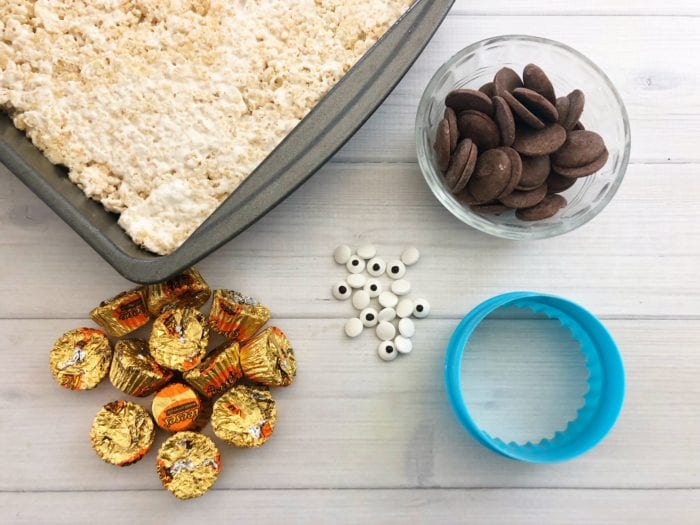 Easy Halloween Spider Rice Krispy Treats Ingredients
10 oz bag miniature marshmallows
6 cups Rice Krispies cereal
3 tablespoons softened butter
Miniature Reese's cups
2 cups light cocoa Wilton candy melts
Other Items You'll Need:
Candy eyes
Decorating bag
Microwave safe bowl
Circle Cookie Cutter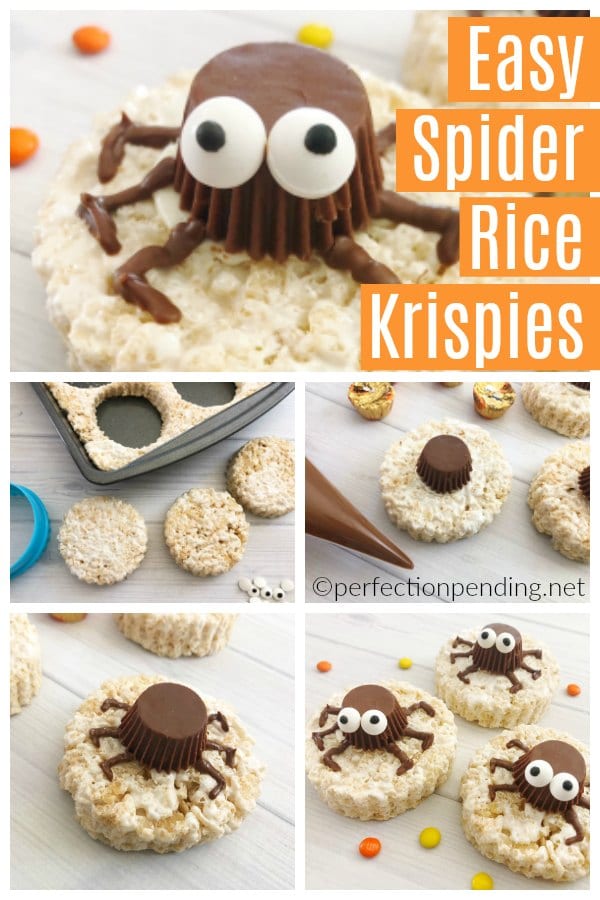 Directions-
1. In a large bowl, combine your marshmallows and butter and heat in the microwave for 1-2 minutes or until puffy and mix.
2. Mix in your Rice Krispies cereal until your cereal is evenly coated in your marshmallow mixture.
3. Grease a 9×13″ baking pan and press your marshmallow mixture into your pan firmly.
4. Let your Rice Krispies cool for a few hours and use a circle cookie cutter to cut out circle shapes and place them on a piece of parchment paper.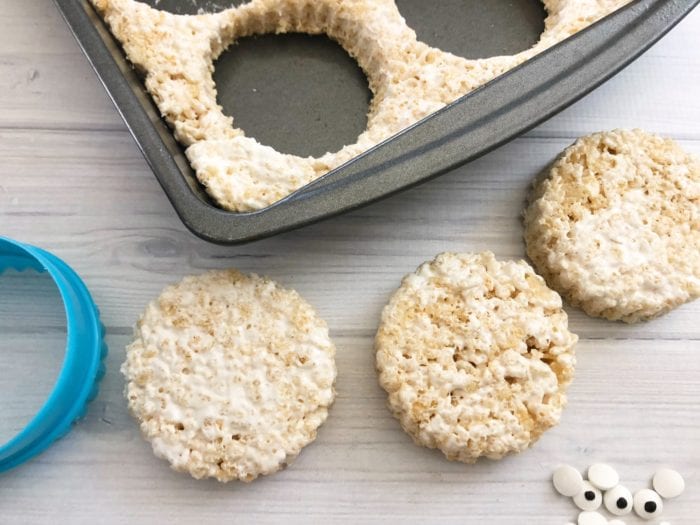 5. Heat your candy melts in a microwave safe bowl on 50% power for 2 to 3 minutes, stirring every 30 seconds until melted.
6. Scoop your candy melts into a decorating bag and cut a small tip off the end.
7. Unwrap your Reese's and dab a small amount of chocolate into the top of the Reese's and stick onto the center of each Rice Krispies treat.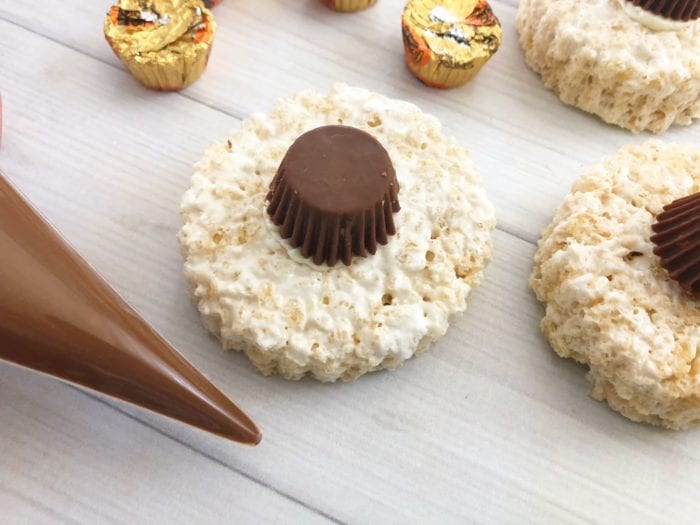 8. Use the decorating bag to draw legs coming off the Reese's and onto the Rice Krispie treat.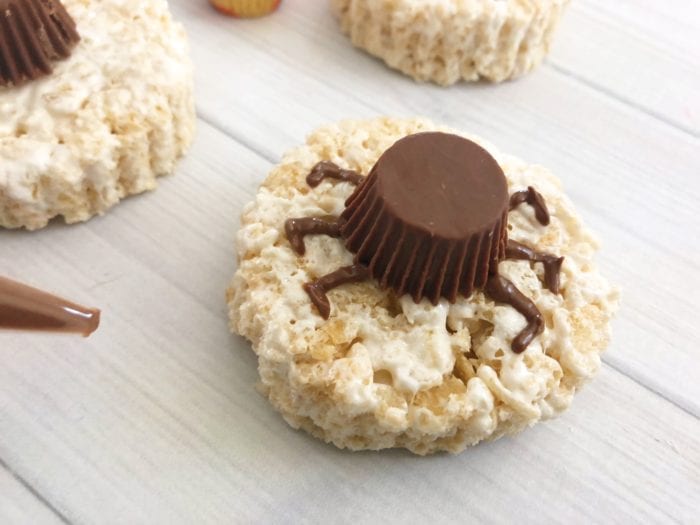 9. Dab a small amount of melted chocolate onto the back of two candy eyes and carefully press them onto the top edge of your Reese's.
And, that's it! Aren't these Halloween Spider Rice Krispie Treats so darling and SILLY? My kids totally thought they were.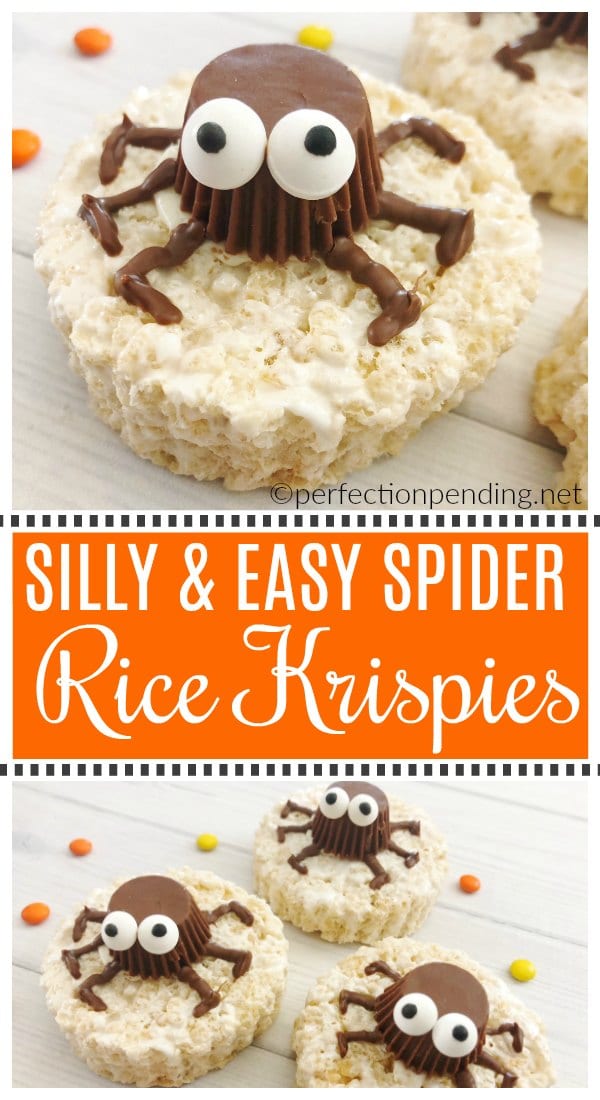 More Halloween Ideas:
Easy Harry Potter Broomsticks Halloween Treat
3 Fun &Fruity Costume Ideas for Tweens From Edible Arrangements
The Best Spooky Halloween Party Treat Ideas
Easy Rice Krispie Treat Mummies For Halloween
And, if you're looking for some fun Halloween Party Ideas, Check These Out Too:
Monster Cupcakes With Natural Dye
[mpprecipe-recipe:42]