These Fruit by the foot Printables can be used as party favors, classroom birthday treats, or a fun and easy valentine's day printable idea that you can throw together in minutes. 
My middle child's birthday is coming up on Saturday. As a result, I knew that I had to take some sort of class treat in for his birthday. I think it's a little weird that the person having a birthday is providing a treat, but that's a different issue. I didn't really have to do it.
And, since most schools require a pre-wrapped treat idea, I thought these fruit by the foot treats were the perfect solution.
I decided instead of a messy cupcake, I'd take in some Fruit by the Foot snacks.
I picked up a big giant box of fruit by the foot at Costco. Because did you know they come in a 48 pack? That means PLENTY for your class party, and leftovers to hand out to neighborhood friends.  Or you can use the fruit by the foot snack for a birthday party favor, too.
But, handing out the fruit by the foot snack wasn't enough. This idea to make some fruit by the foot printable tags to go with them just stuck in my head and I could not let it go.
So, I immediately got to work designing these fruit by the foot printables, because I'm allll about lazy ways to celebrate holidays. Take my rainbow treat idea for St. Patrick's day for example. Ha. Super easy. Also, super lazy.
But, these fruit by the foot treats were such an easy idea, and honestly – it turned out really great I think.
You can use fruit by the foot snacks for a DIY Valentine gift, too.
Yes, I know I've been known to have heart palpatations at the thought of overly cute Valentines, but this one really is SO easy. And, to be honest, I'm not a huge fan of Valentine's day as a holiday anyway. It seems like such an excuse to spend money, when we should be telling our loved ones every day that we love them.
But, Valentine's day class parties are a tradition, and a rite of passage for kids, so it makes sense that I would come up with the easiest way to make a valentine's day treat that is creative, but also SIMPLE. Fruit by the foot valentines are the easiest, laziest way to have something that seems really cute and unique.
Since I'm not super into lovey dovey messages for class parties, these just seemed perfect to me because they are about friendship, not love.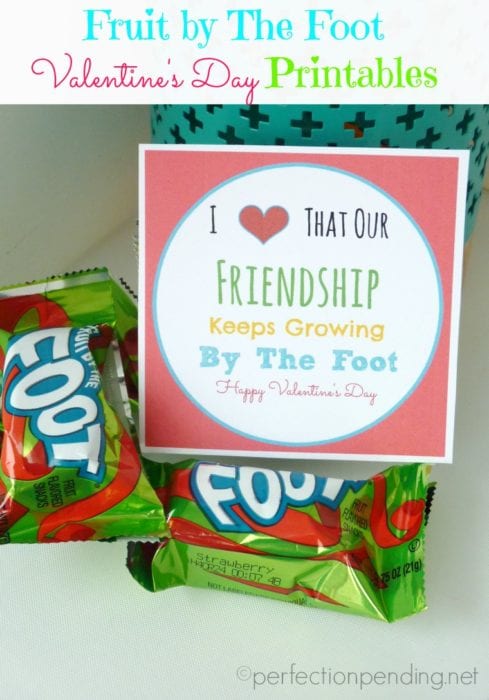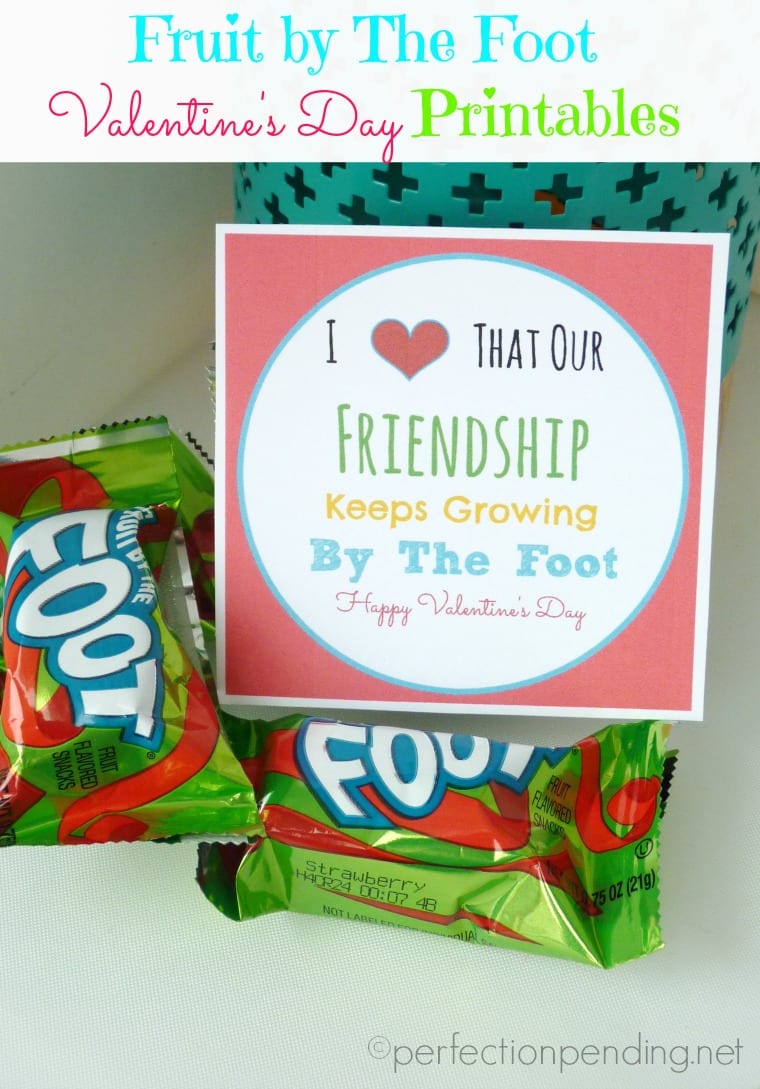 Simply print out the fruit by the foot printables, tape them to a fruit by the foot, and you're done! 🙂
If you want to get really ambitious, you could tie the printable to the fruit by the foot by using a hole punch to punch a hole through the tag and also through the corner of the packaging. But, remember – I'm all about easy, lazy holiday ideas that don't require a lot of work.
But, for an older kid, it would be super easy to teach them how to put together these treats, and take some ownership of them.
For the birthday fruit by the foot printable, you can simply customize your child's name on it by hand.
Again, we want valentine's day ideas that are easy, easy, easy. So, if your handwriting isn't that great, have your kid do it, or find someone with cute handwriting to write your child's name on the printable like I did below: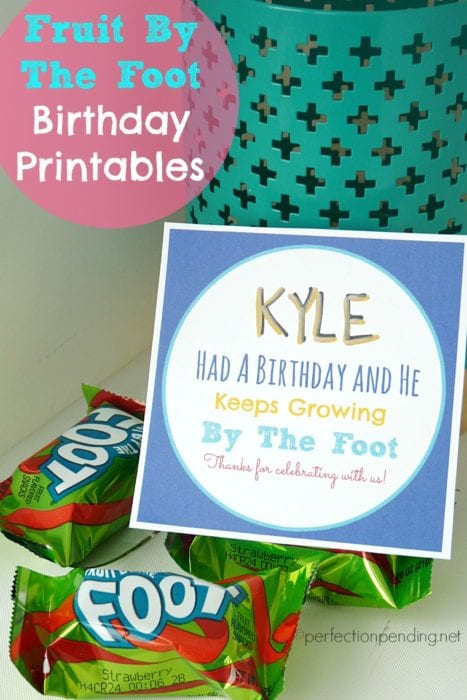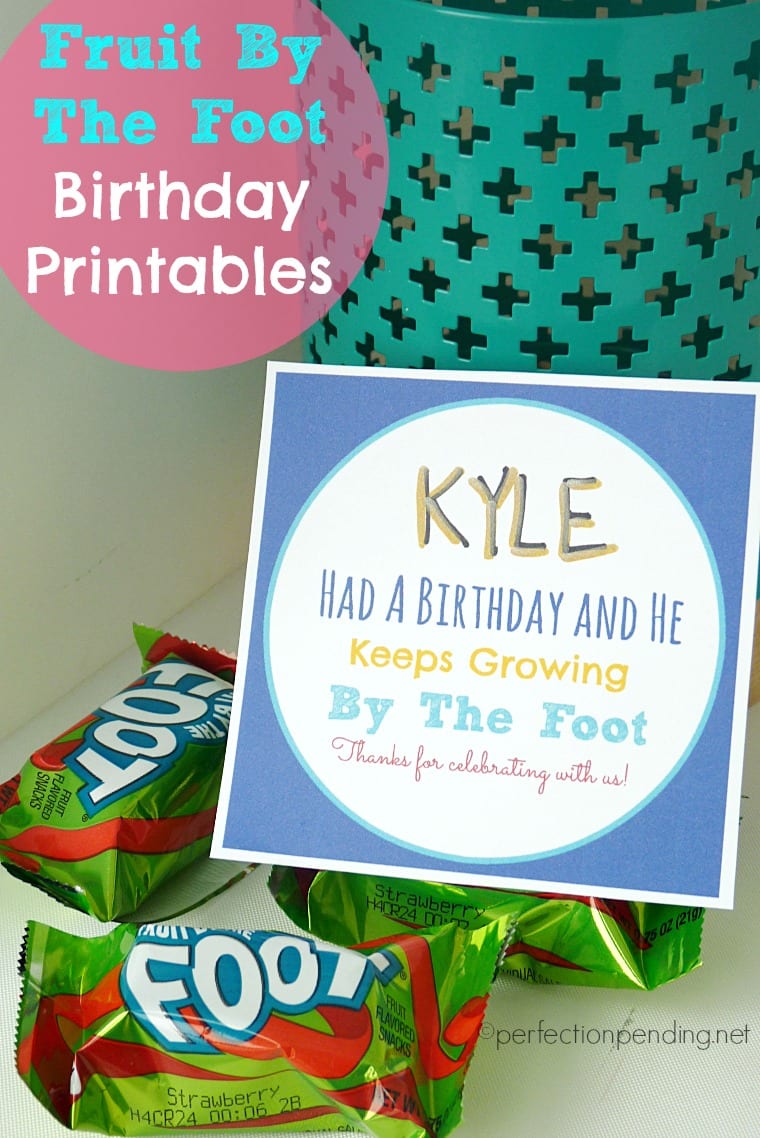 AND, I couldn't decide on colors, so I made a few choices. Aren't they so fun?


You can either leave the printables square, or cut them out in a round shape if you like that better. Or do both! These fruit by the foot printables are so easy, you can use them over and over again. Don't worry – we won't tell.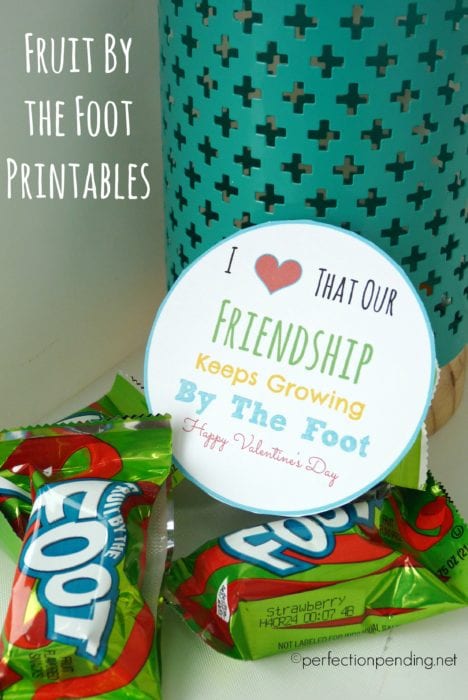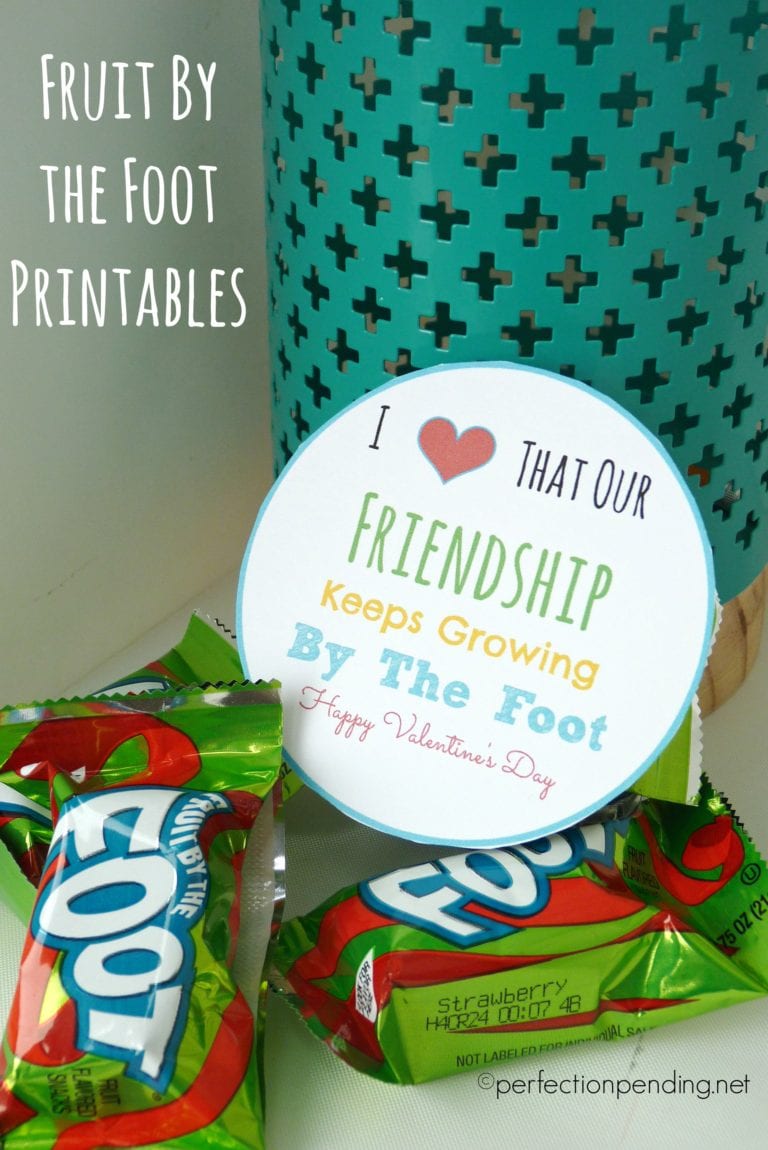 So how do you get this cute printable?
For many years I have offered these printables for free, but it has grown in popularity over the years making it a time consuming process for me to approve the file for all the requests I got. So I have them on Etsy now as an instant download for a small fee. I only charge $3 and then they are yours forever!
I'd love to see the final product if you use these printables. It will make me so happy to see them out in the wild. 
I do have another FREE Valentine's day printable you can grab too!
If you like this valentine printable – you'll also want to check out my Popcorn Valentine Printable here.