I don't mind raising a quitter. Sometimes I let my kids quit. Sometimes I even encourage it.
It seems like modern parenting makes us believe that it's suddenly the responsibility of the parent to figure out what their child would be passionate about at the ripe old age of three years old. When I was three years old, I'm pretty sure all I cared about was poking my baby sister in the eyeballs, and eating lots of cheese.
Yet, I find myself in discussions with other parents all the time about the extra curricular activities that our kids are in.
Sometimes it's coordinating carpool conversations, and other times, it's lamenting over whether or not one should force their child to keep playing soccer because he's really good at it.
A few years ago, I noticed my son picking out songs on the piano. He was playing by ear and had not taken a piano lesson in his life. I thought to myself, "My kid loves music. I need him to get into piano lessons."
So, we did. Every week he loved going to his lessons where he got a piece of candy and some one on one attention from his teacher, but then every day was a battle to make him practice.
After days and days in a row of his tears, and my patience waning thin, I finally just let him quit.
He's now 11 and he's taking piano again and doing great, but seeing him cry every day back then wasn't worth it to me.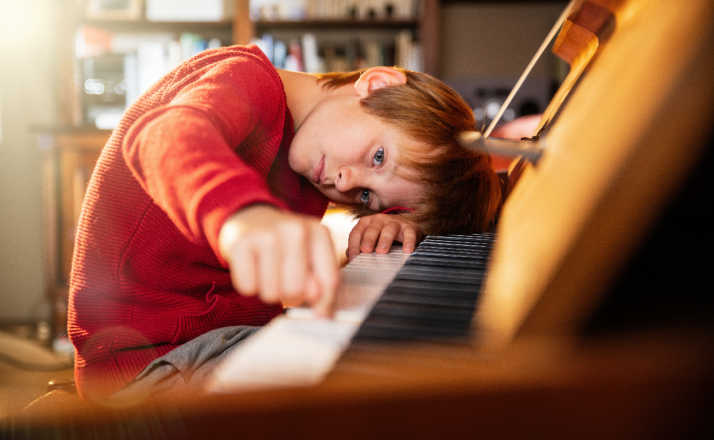 Some kids have too many passions
However, my daughter has a passion (or thinks she does) for everything. She loves to rock climb, ski, river raft, play the piano, play the clarinet, wants to try soccer and do gymnastics, etc.
She is also an avid reader, good at math, and loves art. If you mention an extra curricular activity to her, she'll say that yes, she's wanted to do that her whole entire life.
Do you know how much horse back riding lessons cost? I do. She's the type of kid that just loves trying everything. And, frankly, she's good at a lot of stuff that she tries, too.
One year, she was doing piano, band, and gymnastics, and was also going to be in the school play. She was busy. And, she was only ten years old.
As I shuttled her around in the car, I realized that it's exactly the opposite of what I wanted for my kids.
I want carefree afternoons after homework is done, and instead, I feel like a drill sergeant helping her stay on task so she can go take part in the myriad of activities I've agreed to let her do this year.
As I talked to a friend one day, I wondered how you help your kids find their passion, and how to know when to let your kids quit? And, when to say no because you're already overbooked.
When my son wanted to quit piano, I was fine with it mostly because the time and energy it took me to force the practicing was so draining, my own attitude about it was suffering.
But, my friend was taking the approach that her son needed to stick to what he committed to already, and she would reward him with play when he got his responsibility done.
Does letting a kid quit teach him that it's OK to quit things that are hard, or is it more a matter of the fact that they jut haven't found their true passion yet?
There really is no simple answer.
But, here's why I sometimes let my kids quit.
When kids are young, it may not be time.
Sometimes, I still don't know what my passion is and I'm 43 years old. Just last week, I decided I wanted to make this big art project and I put everything else on hold and ran out and bought supplies and completed it in a few hours.
When my kids were only 10 and 7 I had the attitude that they have their whole lives to find their passion. If they hate piano when they are five and also learning how to read, then so be it. It's not the end of the world.
There are other ways to teach hard work.
My kids work hard in school, and they work hard at home doing chores and helping out around the house. Yes, I think it's important to work hard at everything that they do, but if they don't love practicing piano, that doesn't mean they don't know how to work hard.
There are plenty of other ways to teach kids the value of hard work besides through extra curricular activities.
Once the commitment is over, we reassess.
I totally get why some parents have their kids commit to things, and don't want to see their kid quit because it's about following through on their commitment.
My rule of thumb is to lay out guidelines ahead of time about what the commitment is. I set a time limit like, "You have to stick with this for three months." Or "If I pay for this, you have to stick with it through the end of the year." We can always reassess when they have followed through with their commitment.
Sometimes the family commitment is just too great.
With all that my daughter has going on that one year when she was 10, we had many talks with her that at some point, she will have to make a choice. For the kid that loves doing everything like my daughter, that doesn't mean she should get to do everything.
We are a family of 3 kids that all have extracurricular activities going on, so if everyone did everything they wanted all of the time, our lives would be even more of a three ring circus than it already is.
Sometimes I let my kids quit because it's just not possible to do everything we want.
We aren't aiming for the Olympics or anything.
I think many parents get too caught up in wanting their child to be the best, and we lose sight of the fact that it takes a special type of parent to get their kid to the Olympics or to a world renowned level of anything. Parents are ruining youth sports in some ways, too.
Sure, I'd love it if my child wanted to achieve that kind of greatness, but the truth of the matter is, our focus as a family is elsewhere right now.
I let my kids quit because I want a normal childhood for my kids. Whatever that means.
If one of my kids finds a true passion that they are willing to spend hours a day practicing, then maybe I'll reconsider, but for now, we're still just hoping to teach them how to put their dirty clothes in the hamper. Extracurricular activities are just a fun bonus.
I guess my point is this, sometimes I let my kids quit, and try something new because that's what kids do.
They are supposed to be exploring the world, trying new things, and learning what they really love. For me, I'm OK with a "quitter" if it means that eventually, they will find what they truly love and be all the happier for it.