Planning a gluten-free Thanksgiving can be super overwhelming. Trust me – I know this firsthand. November is quickly approaching so that means preparing our menu (and our stomachs) for Thanksgiving. But planning a gluten-free menu can be an unsettling task.
I for one was gluten-free for many many years, and that often meant skipping my favorites – the rolls, and the stuffing.
But, if you have someone coming to your house for Thanksgiving dinner, it really isn't that hard to plan a gluten-free Thanksgiving for your gluten-free dinner guest.
Blessedly, these delectable and easy recipes can help you execute a gluten-free Thanksgiving dinner flawlessly.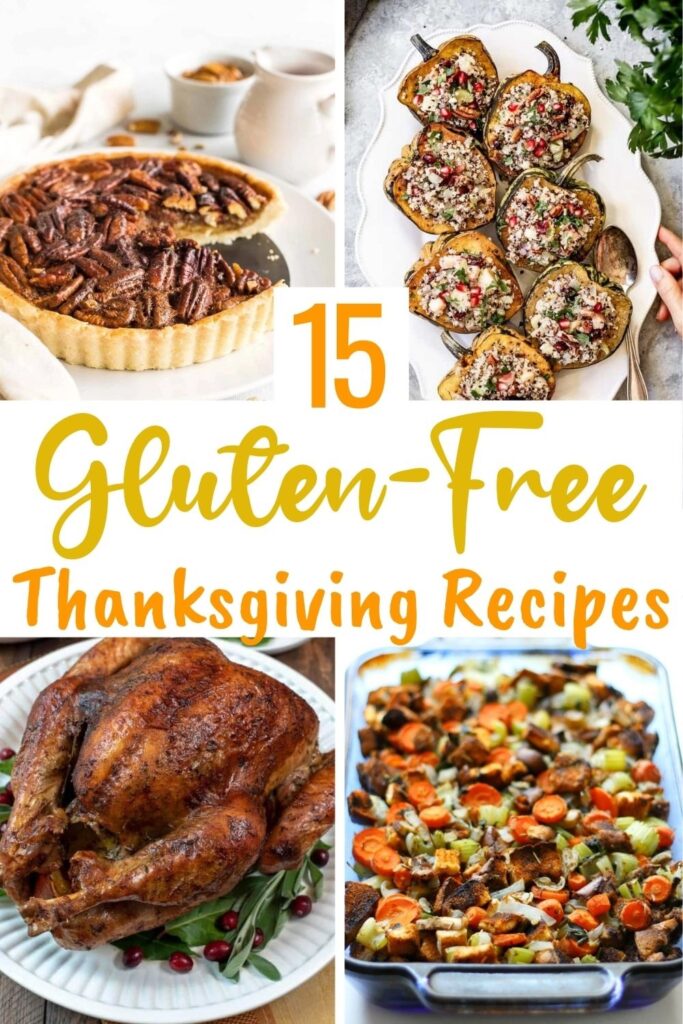 Whether you are expecting all of your extended family and some friends, or just cooking for your immediate family, these 15 recipes have all your gluten-free Thanksgiving needs covered.
From the Thanksgiving classics such as pumpkin pie and mashed sweet potatoes to beet salad and stuffed acorn squash, these 15 gluten-free Thanksgiving recipes are sure to impress your guests. And guess what? I even have a gluten-free Thanksgiving stuffing recipe on the list. My favorite.
There is nothing worse than going to a relative's house for Thanksgiving dinner, and realizing that you can't eat half of what is on the menu because you are gluten-free. To be honest, I always cooked my own favorite butternut squash casserole recipe so that I could still have a gluten-free Thanksgiving recipe I loved.
But, for many years, I missed out on my husband's amazing rolls he makes from scratch, and my favorite – the beloved stuffing.
So, that's why I thought it would be helpful for others heading into a gluten-free Thanksgiving with dread to find a new favorite recipe that will satisfy you at Thanksgiving dinner this year. Here are 15 recipes you'll love.
Thanksgiving Green Salad: This seasonal green salad is served with apple cider vinegar and maple syrup vinaigrette! If you're looking for something to add to your gluten-free Thanksgiving dinner, a light and refreshing salad is always a great addition.
Dry Brine Roasted Turkey: What would Thanksgiving be without a turkey? This turkey marinades in the brine for up to two days, yum! If we can't have Turkey at our gluten-free Thanksgiving what's the point? Am I right?
Gluten-Free Turkey Gravy: This gravy recipe is not only gluten-free but also naturally dairy-free!
Gluten-Free Stuffing: A stuffing recipe that includes all the favorites; celery, carrots, and even mushrooms. Full of veggies, it is healthy too. And if you have a Vegan guest? It's vegan too. What more could you want. This gluten-free stuffing will surprise your guests and be a new favorit
Make-Ahead Mashed Potatoes: A mashed potato recipe that is meant to be made ahead and slow-cooked, perfect for busy Thanksgiving days!
Cranberry Wild Rice Pilaf: A wild rice pilaf recipe with 7 add-in ideas, perfect for any guest's preference!
Yes, you can even have rolls at your gluten-free dinner.
Gluten-Free Dinner Rolls: These light and airy dinner rolls can be made up to 24 hours ahead of time! I feel like I can smell these from just this picture. And they smell amazing. Gluten free bread has come a long way, and there are plenty of gluten-free flour options too. This recipe is a must try for your gluten-free Thanksgiving dinner.
Homemade Cranberry Sauce: This cranberry sauce recipe has 5 possible variations and takes 12 minutes total!
Roasted Pumpkin and Beet Salad: This pumpkin and beet salad recipe includes feta cheese and sunflower seeds!
Spice up your gluten-free table with some squash, green beans and potatoes.
Hasselback Butternut Squash: These roasted butternut squash from My kitchen Love only have 5 steps and are the perfect vegan and gluten-free side dish! And they are a gorgeous addition to your table too. My mouth is watering for this delicious gluten-free Thanksgiving addition.
Stuffed Acorn Squash: A stuffed acorn squash recipe that uses quinoa, cranberries, and pecans!
Mashed Sweet Potatoes: This mashed sweet potato recipe can be easily made to also be dairy-free and vegan!
Gluten-Free Green Bean Casserole: A green bean casserole recipe that is completely allergen-free!
You absolutely cannot forget dessert when you're planning a gluten-free Thanksgiving.
Gluten-Free Pumpkin Pie: This traditional and classic pumpkin pie is everything we love in a pie, no gluten included. Yes, you can even have dinner with classic pumpkin pie! Heaven. Because what does Thanksgiving even mean without a pumpkin pie?
Easy Gluten-Free Pecan Pie: This pecan pie recipe is corn syrup-free and uses melted coconut oil instead!
And a bonus gluten free dessert? Try my version of gluten-free pumpkin chocolate chip cookies.
Are you hosting everyone this year? Here are some more fun recipes and ideas for Thanksgiving.
Easy Turkey Crafts And Thanksgiving Activities For Kids
Easy Oreo Thanksgiving Turkey Cookies
15 Printable Games for Kids For All Occasions
Super Easy Pumpkin Spice Cupcakes