Fall is my absolute favorite, and nothing screams fall dessert like these sweet potato pie bars that have a delicious graham cracker crust, and a sweet potato filling topped with delicious marshmallow.
Whether you just need some for yourself, or you are entertaining, you'll want to make these over and over again.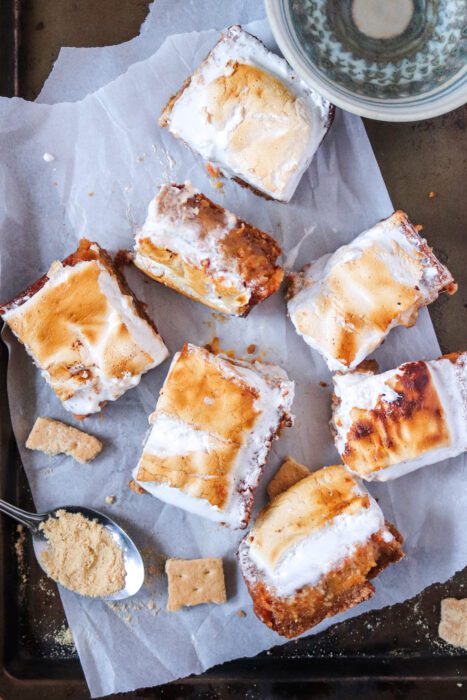 I don't know about you, but somehow, when I'm eating sweet potato, I don't really feel like I'm eating something that's all that bad for me. It's a vegetable right? And, who doesn't love a sweet potato pie in the fall?
It seems like candied yams, and pumpkin spice treats are staples, but these sweet potato pie bars are quickly going to be added to the top of your list to make each year.
The pie bars are so much easier than making actual pie.
I don't know about you, but the thought of making pie gives me hives. It just seems so labor intensive. Especially the crust, that's why I've started making things in bar form. I even have a sugar cookie bar recipe that is too good.
And for some reason, my kids like things in bar form. Maybe because it's kind of like brownies? I don't know. I don't really get what makes a bar dessert so special, but trust me your family will gobble these up for Thanksgiving (see what I did there?) or anytime you're craving a perfectly sweet fall dessert idea.
And since I know you're here for the recipe, and not my monologue, here's how you make these Sweet Potato Pie Bars
This post contains Amazon affiliate links. If you click on a link, I may receive a commission. See my full disclosure policy here.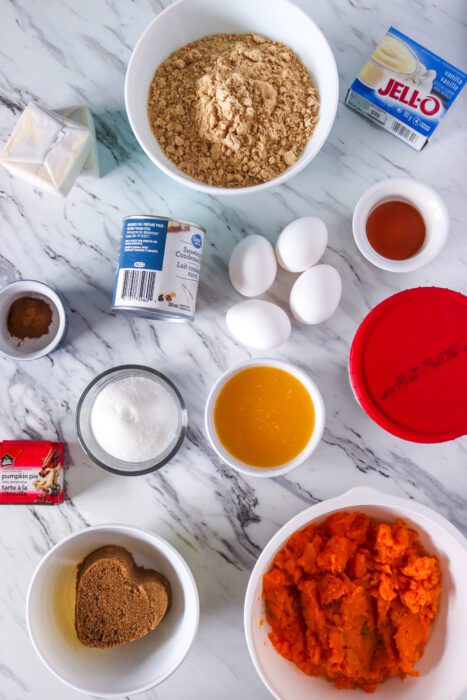 INGREDIENTS: Graham Cracker Crust
3 cups Graham Cracker Crumbs
¼ cup Granulated White Sugar
¾ cup Melted Unsalted Butter
INGREDIENTS: Sweet Potato Pie Bars Filling
4 cups Cooked Sweet Potato (mashed)
1 cup Brown Sugar
1 cup Unsalted Butter (softened)
4 large Eggs
2 small boxes Vanilla Pudding Mix (dry, not
prepared)
2 cans (28oz) Sweetened Condensed Milk
1 ½ teaspoons Vanilla Extract
1 teaspoon Cinnamon
½ teaspoon Pumpkin Pie Spice
13 oz Marshmallow Fluff or Large Marshmallows
(halved)
DIRECTIONS: GRAHAM CRACKER CRUST
Preheat oven to bake at 350 degrees Fahrenheit. Prepare a 9 x 13 baking dish like these by greasing the bottom and sides with oil spray. Line with parchment paper, leaving a 2-inch overhang on two sides. Set aside.
In a medium sized mixing bowl combine all the ingredients (graham crumbs, white sugar, and melted butter) and mix until graham crumbs have been well coated and can stick together when pressed.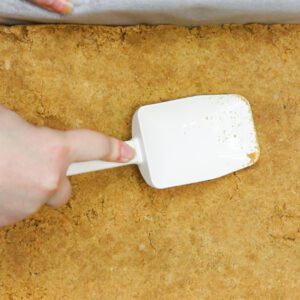 Turn graham mixture into the prepared baking dish and press down firmly using clean hands or a baking spatula into an even layer on the bottom of the pan. Make sure to press everything tightly. Bake in preheated oven for 15 minutes.
DIRECTIONS: SWEET POTATO PIE FILLING
While the graham cracker crust is baking in the oven, begin preparing the filling in a large mixing bowl. If you haven't already, cook your sweet potatoes and then mash (see notes at bottom).
Add your cooked sweet potatoes, brown sugar, and softened butter to the bowl and mix using a hand mixer or stand mixer on medium speed for 2-3 minutes until the mixture has become smooth. You want to get out as many sweet potato chunks as possible.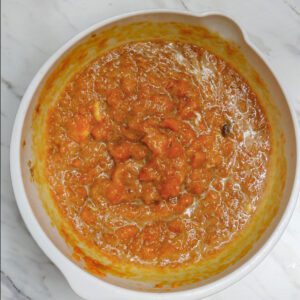 Add one egg in at a time, mixing on medium speed in between.
Starting on a slow speed, mix in the dry vanilla pudding mix (DO NOT PREPARE PUDDING), condensed milk, vanilla, cinnamon, and pumpkin pie spice. Return mixer to a medium-high speed and blend for another 2-3 minutes.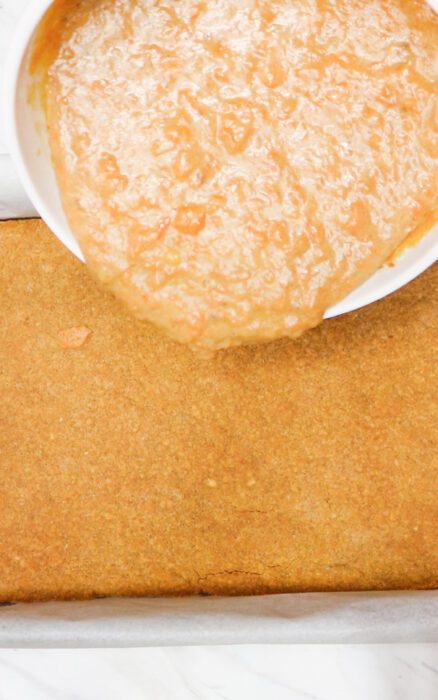 Pour prepared mixture into the baked and cooled graham cracker crust, spread into an even layer. Bake in preheated oven for 40-45 minutes or until top of potato pie is golden brown.
To add another layer of sweetness, when the sweet potato pie is done baking, top with marshmallow fluff or halved large marshmallow pieces (see notes below). Turn your oven to broil and place marshmallow topped pie back in the oven on the middle rack.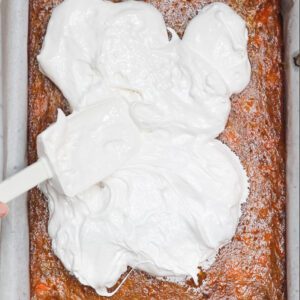 Broil for 2 minutes max! Keep a very close eye on this to avoid lighting the marshmallows on fire.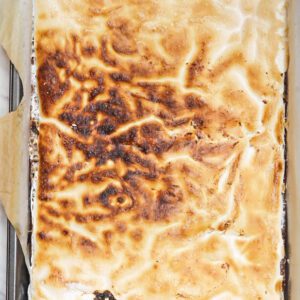 Cover and cool in the pan at room temperature for at least 1 hour to set the pie filling. Once the sweet potato pie bars are completely cooled and set, gently lift out of the pan by pulling on the parchment paper.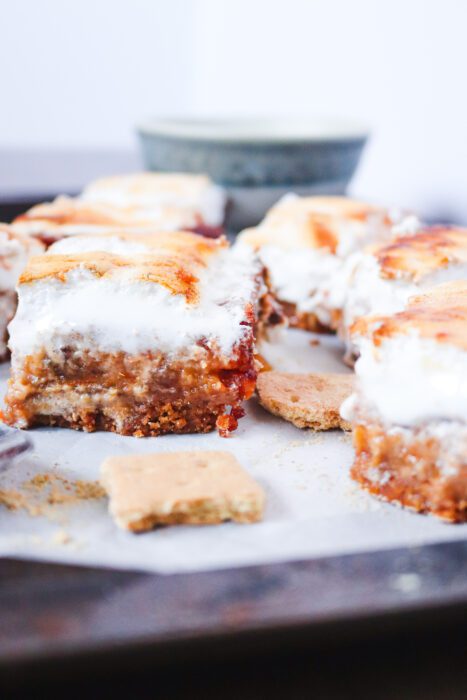 Cut into 18-24 squares with a large sharp knife. Tip: rinse the knife with hot water in between each cut to keep marshmallow from sticking to everything. Store in an airtight container in the fridge for up to 5 days.

A Few Recipe Notes For These Sweet Potato Pie Bars:
If using whole graham crackers, just simply pulse in a food processor or high speed blender until you get a consistent crumb texture.
If using fresh uncooked sweet potatoes, you'll need two medium- large sweet potatoes. Peel and chop into chunks, boil in water until they become fork tender. Drain water and mash with masher.
The marshmallow fluff is very sticky and can be a bit of a pain to work with. If you want an easier ingredient to work with, use large marshmallows. Just cut them in half and line them in a single layer on top of the baked pie filling with the cut side facing down.
Looking for more fall dessert and dinner ideas? Here are some of my favorites:
Pumpkin Spice Milkshake Perfect For Fall
15 Crockpot Soup Recipes Perfect For Fall
Super Easy Pumpkin Spice Cupcakes
15 Recipes For A Delicious Gluten-Free Thanksgiving